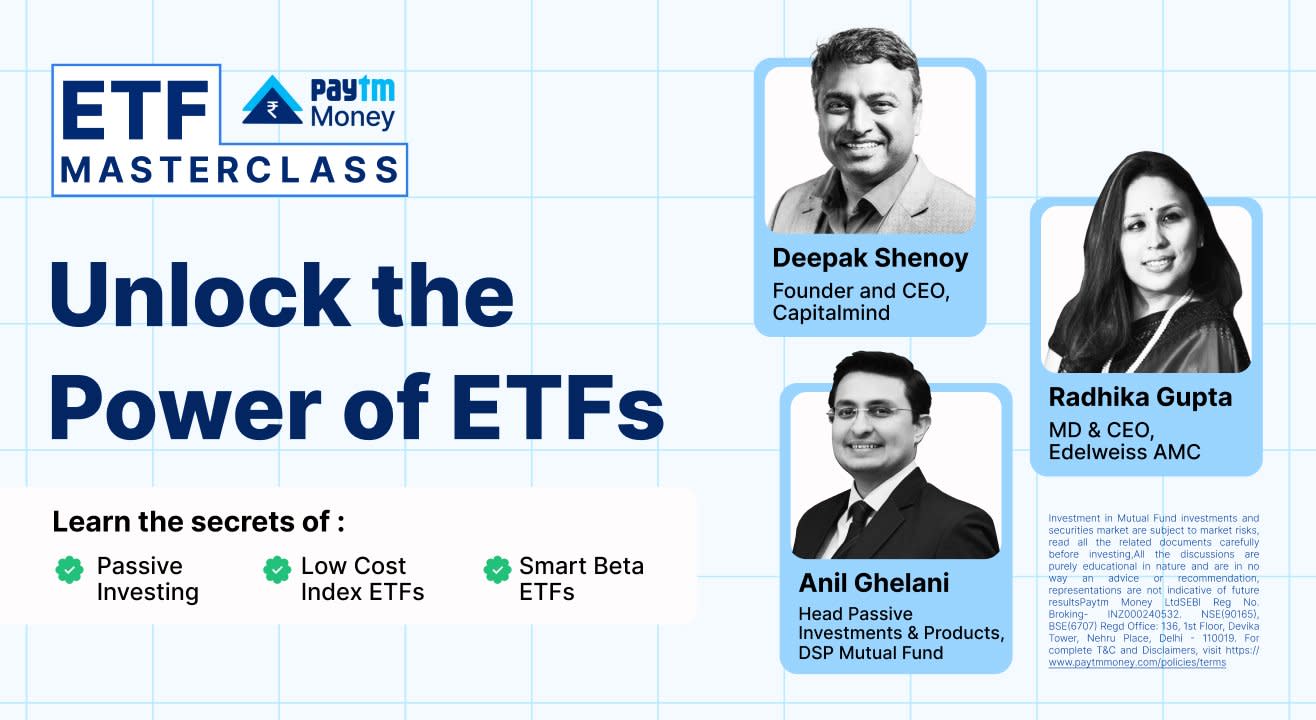 ETF Investment Masterclass
Event Guide
Digital Event
Live On Insider
Invite your friends
and enjoy a shared experience
ETF Investment Masterclass
Event Guide
Digital Event
Live On Insider
Invite your friends
and enjoy a shared experience
Event Guide
Digital Event
Live On Insider
Invite your friends
and enjoy a shared experience
This event is designed to provide insight and equip participants with actionable investment strategies through Passive Investing in general and ETF in particular. Passive investing is not only easy and has advantages over active investing but is an equally effective investment instrument for beginners and professionals. But with the right knowledge along with a little insight, one can create a robust plan for long-term wealth creation.
The event is designed in a simple, easy-to-understand format with practical and actionable insights. The sessions will be conducted by seasoned professionals with decades of experience in research, advisory and fund management.
We are delighted to present ETF Investment Masterclass for everyone aspiring to gain insights to ETF investing , be it student, housewife or a professional. This Masterclass is brought to you by Paytm Money and ticketing partner – Paytm Insider.
Topics to be covered:
Why Passive Investing? All you need to know to start your Passive investing.
ETFs- the favorite choice of smart investors
Smart Beta ETFs- how to create a Smart Beta strategy with your own factors.
Building your ETF portfolio Sip by Sip.
What's in it for you?
Learn from seasoned professionals with decades of experience in industry
Understand practical ideas with advantages and disadvantages for ETFs and Smart Beta ETFs.
You will learn to develop an investment strategy for yourself.
Learn investing techniques with practical demonstrations.
This masterclass includes:
LIVE 6 Hrs. expert-led training (3 days)
Access to Session Recording - (Get full recording of the session to revise at your own pace)
Access on any device with internet and browser access
Certificate of successful completion
Added Bonus:
Enjoy full access to all the material presented during the session
Requirements to attend the masterclass:
An internet connection that won't fail you
An undying flare to learn and act upon it
A tendency to stick to discipline in investing and trading
Be able to read & understand English
ETF Investment Masterclass
Event Guide
Digital Event
Live On Insider
Invite your friends
and enjoy a shared experience