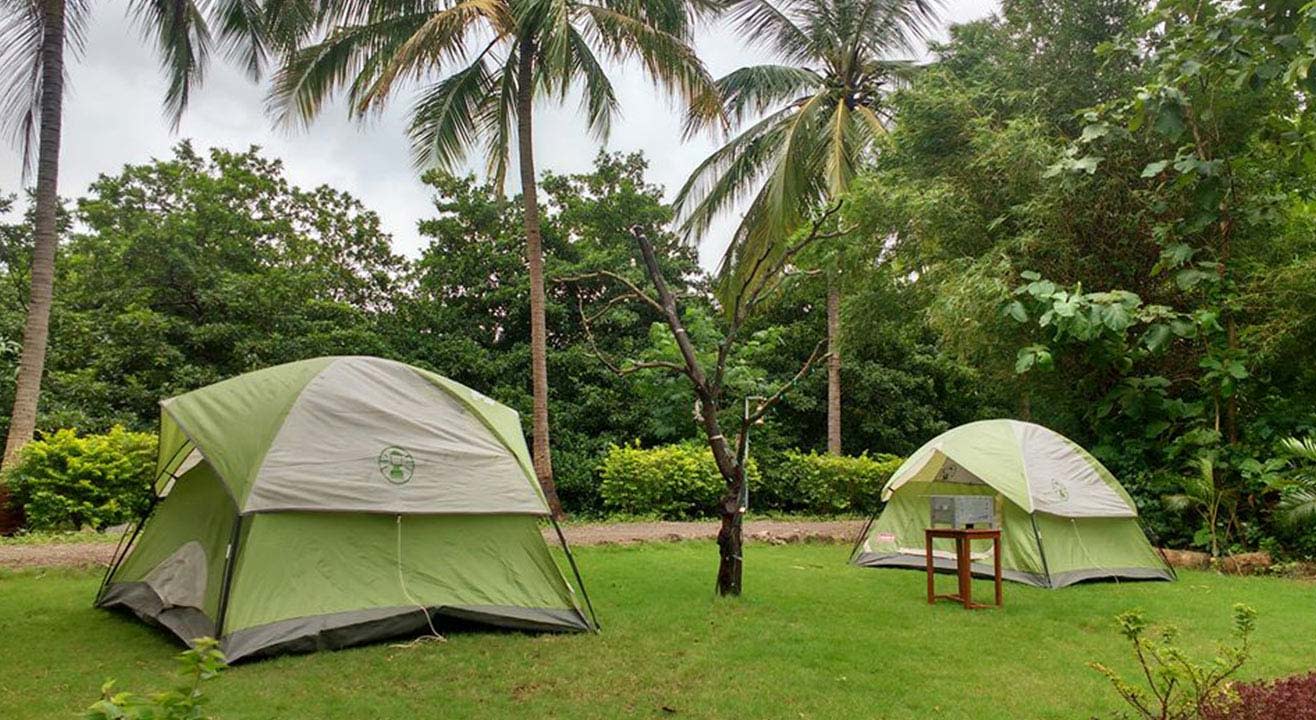 Camping
Farm Camping at Dahanu Chiku Farm
November 4 | 11 | 18 | 25 | 4PM
About
Come take camping experience with Mother Nature away from the city, experience Cold Air, Dark Night, Warm Fire, Bright Stars.
Away from the hustle and bustle of the city enjoy a peaceful dinner.
Dance with your friends and family.
Feel relaxed in our camping tent.
Sleep with the lullaby of nature and wake up with the mist.
Welcome to our camp!
Check in: 4.00 pm
Check Out: 10.00 am (Next Day)
4.00 pm: Reach at campsite by own vehicle (car / bike) and welcome tea/snacks
Evening snacks
Dinner
Breakfast
Tent Accommodations
Camping lights and music
Camping mats (for cushioning)
Bonfire (except in the monsoon)
High quality weather proof tents
Mobile charging facility
Pillows & Blankets
Portable lamps
Toilet (western style) and bathroom facility
Music system
Football, board games etc.
Is washroom and changing facility available?
- Yes

Age Group criteria
- Anyone can enjoy at campsite, as it's fully safe.

Can I do swimming?
- No. it's not allowed.

Which kinds of vehicles are preferable?
- Any

How will be stay facility?
- Stay is in Tent (2-3 sharing basis), Blanket and pillow will be there.

BBQ available?
- Yes. BBQ is available with additional cost of INR 400 per KG with bbq kit.
Carry woolen cloths or jacket; with Muffler, Shoes or warm cap for the night.
Those are not used to cold nights, please carry personal extra blankets. (We will be providing bed, cushion & 1 blanket as part of the package)
Please carry id proof eg. Pan card, driving license
Do not carry valuables or items like jewelry, laptops or any other things.
Management & Campsite is not responsible for any kind of loss or damage of your belongings.
Do not smoke or light any items inside the tent as it may cause fire in the tent.
Please Remove your footwear outside the tent and keep tent neat & tidy.
Weapons or any inflammable things are not allowed in the premises or in the tent.
If any damages are caused to the campsite, tent or bedding, camper / guest will be responsible for the damage and will have to pay the charges for the same.
Strictly no use of drugs in any kind or any form or any other kind of intoxicants.
All guests must follow the camping rules.
Anything that is not included in packages is excluded.
Cancellation and Refund applicable on the tour cost
If cancellation done prior to 15 days of outing 75% will be refunded.
If done prior to 10 days of outing 50% will be refunded
After that no refund will be provided.