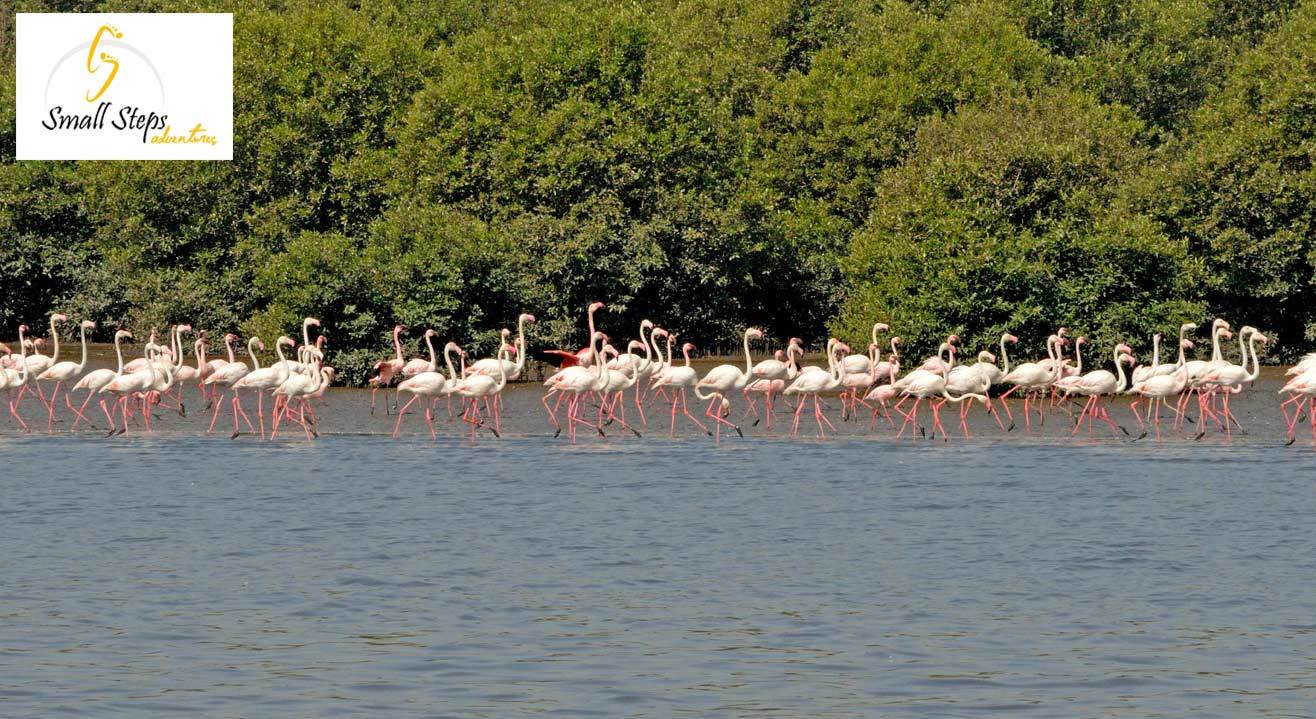 Nature Walk
Flamingo Boat Ride
May 14, 21 & 28 | 8AM - 11AM
About
The sanctuary will be the State's second marine sanctuary after the one at Malvan. The 1,690-hectare bird haven — 896 hectares of mangrove forests and 794 hectares of a waterbody — is on the western bank of the creek, between the Airoli and the Vashi bridges connecting Mumbai and Navi Mumbai. Its eco-sensitive zone will be the adjoining mangrove areas on either side of the creek, which are already notified as reserve forests. India is home to two types of flamingos from a total of 6 recognized around the world – Greater Flamingo and Lesser Flamingo. Both types can be seen at thane creek during the migratory season.
Meeting Point Bhandup Pumping Station Bus Stop by 8.00 am. 30 min walk till boating point. We will start boating by 9.00 am after introduction and instruction session. 1.30 hr session of bird watching and other guidance. (PS: Time given in itinerary is considering normal weather, time of this trip depends on tide timings. So the actual time of the trail will be given one day prior to the event)
Note: Time will be change according to low tide - high tide, so we will confirm one day before event.
Boat ride
Expertise charges
Service Tax
Breakfast and other personal Expenses
At least 2 ltrs of drinking water.
Photo ID card.
Good trekking or sport shoes.
Some ready to eat food (plum cakes, biscuits)
Jackets (photo acche aate hey)
Electral/Tang powder/Glucose-D/salt
Cap, camera, mobiles phones, socks. (if required)
Any personal medicine.
***Please do not carry or wear any valuables, ornaments, jewelry, etc. If carried, then we Do Not take any liability for the same.
Note: There are no shops / hotels near location.
Smoking and drinking alcohol is strictly prohibited.
Group leader's decision will be final and binding.
Small Steps reserves all the right to change/deviate/cancel the plans without prior notice.
Telephonic confirmation is mandatory; if unable to contact us then send a text message and we will call you back.
Please avoid wearing Gold and other jewelry.
Please do not carry handbags or Jholas or Sling bags on treks.
Cancellation and Refund applicable on the tour cost
If cancellation done prior to 15 days of outing 75% will be refunded.
If done prior to 10 days of outing 50% will be refunded
After that no refund will be provided