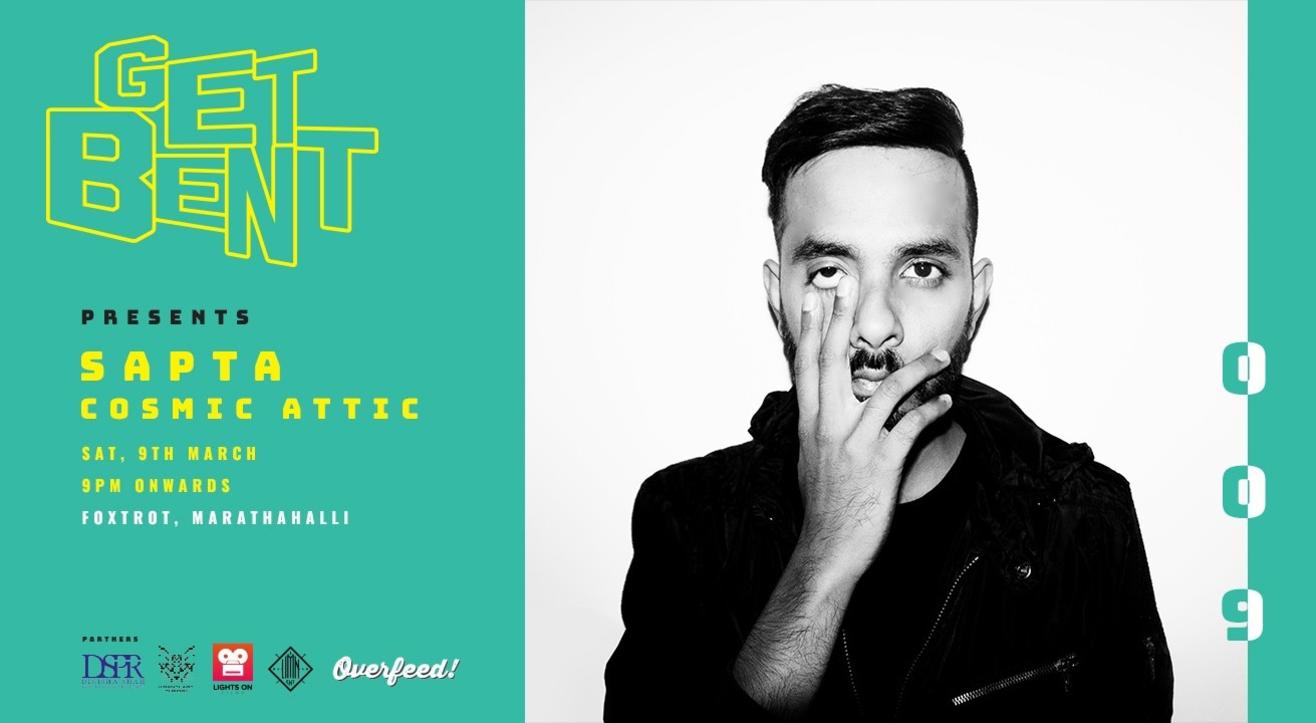 Music
GET BENT, Bangalore
Foxtrot Gastropub, Marathahalli, Bangalore
About
A pub only monthly live music and experience property with easy access for the communities of Delhi, Mumbai and Bengaluru. Hosting an artist line-up across genres to give something more wholesome to our people. We're gearing up to GET BENT. Are you?
Headlining| Black Letters
Black Letters is an alternative/electronica act from Bangalore, India. Their debut album 'Shapes on the wall' is one of the most well received modern rock albums in the country. Black Letters have been featured in over 50+ international radio stations like Croydon Radio, Amazing Radio, EGH Radio, Uckfield FM, The shift Radio, across UK, US & Australia. Since then they have taken a turn from their previous arena rock style to an electronic dream pop influenced sound with their EP "Petrichor" which was released in 2015 which was rated as one of the best EPs of the year by Rolling Stone Magazine.
Having toured across the country and played many major festivals, Black Letters will be recording and releasing their highly anticipated album in 2017. The first single & music video from the record was released on Overfeed records on Sept 8th to both critical and public acclaim.

Support | The F16s
The F16s are an alternative band hailing from the port city of Chennai, India. Their music, echoes the melancholia that grapples with the mundanity of everyday life in a town that serves very little outside of itself. Lyrically driven, the 'sound' of the band rests in an arc that also includes acts like LCD Soundsystem, Julian Casablancas and the Voidz and The Horrors; beat-driven yet innately melodic. The band already has a couple of prior releases attached to them: a 6-song EP released in 2013 called Kaleidoscope, and a 2-track recorded in Brooklyn, New York called Nobody's Gonna Wait.
The band has now released their debut full-length album, Triggerpunkte; a nine-song offering that was recorded in Chennai and Mumbai for over a year. Both lyrically and musically, the album meanders between reverb-heavy sentimentality and fast-paced assault. Triggerpunkte is a reaction to the bands previous efforts where we explore the bands identity. the outcome is a populist, experimental, healing, agitating, straightforward, highly polished, and multi-layered album.
Headlining | Faridkot
Formed in 2008, faridkot have travelled the length and breadth of the country making people dance ever since. Known for their genre 'confused pop' they've released two albums, both of which were nominated for best rock album at radio city awards. With 500 plus shows under their belly, Faridkot is ready to GET BENT and to take you all on a magic carpet ride!

Support | STEVIE
STEVIE is a Chennai based Singer/Songwriter. The frontman of Alt Rock outfit Nobody, Stevie has shared the stage with acts such as Junkyard Groove, RJD, Girish and the Chronicles, Final Surrender and Masala Coffee. Currently working on his debut EP, STEVIE, as a live act promises to deliver power, packed, energetic performances that are bound to get people on their feet. The music that STEVIE creates revolves around a concoction of acoustic pop, alt rock, R n B, trap, hip hop and ambient electronica from ideas that stem from his acoustic guitar. STEVIE also won the Best Young Indie Artist at the Radio City Freedom Awards- V.
He's got something special lined up for everyone. Stay Tuned for more.
Headlining | Sapta
One of India's top live electronic acts. Founded in 2007, by Marti Bharath, Sapta has continuously evolved to make their sound different and are currently crafting a whole new dimension in the Indian electro-rock community. Since 2011, Sapta has been touring as a duo with the addition of a drummer. They've released 7 albums so far.
A unique soundscape draws on Marti's experiences of living and performing in San Francisco, Paris, Dubai and India. It features an eclectic mix of original electronic vibes, synthesizers, infectious rhythms and catchy vocal melodies brought to life with acoustic and electronic instruments.

In Marti's own words -
"Sapta stands for 'seven' in Sanskrit. It actually started with another band in France, which was also called Sapta.
I needed a name, a separate act. I love the idea of being in a band, as compared to solo performances."
"I don't like labelling and pigeonholing, because none of our albums are the same as the previous one"

Support | Cosmic Attic
Lush, disoriented soundscapes, sloppy drunken drummer beats that sometimes drift away from comfort zones, weird voices that morph into outer space objects, sounds that let you find unfamiliar spots while you float inside your own cardboard box. Cosmic Attic is a Producer/DJ from Bangalore. He has released singles "Brew", "Close Poles", and "Fake Massage" in the past months.
Headlining | Prabh Deep
Gifted with a unique voice that contains traces of traditional Punjabi folk singers, he is widely acknowledged as one of the best underground MCs in the country. Besides being a recording artist, he also pushes for and organizes MC Battles in the city. Born and brought up in Tilak Nagar, his music paints a vivid picture of growing up in a locality that's reeling from high unemployment rates and the recent influx of drugs in the community.

TBC (Support)
Headlining | Blackstratblues
It is a solo project of Warren Mendonsa, who is a guitarist, composer and record producer. He is the nephew of Indian musician and celebrated Bollywood composer Loy Mendonsa of Shankar-Ehsaan-Loy.
Blackstratblues' debut album, Nights in Shining Karma was released on 18th April 2007 as a free digital-only download. The album garnered significant appreciation and popularity on online music forums.
With golden tones and unassailable taste and touch, Mendonsa echoes Gilmour and Johnson without being derivative of either. Nights in Shining Karma is surely the 'I'm here!' album from an emerging master.

TBC (Support)
Headlining | The Pineapple Express
It is a progressive fusion band, making their mark across Carnatic, rock, experimental, electronic & djent elements. They are mainly known for exploring a diverse range of genres effortlessly and delivering high energy live audio-visual performances. Their signature, one of a kind, song-writing style is something to be experienced live.

TBC (Support)
Venue
Foxtrot Gastropub, Marathahalli, Bangalore
2nd Floor, NTR Royal Plaza, Home Building, Outer Ring Rd, Marathahalli Village, Marathahalli, Bengaluru, Karnataka 560037