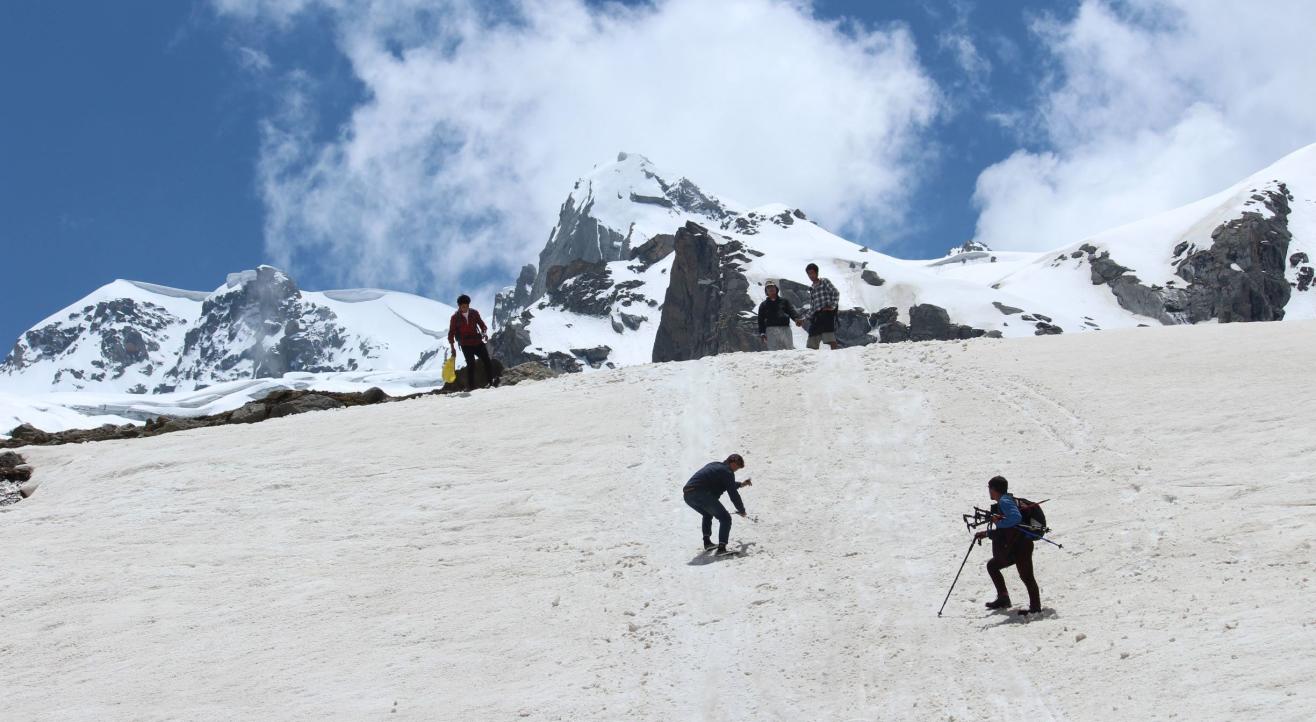 Trek
Hamta Pass and Chandratal Lake trek with Safarnama
About
Hampta Pass Trek with Chandratal lake amidst the misty, cool, adventure hills of Himanchal Pradesh, India. Safarnama package is sure give you a vacation worth remembering. Hampta Pass trek is a beautiful place to visit in the Himanchal Himalayas and easy trekking destination for adventure lovers.
Hampta Pass Trek with Chandratal lake is located at the height of 14,035 ft above sea level. The best month to visit Hampta Pass trek is from June to October. The temperature during day time varies between 12-degree Celsius and 20-degree Celsius. From the Hampta Pass trek summit, you will see the stunning view of the mountains, Deo tibba and indrasan mountains.
Day 1: Reach Manali and drive to Chika
Altitude: 9,800 ft to 11,072 ft
Time taken: 5-6 hours, 7 km
Trek gradient: Easy-moderate. Easy walk to Chika for about an hour followed by 2 hours of ascent. Descent for 1-1.5 hours to a flat plane.
Water sources: Carry sufficient water from Jobra. You can refill your water bottles from the river along the trail.
Transport: 20 minutes to reach Prini from Manali; 1.5 hours drive from from Prini to Jobra; 30 minute trek to Jobra campsite. Reach Prini by 11:45 AM. Lunch and transport is all arranged.
The journey from Delhi to Manali takes about 12-14 hours in a bus and 8-10 hours Chandigarh to Manali. Next stop Prini is about 3 km from Manali and is easily reachable by a bus or an auto. The meeting point and time at Prini
would be communicated to you. Hampta Pass with Chnadratal lake is best trekking routes in Indian Himalayas.
Start for Jobra at 1:00 PM. The drive from Prini to Jobra encompasses the famous 42 hairpin bend and lasts about 1.5 hour.
The Jobra campsite is a short, 30 minute trek from here.
As you begin your trek, you are welcomed into Pine forest and the very rare Maples trees in their fresh bloom. We proceed to our campsite in the open meadows of Chika after visiting the sacred Vashishta Temple and its hot
water springs.
Day 2 - Trek from Chika to Balu ka Ghera (11,900ft)
Altitude: 11,072 ft to 12,411 ft
Time taken: 4-5 hours, 5 km
Trek gradient: Moderate. Open meadows followed by boulder section, leading to a trail on loose rocks all the way. Very gradual incline.
Water sources: Streams along the trail to refill your water bottles.
Majestic Peaks of Dhauladhar Range all around you. Feast on some delicious breakfast and then leave for an easy trek.
As we walk through the scenic flowering meadows and the valleys, our heart grows ecstatic. Post a log bridge; over a fast flowing mountain stream, we arrive at Balu ka Ghera, the hibernating grounds for the great Himalayan brown bear. We camp here for the night.
Day 3 - Trek from Balu ka Gera to Shia Goru (12,900ft) crossing
Hampta Pass (14,100ft))
Altitude: 12,411 ft to 12,254 ft via 14,035 ft
Time taken: 9 hours, 6.65 km
Trek: Moderate difficulty. Gradual ascent after which the trail becomes steep uphill till the pass. Takes about 1 hour till here. 2 hours of steep descent from the pass. Final destination is flat ground.
Water sources: Carry water from Balu ka Ghera. Late season streams likely once the snow melts.
Today we leave for the true beauty of the Himalayas. The trail is relatively easy with subtle slopes. It is a classic example of an ideal trail to begin your trekking experiences with. Head out, wander around, meet the local shepherds and learn a thing or two about their way of life.
Following these trails, arrive at the spell binding Hampta Valley and experience enchanting beauty at its best. Continue to cross the Lahaul Valley after leaving Hampta Village to reach Siagoru basecamp; overnight stay in tents.
Day 4 - Trek from Siagoru to Chatru (11,000ft), Drive from Chatru to
Chandra Tal
Altitude: 12,254 ft to 10,898 ft to 14,100 ft
Time taken: 4 – 4.5 hours; 6.87 km
Trek gradient: Moderate. 2-2.5 hours of walking on moraine and loose rocks on subtle inclines, followed by descent to Chhatru across a few glacial flows.
Water sources: Carry sufficient water from Shea Goru. You will find few sources on the way to refill your water bottles.
Pir Panjal Ranges, Chandra Tal Lake
We start trekking post breakfast. A relatively easy trek as compared to other days. One can see the Pir Panjal Range unwind right before them as we descend through the Hampta Valley. We are then greeted by the cold white deserts of Spiti Valley, mingling with the rest of Chatru. The contrast is unbelievable. On one side is the scenic greenery and on the other barren black and white contrast of the Spiti. On arriving at Chatru, relax and leave for Chandra Tal lake camp by cars.
Day 5 - Drive from Chandra Tal to Manali.
Chandra Tal Lake
Bravo! We have reached the moon shaped wonder of a lake that is Chandra Tal. Seated at a staggering 14,000 ft, the lake is a sight to behold. Green scenery in the backdrop, crystal clear turquoise water and the soothing calm around the lake. The location is a delight for the senses to savour. Take a drive through Rohtang Pass to reach Manali. At Manali, our physical journey comes to an end. Yet, the mind wanders and wonders on about the mysteries the nature holds for us, that it showcases in the most sensational of ways.
●Meals while on trek (Veg., Egg).
●All entry fees and permits.Accommodation:- Guest house, camping during Trek.
●Qualified & mountaineering certified Trek Leader, Guide and Support staff.
●First aid medical kits.
●Trek equipments (Sleeping Bag, Inner, Mattress, Tents, Kitchen tent, dinning tent, toilet tent).
Exclusions
●Transport to and from the base camp is to be paid directly to the driver
●Any kind of personal expenses.
●Food during the transit.
●Mules or porter to carry personal luggage.
Insurance.
●Anything not specifically mentioned under the cost.