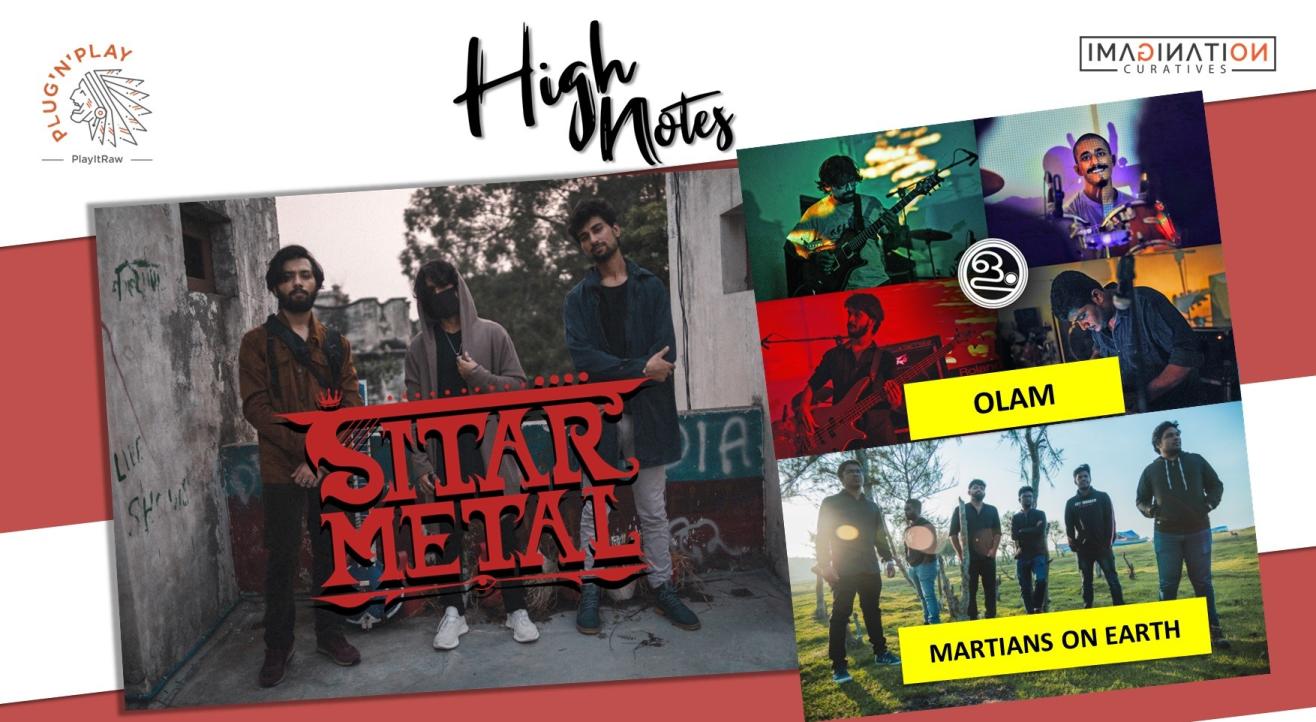 Music
Sitar Metal, Martians on Earth & Olam : Live
About
SITAR METAL is the world's first & only Sitar fronted Indian Classical - rock/metal fusion band. 'Could Sitar Metal be the next stars of global metal' - Louder(Metalhammer) // 'Sitar Metal is the world's first Sitar Metal act , they shred hard on Sitars' - BBC Radio 6 Music
The Band's debut music video went viral with 150,000 Views in a few weeks, being one of the only Indian Artists featured on a dedicated BBC UK Radio 6 programme & Leading Global Music & Lifestyle Magazines like Firstpost, Loudwire, Metal Injection, Guitar World, Louder Sound, Metal Hammer, Score. Global Musical icons like Bollywood Superstar Arijit Singh, Raghu Dixit have also supported & shared the band's music & vision and thoroughly appreciated the stand in the Global Music field.
A cultural collision | Truly original, unique & first of it's kind, Sitar Metal hails as the true inventor & pioneer of the sound of not only sitar fronted Indian Classical & Rock/Metal fusion, but the broader spectrum of Indian music coming together with World Music sounds. Their music isn't only hell-bent Hindustani Classical, catchy, heavy & unapologetically original, but they are the only band to not simply use Indian Classical music in small proportions just for it's name sake, but truly cementing the idea of Indian classical music & instruments 'fronting' an entire Rock/Metal band, creating music that equally represents Indian classical & rock/metal music, fronted by the sitar.
Sitar Metal has emerged as a league of their own in the global music scene, not only because of their music & live performance experience, but also because of the founder Rishabh Seen, who single-handedly created the idea & vision of sitar metal back in 2014 by covering bands like Meshuggah & Animals As Leaders and founding his earlier project 'Mute The Saint' (2016), later going viral with over 5 million youtube views. Not too long after that, being mentioned by James Hetfield (Metallica), Arijit Singh, Steven Wilson, Guthrie Govan, Bryan Beller, Thomas Haake & more in YouTube videos, interviews, radio shows & social media posts.
Martians on Earth
Formed in Early 2019, the band announced their formation with the release of their first single followed up by their debut gig at Sonic Sky Music Festival. The band describes their sonic nature as the one which takes the listener to a whole new scape, beyond anything ever perceived. Martians on Earth are: Varun Gopakumar - Vocal Akhil CS - Guitar Dev S - Guitar Evan Victor Paul - Bass Sajan Kamal - Keys Anson Lal - Drums
Olam!
If you're familiar with the Kerala music scene, the likes of instrumental, post-rock; Biennale, Mattanchery parts, Uru Art Harbour you couldn't have missed this name.
Hailing from cochin, the band comprises two ex-members of 'kaav', drummer Arun S Kumar and guitarist Shyam N Pai brought together Ajoy Jose on synth and Manu Ajayan on bass.
Their show always gets the audience hooked from start to end, taking the surrounding on a carpet ride cruising the shores of heritage rock through vintage psychedelic madness.
Venue
Plug N Play
2nd Floor Kurikkal Building, Metro pillar No 398, Nethaji Nagar, Edappally Next to Lulu Mall, Above Monqo and Body Art Studio, Nethaji Nagar, Edappally, Ernakulam, Kerala 682024