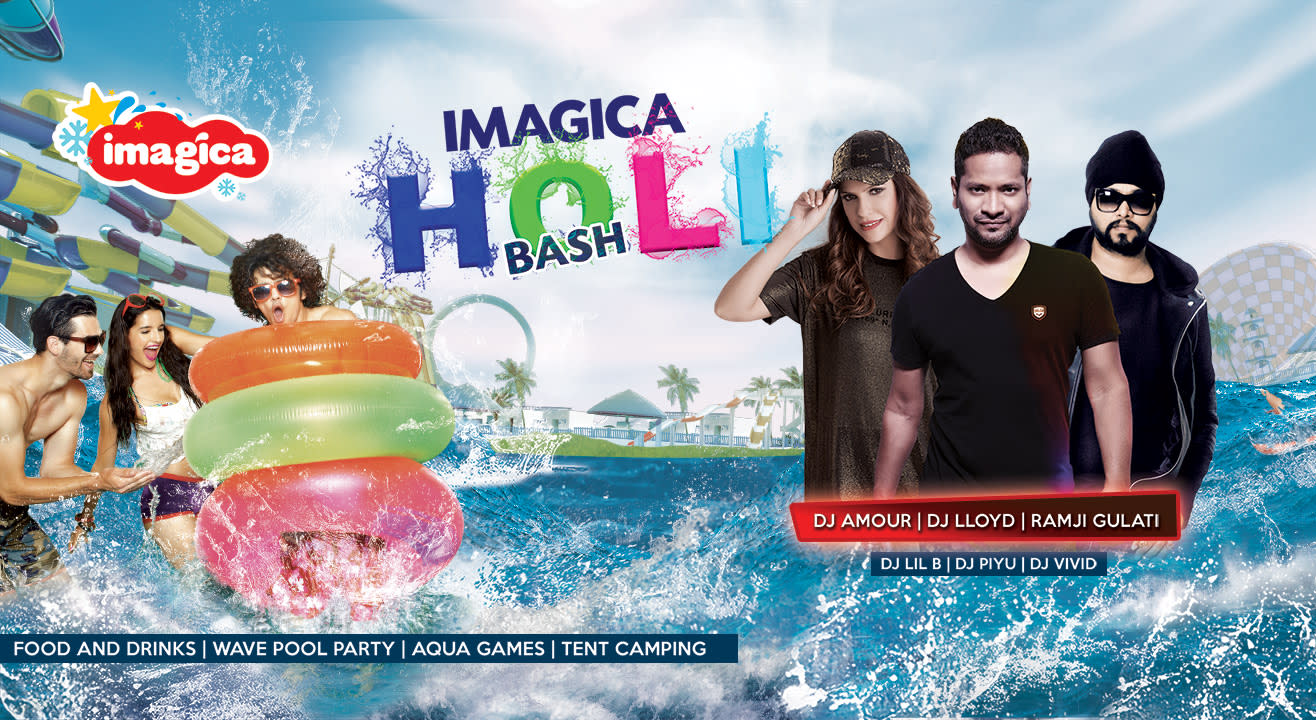 Parties
Holi Bash 2018
Imagica Theme Park, Khopoli
About
Celebrate the festival of colors with your friends and families as Imagica is hosting the longest Holi Bash from 2nd to 4th of March at Imagica Water Park. Dance your heart out to rhythmic tunes spun by three of India's leading female DJ's – DJ Amour, DJ Piyu, and DJ Lil B at Imagica's wave pool party.
Also, participate in fun aqua games as you sip on special, Holi themed food and beverage options all day long with unlimited access to rides and attractions.
And if that's not enough, experience a never before, all-in-one entertainment filled and musical sun-downer - Imagica By Night - with Dj Lloyd and Ramji Gulati exclusively on 3rd March at Imagica Theme Park followed by a night camping under the twinkling sky.
2nd – 3rd – 4th March – Water Park – Day Event
3rd March – Theme Park – Sun downer till Night event
Entertainment and Night Parade
Tent Camping
Food and Drinks
Games and Contests
Date - 2nd 3rd and 4th March 2018 (Fri, Sat and Sun)
Event Timing: 1:00 Pm to 6:00 pm
Opening DJ Act
Imagica Dance troop Dance performances
India's leading Female DJs at Wave Pool
2nd March – DJ Amour
3rd March – DJ Piyu
4th March – DJ Lil B
Club DJ at Pirates bay – Second DJ setup
Aqua Games played by Emcee – Aaryan – Pirate's bay
Jalebi – Thandaai and Bar Menu available
Theme Park – Imagica By Night (IBN)
Date – 3rd March 2018
Event Starts – 6:00 PM (post Parade)
Opening DJ Act – DJ Andy
Imagica Dance troop Dance performance
Opening DJ Act – DJ Andy
DJ Ramji Gullati & Co – Live Singing with Dancer and Bhangra Dhols
Night Parade
DJ Vivid
DJ Lloyd
F&B and Bar Menu available
Venue
Imagica Theme Park, Khopoli
30/31, Sangdewadi, Khopoli-Pali Road, SH 92, Off Mumbai-Pune Express Way, Tal-Khalapur, Khopoli, Maharashtra 410203