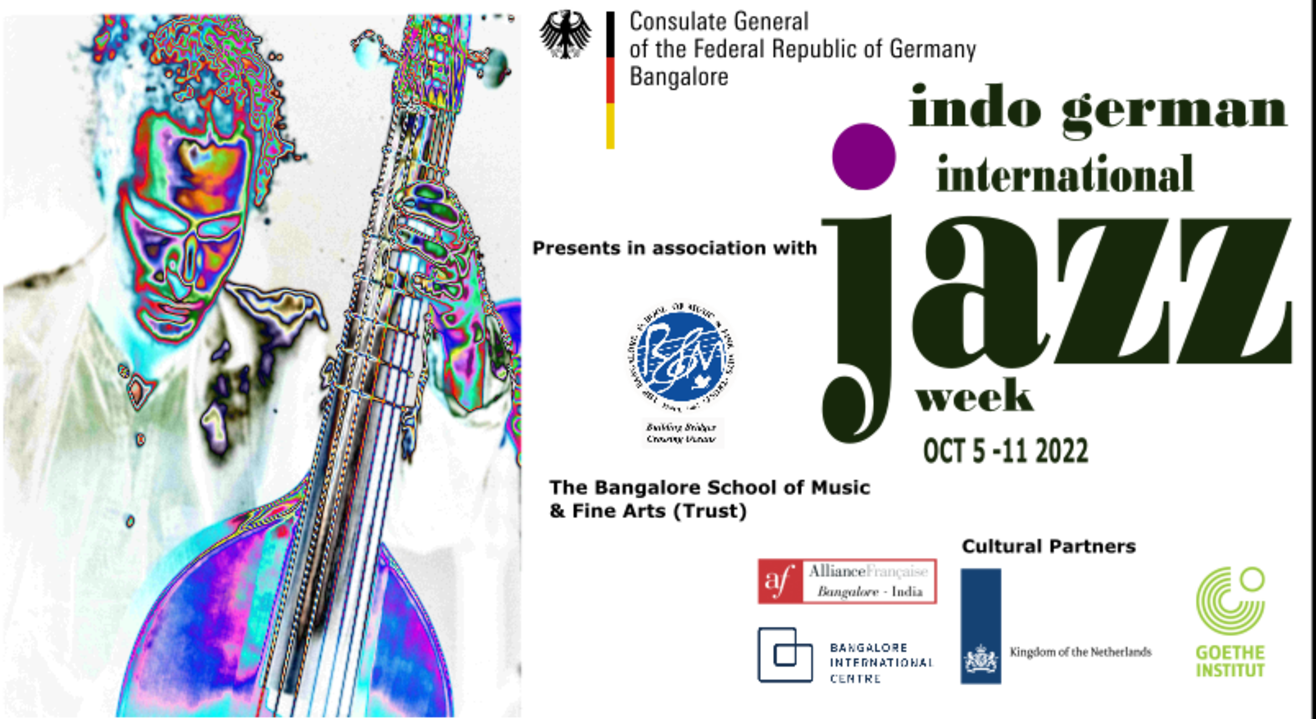 INDO GERMAN INTERNATIONAL JAZZ WEEK
Alliance Française de Bangalore, Bengaluru
Step out and enjoy this event
Event Guide
Live Performance
Enjoy a unique experience
Invite your friends
and enjoy a shared experience
INDO GERMAN INTERNATIONAL JAZZ WEEK
Alliance Française de Bangalore, Bengaluru
Step out and enjoy this event
Event Guide
Live Performance
Enjoy a unique experience
Invite your friends
and enjoy a shared experience
Event Guide
Live Performance
Enjoy a unique experience
Covid 19 Safety Measures
This event adheres to the following

Health & safety measures
Social Distancing
Face Masks Required
Invite your friends
and enjoy a shared experience
Covid 19 Safety Measures
This event adheres to the following

Health & safety measures
Social Distancing
Face Masks Required
OCT 7 FRIDAY 2022
Vivek Santhosh Trio
Many Things - Maarten Visser Trio
MoonArra World Fusion Ensemble
Maarten Visser Trio –
MANY THINGS
Music: Genre bending trio formation straddling the fine line between composition and improvisation.
Maarten Visser is a Dutch born saxophonist/composer living in Chennai. He has written music for bands including MV3, oto.3, MV-HJ and Many Things .For more than 2 decades he has been collaborating and touring with contemporary dancer Padmini Chettur ,resulting in 10 stage performances and 3 video installations. He is a founder member of artist collective Basement 21. Maarten Visser has played for numerous corporate functions, launches, events, festivals, clubs, parties.
Aravind Murali is a bass player and music producer from Chennai. He started his musical journey while in college at BITS ,Pilani.He has played for various bands as well as composed for movies, advertisements and computer games in a wide variety of genres. He won the national award in 2015 for best music for a non feature film. Apart from Many Things, Aravind also has played for actss such as I and Self, Wascally Wabbit, Many Things and Goods Vandi.
Manu Krishnan is a drummer with decades of expertise in playing multiple styles and musical genres. He completed his Diploma in Music Performance in 2015 with a "General Excellence Scholarship for Innovation in multiple genres" at the Swarnabhoomi Academy of Music. Apart from Many Things,Manu Krishnan composes and tours with a number of bands like Jatayu, The Casteless Collective & Chaos. Dedication, precision, versatility and impeccable work ethic has established him as a drummer of international repute.
3. MoonArra World Fusion Ensemble -9844245577
MoonArra –A Story of Collaboration
MoonArra Indian Classical, Jazz and World Fusion is an ensemble based in Bengaluru, India. Founded by Jagadeesh&Madhuri, MoonArra means 'three streams' and was formed in 2006 as a fusion of the interaction and collective influences of Indian Classical, Jazz and World Music Influences of its members. As part of its explorations and to collaborate and connect with musicians and audiences worldwide, MoonArra are also ambassadors of culture bringing the message of peace and harmony, goodwill and tolerance in today's environment.
MoonArra has had 9 international overseas concert and festival performances since 2009.
Jazz being a global language of communication, World Fusion ensemble MoonArra has been collaborating and working with classical musicians in India and jazz musicians internationally since 2006 and curating International JazzDay along with The Bangalore School of Music's Jazz & Contemporary Department headed by its Director – Operations, M.R. Jagadeesh, since 2018.
Vivek Santhosh Trio
Lineup
Vivek Santhosh- Piano
Bruthuva Caleb- Bass Guitar
Rijin Dharman- Drums
Bio
Vivek Santhosh Trio is an experimental jazz and contemporary music band. The band adheres to the traditional jazz trio format, with Piano, Bass and Drums played by Vivek Santhosh, Bruthuva Caleb and Rijil Dharman respectively. Our repertoire is mostly originals. The group was formed in 2014 and since then we've been performing regularly in clubs, corporate/private gigs and various music festivals across the country
· Jataveda Banerjee - Vocals
· Madhuri Jagadeesh – Vocals & Songwriter
· Jagadeesh M.R – Guitars (Nylon & Steel Electric)
· Joshua Lance – Bass
· Rohit P.S – Drums
Anup Thomas - Cello
Alliance Française de Bangalore
Thimmaiah Rd, opposite UNI, Kaverappa Layout, Vasanth Nagar, Bengaluru, Karnataka 560052, India
GET DIRECTIONS
INDO GERMAN INTERNATIONAL JAZZ WEEK
Alliance Française de Bangalore, Bengaluru
Step out and enjoy this event
Event Guide
Live Performance
Enjoy a unique experience
Invite your friends
and enjoy a shared experience