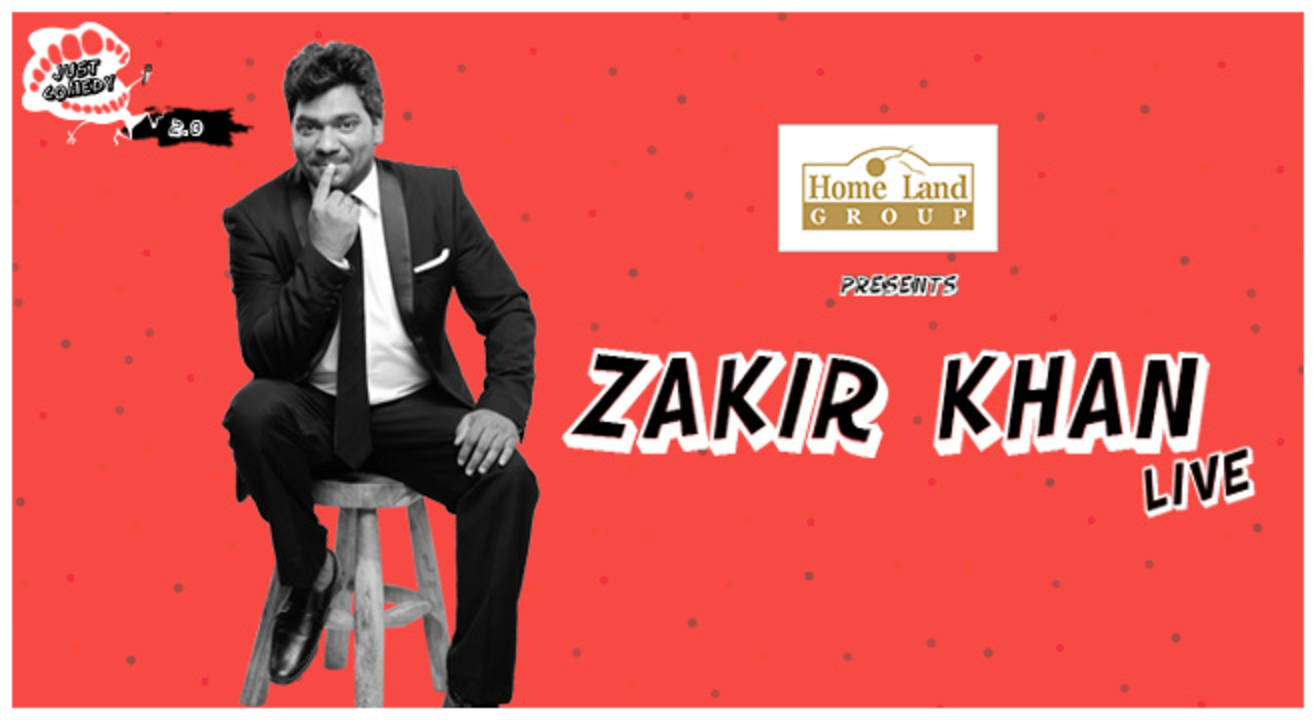 Just Comedy presents Zakir Khan Live
February 10 | 8PM
Tagore Theatre, Chandigarh
About
Just Comedy, North India's first and only comedy festival is hitting tricity with a bang with its second edition.
A brand new platform to redefine stand-up, it is a series of events that'll bring a different performer line up each time, clubbed with heaps of fun and laughter just for you.
Just Comedy 2.0 is hosting 'Zakir Khan Live' . Zakir is one of the brightest comedians in India. This 'Confused Desi' serves up his take on modern India, with a hard to resist rustic humour that'll have you nodding your heads and clapping as you relate to everything he says.
Watching Zakir perform is pretty much like sitting in the comfort of your own living room with your friends and you have this one extremely funny guy who's pulling out hilarious stories one by one. Zakir talks about his relationship with his Mom, Dad, his dynamics with the world during his childhood, teenage and adulthood - and one can relate to it easily because at some point in life it has happened with you too! Some characters that he brings out in his anecdotes seem to have been pulled out from your own life. He can smoothly switch mode for an audience full of family members, a corporate crowd or a room full of men. Each show will know him as a different Zakir.
Terms & Conditions
Each ticket admits one person only.
No consumption of alcohol will be allowed inside the venue.
The ticket once purchased will not be refunded.
The event is subject to government permissions. In case the permissions are not granted and event is canceled, a full refund shall be immediately issued to all patrons.
Unlawful resale (or attempted unlawful resale) of a ticket would lead to seizure or cancellation of that ticket without refund or other compensation.
Duplicate tickets will not be issued for lost or stolen tickets.
Organizers reserve the right to perform security checks on invitees/members of the audience at the entry point for security reasons.
Organizers or any of its agents, officers, employees shall not be responsible for any injury, damage, theft, losses or cost suffered at or as a result of the event of any part of it.
Parking near or at the festival premises is at the risk of the vehicle owner. Organizer will not hold responsibility for any damage or theft of any vehicles within the stipulated parking premises of the festival.
Consumption and sale of illegal substances is strictly prohibited. Possession, sale and dealing in Narcotics Drugs and Psychotropic substances attracts stringent punishments under the Narcotics Drugs and Psychotropic substances Act, 1985 which ranges from 6 months upto 20 years imprisonment and fine upto Rupees Two Lakhs. Consumption of the narcotic drug or psychotropic substance (cocaine, morphine, diacetyl morphine or any other narcotic drug) or any psychotropic substance is liable for rigorous imprisonment for a term which may extend to one year, or with fine which may extend to Twenty Thousand rupees; or with both under NDPS Act, 1985.
Any form of arms and ammunition, eatables, bottled water, beverages, alcohol are not allowed from outside the festival.
Rights of admission reserved, even to valid ticket holders.
Persons suspected of carrying items that may be used in an offensive or dangerous manner, or carrying out illegal activities within the site may be searched.
The holder of this ticket hereby grants organizers the right to use, in perpetuity, all or any part of the recording of any tape made of holder`s appearance on any channel for broadcast in any and all media globally and for advertising, publicity and promotion relating hereto.
The organizers reserve the right without refund or other recourse, to refuse admission to anyone who is found to be in breach of these terms and conditions including, if necessary,ejecting the holder/s of the ticket from the venue after they have entered the venue.