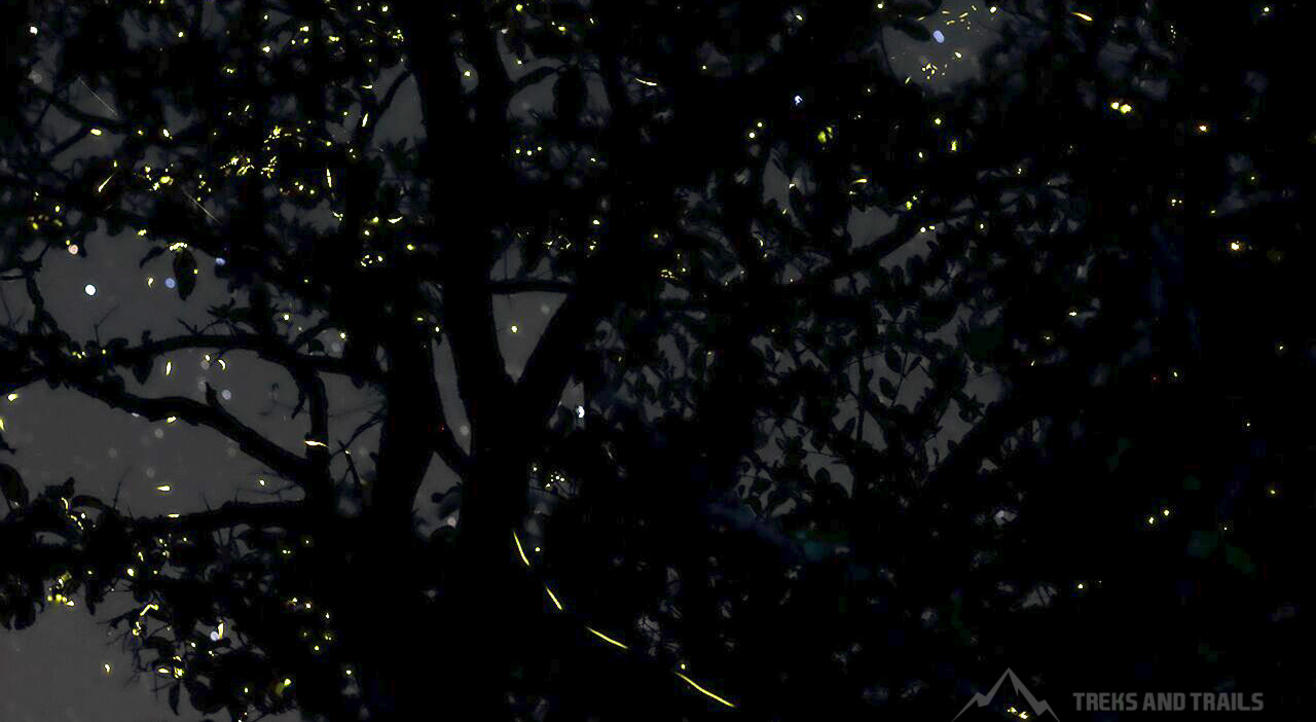 Hiking
Kondhane Caves Fireflies Trek
About
Kondana Caves
Kondana Caves situated in Karjat offers the ancient lifestyle of Buddhist followers. Ancient rock-cut caves, Kondana Caves are very famous Buddhist caves. These caves enclose sculptures, vihara, cahitya and stupa. Sculptures and stupas are specimens of the ancient period Buddhist architecture. There was a natural disaster in the form of an earth quake in early 1900 by which many stupas, front entrance and floor of the caves were damaged. These ancient caves attract lots of tourists and Buddhist devotees all through the year. Kondana Caves is around 15 KM from Karjat.
Who are these beautiful Fireflies?
Fireflies or lightning bugs make light within their bodies. This process is called bioluminescence and is shared by many other organisms, mostly sea-living or marine organisms. Fireflies light up to attract a mate. To do this, the fireflies contain specialized cells in their abdomen that helps to create light.
Batches for Kondhane Caves Fireflies Trek
May 2019
18th 19th May 2019
25th 26th May 2019
June 2019
1st 2nd June 2019
8th 9th June 2019
15th 16th June 2019
22nd 23rd June 2019
Kondana Caves Fireflies Trek Event Details
Kondana caves trek difficulty level: Easy
Base village Kondana caves: Kondhane
Kondana caves height: 60m above Sea Level (Approx.)
Time required to climb Kondana caves: 1 hours (one way)
Cost: Rs. 1300/- (per person)
Kondana Caves Fireflies Trek Event Itinerary
Day 1 – Saturday
Catch Karjat fast local from CSMT.
CSMT – Karjat fast local time table.
16:30 CSMT
16:37 Byculla
16:43 Dadar
16:50 Kurla
16:54 Ghatkopar
17:10 Thane
17:22 Dombivali
17:31 Kalyan
18:21 Karjat
18:25 Meeting at Karjat railway station.
18:30 Journey towards base village by local tumtum.
19:30 Reach at base village.
20:30 Dinner.
22:00 Start trekking towards Kondana Caves.
Enjoy fireflies while ascending.
23:00 Reach at Kondana caves.
Enjoy fireflies, explore the cave.
Late night we came back to village.
Night stay at villager's house.
Day 2 – Sunday
06:30 Wakeup and freshen up.
07:00 Breakfast.
08:00 Start return journey towards Karjat station by tumtum.
09:00 Reach Karjat station and disperse.
Please note
People may board same train from their respective stations of convenience.
Missing the train is missing Kondana Caves Fireflies Trek, no refund will be provided.
Cost Includes
1 veg Dinner and 1 Breakfast
Travel Karjat to Karjat by local auto
Accommodation at homestay on sharing basis
Trek Leader Expertise Charges
Cost Excludes
Travel cost from Mumbai to Karjat and back
Travel from Pune to Karjat and back
Mineral water/lime water/ purchased for personal consumption
All kinds of Extra Meals / soft drinks ordered
Any kind of personal expenses
Any kind of cost which is not mentioned in the cost includes above
All expenses incurred due to unforeseen and unavoidable circumstances like roadblocks, bad weather
Any medical / Emergency evacuations if required
Cancellation Policy
75% refund if notified via phone conversation 8 or more days prior to the event date.
50 % refund if notified via phone conversation 4 to 7 days prior to the event date.
No refund if the cancellation requested is less than 3 days prior to event date
No show No Refund.
Event Tickets cannot be transferred to another date against cancellation.
Event Tickets cannot be transferred to another person against cancellation.
If Trek get cancelled, we will refund "Trek Amount" only.
Thing to carry
2/3 liters of water
Some Dry fruits / Dry Snacks / Energy Bars
Glucon D / ORS / Tang / Gatorade sachets
Good Torch must with extra battery
Trekking Shoes provide more grip and comfort on trek
One Day Backpack 20 to 30 liters
Sleeping material. (Sleeping bag or 2 bed sheets)
Sun Cap and Sunscreen
Personal First aid and Personal Medicine
Identity Proof
Please wear Full sleeves and Full Track Pant this will protect from Summer Sun / Thorns / Insects / Prickles