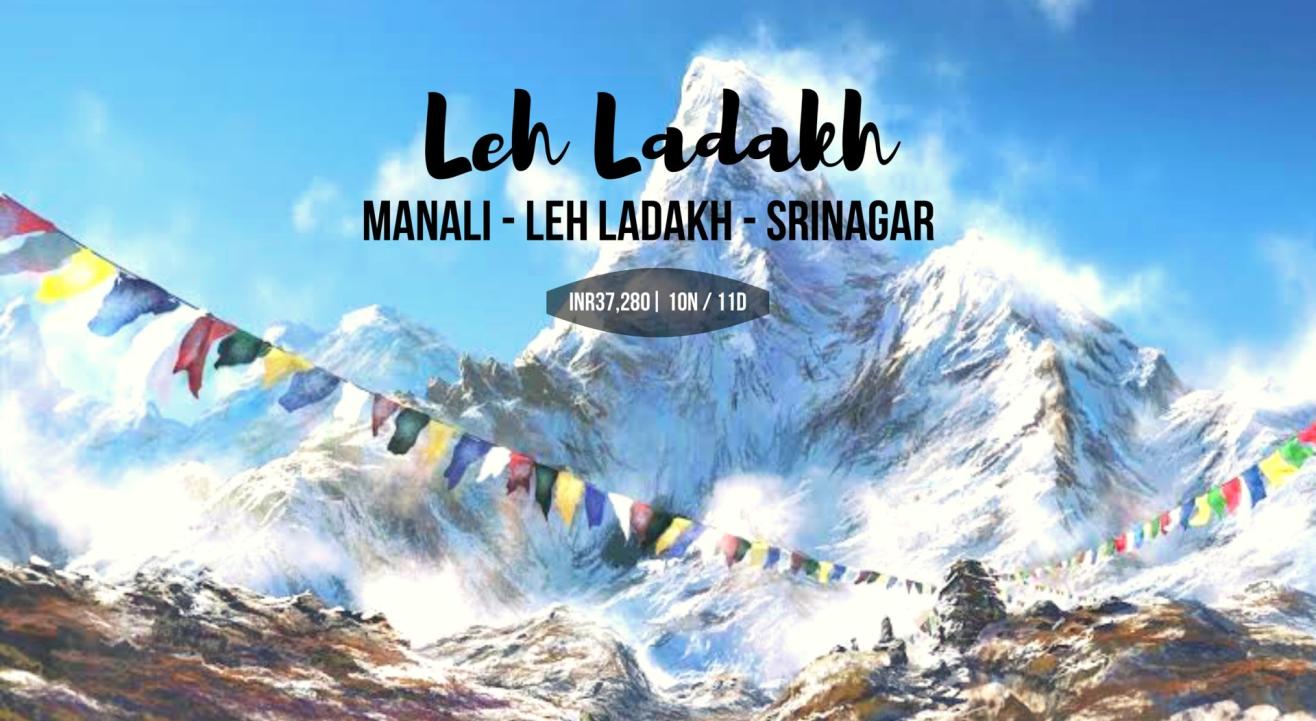 Adventure
Leh Ladakh Roadtrip ( Manali - Leh Ladakh-Srinagar)
About
LADAKH is sometimes called 'Little Tibet'. It has a similar landscape and culture that bears this comparison. The Ladakh range starts from the Indus-Shyok confluence and the Zanskar range is the dividing line between the Indus and Zanskar valleys. The Great Himalayan range in its S demarcates Ladakh from the Kashmir Valley and Himachal Pradesh. Two main districts comprise Ladakh: Leh and Kargil. Leh can be subdivided into Indus Valley, Nubra Valley, Shyok Valley and Markha Valley. The main rivers are Indus, Zansker and Shyok; like the mountain ranges these rivers run roughly east to West. Today Ladakh is open to outsiders, or at least as open as its geography permits. No special permission is needed to enter Ladakh and within the region you can travel around with relative freedom. Ladakh is full of amazing sights- strange gompas perched on soaring hilltops, dwarfed by snowcapped mountain; the barren, shattered looking landscapes aplashed with small but brilliant patches of green; ancient palaces clinging to sheer rock walls. But most of all it is notable for its delightful people- friendly as only Tibetans can be and immensely colourful. It's an amazing place.
Manali Leh Srinagar package tour is 10 Night 11 Days Leh Ladakh Road Trip starting from Delhi and ending at Srinagar. Major attractions in this trip from Manali-Leh-Srinagar road trip package are Manali, Keylong, Sarchu, Leh Ladakh, Khardung La, Nubra Valley, Pangong Tso, Tanglang la, Kargil, Zojila Pass, Drass Pass, Fotu la and many. Come & enjoy the trip of your life.
HIGHLIGHTS
Enjoy Road Trip rides on the tricky roads of Manali to Leh Ladakh.
Relish delicious Ladakhi cuisines.
Drive across Baralacha Pass, Rohtang Pass, Chang la and Tanglang La.
Visit Shey, Thiksey and other Leh monasteries
Visit the Kargil War Memorial – Witness the Tiger Hill
Venture out at the Magnetic Hill
Explore Jispa, Sarchu and Pang villages
Shopping and sightseeing in Leh
A day at Pangong Lake
Itinerary
Welcome to the Paradise of India
Outline: Manali - Lahual Valley - Rohtang Pass - Sarchu - Barlacha-La pass - Namkila-La pass - Lachalang - La pass - Leh - Thiksey - Stok Palace - Leh Palace - Hall of Fame - Shanti Stupa - Khardung La - Nubra Valley - Chang La - Pangong Tso - Hemis - Leh - Zanskar River - Magnetic Hill - Lamayuru - Kargil - Zoji La - Sonmarg - Srinagar.
Day 1: Friday 12th July 2019: Delhi to Manali:
Arrival at Delhi, Meet and greet Team Bhatakna.
Board a Volvo bus from Delhi and Say goodbey to city life.
Enjoy the overnight journey in AC semi-sleeper bus. (approximately 560kms/12hours)
Day 2: Saturday 13th July 2019: Full Day Manali Sightseeing
Arrive Manali Early morning.
Check in to the hotel. Get Fresh and go around manali and have a glance at the scenic view Gifted by God. On your own you can
visit Naggar Castle, Roerich Art Gallery and few old temples in Naggar village. Hadimba Devi Temple, Manu Temple, Tibetan Monastery Have your Dinner at Hotel You will have an orientation with the group.
Enjoy a short Night Walk and have cold softy at Mall Road in Night overnight stay at the hotel.
Day 3: Sunday 14th July 2019: Manali to Sarchu via Keylong and Jispa: Exploring Lahual Valley
Depart From Manali.
Your Himalayan road trip starts here by having breakfast and packing your bags. Travel by surface from Manali to The gateway of Leh. Don't miss to read the quotes by (Border Roads Organisation) BRO at the roadside. Keylong over Rohtang Pass (3980 m) & Baralachala Pass (4800 m) and passing through the several beautiful villages of Lahul Valley like Sissu, Gondhla and confluence of river Chandera & Bhaga at Tandi near Keylong. Enroute also visit 2 lakes Deepak & Suraj Tal.
On arrival check in, Have your Dinner, Overnight stay in camp.
Day 4: Monday 15th July 2019: Sarchu to Leh via Barlacha-La pass
Finally, the day has arrived when you leave for Leh- the land of highest passes. Today the panoramic view which, starts at Jispa stays with one till Leh. Travel by surface from Sarchu to Leh over Barlacha La pass (4,890 m), Lachang La (5065 m) and Tanglang La (5360 m).
Once you arrive at Leh check in to your rooms and relax. You are free to explore the Leh-Market. Dinner at hotel.
Day 5: Tuesday 16th July 2019: Full Day Leh Sightseeing/Acclimatization Overnight stay at Leh
Wake up at Leh! Have breakfast and start local sightseeing. We visit Thiksey Monastery, Stok Palace Leh Palace & Hall of Fame – War Martyrs.Have lunch onroute and come back to Leh to witness the sunset at Shanti Stupa. Explore the local Leh market and sleep tight. Dinner at the hotel.
Day 6: Wednesday 17th July 2019: Leh – Nubra Valley via Khardungla 125 kms (4-5 hours) / Overnight stay in Nubra Valley
We make our way across the Khardung La Pass, situated at 18,380ft, the world's highest motorable road, to enter the mystic Nubra Valley. Sandwiched between the Karakoram Range to the north and Ladakh range to the south, lie the Shyok and Nubra Rivers. Visit the white sand dunes at Hunder, a rare cold desert at this altitude. Ride the unique double-humped Bactrian camels here, the only place in the entire world where they can be found! The day ends with an overnight tent stay under the magnificent night sky full of stars!
Day 7: Thursday 18th July 2019: Nubra Valley – Pangong Tso (8 Hours 280 Kms) Overnight stay at Pangong Lake
After an early breakfast, we leave for Pangong and explore the Diskit Monastery,The most fascinating highlight of any Leh trip, today we pay a visit to Pangong Lake, which is the largest brackish water lake in Asia. Two-thirds of the lake lies in China. To get there, we travel via Chang La, the third highest motorable road in the world, at 17,586 feet. Enjoy the evening by the lakeside revelling in the glorious colours of nature, a class apart from any other such sight. If you happen to be here around New Moon, enjoy the splendid view of a star-studded Milky Way galaxy at night. Sleep tight
Day 8: Friday 19th July 2019: Pangong Tso to Leh (50 kms (4-5 hours) / Overnight stay at Leh)
Morning's here! We wake up to an enchanting sunrise over Pangong Tso, and later head back towards Leh. On our way, we halt by the famed school from the blockbuster Hindi movie '3 Idiots' and visit the Hemis Monastery. On reaching Leh, rest and retire for the day. We can visit Shey palace too if time permits
Day 9: Saturday 20th July 2019: Leh to Kargil (240 kms (7-8 hours) / Overnight stay in Kargil)
Drive to Chilling, along the River Zanskar, where we begin our 28 km river rafting adventure! This route has rapids of up to 3+ Grade. Enjoy the majestic views of the mountains around, along with the thrill of navigating past the rapids in the chilling waters of the Zanskar! Today we also explore Magnetic Hill on route. We also explore Lamayuru Monastery and Moonland before reaching Kargil Get some rest!
Day 10: Sunday 21st July 2019: Kargil to Srinagar via Drass – 200 kms (7-8 hours) / Overnight stay at Srinagar (House Boat – Dal Lake)
Leave early in the morning, stopping for tea at Drass, the second coldest place in the world. We explore Kargil War Memorial and pay tribute to the soldiers. See the Tiger hill and Tololing point from here, where our brave soldiers defeated Pakistani troops. As we cross over the amazing Zoji La – One of the most deadliest roads of India, we enter the heavenly valley of Sonmarg. Continue the drive to Srinagar. Reach houseboat in the evening. Go for a shikara ride and shop at the floating market.
Day 11: Monday 22nd July 2019: Departure
Check-out and head to airport for your flight Trip ends on your arrival to the airport with a great travel experience. Time to fly back home from Srinagar! Trip concludes with happy memories.
Bhatakna Jaroori Hai !
STAY:
Manali (1N) – Sarchu (1N) – Leh (2N) – Nubra (1N) – Pangong (1N) - Leh (1N) - Kargil (1N) - Srinagar (1N).
LOCATION & HOTELS:-
MANALI: Hotel New Kenilworth International / Similar
SARCHU: Garjha Hill Sight Camp / Similar
LEH: Hotel Kanika Himalayan View / Similar
NUBRA VALLEY: Cold Desert Camp / Similar
PANGONG TSO: Pangong Lake View Camp / Similar
KARGIL: Hotel Greenland / Similar
SRINAGAR: Golden Crest Group of House Boats / Similar
INCLUSIONS
1. 3 Star Hotel accommodations at Manali, Leh, Kargil & Srinagar as per respective itinerary.
2. Camps stay having tented accommodation with self contained bathroom & toilet at Sarchu, Nubra Valley & Pangong Lake as per respective itinerary.
3. All transport costs from starting/pick up point until ending/drop off point by Scorpio/Xylo as per respective itinerary & 6 people in 1 vehicle. (Vehicle not at disposal. Only available for the sightseeing mentioned in the itinerary – point to point).
4. Delhi to Manali Volvo Bus Semi-Slepper.
5. Breakfast & Dinner every day during the tour.
6. Twin sharing stays at all hotels and camps.
7. 1 Water Bottle Per Person Perday.
8. Complimentary activities: Camel Safari or Shikara Ride. 9. Assistance & Tour Manager.
EXCLUSIONS:
1. All food & beverages costs apart from the ones mentioned above.
2. LUNCH throughout the package.
3. Hotel & driver tips (if any).
4. Entry ticket fees to Museums, Parks, Monastery etc.(Which is Nominal) 5. Water bottles and soft drinks
6. Anything not mentioned in inclusions
7. Any personal expenditure (Toiletries, medicines, etc.)
8. Cost incidental to any change in the itinerary/ stay on account of flight cancellation due to bad weather, ill health, roadblocks and/or any factors beyond control 9. Anything not specifically mentioned under the head "Cost Includes".
10. Any guide fees.
11. Any airfares not mentioned above in the "Cost Includes" section.
THINGS TO CARRY:
• Warm jacket for windy nights
• Regular winter clothing Woolen Gloves, woolen socks, Monkey Cap/Balaclava, Neck Scarf.
• A lightweight and versatile backpack to carry water, snacks, rehydrants, etc.
• A cap or a hat to keep off the sun.
• A pair of Sunglasses.
• A lightweight Haversack or Backpack, and a smaller Day Sack
• A lightweight flashlight with extra batteries for emergencies.
• High SPF sunscreen lotion (consult your doctor before purchase).
• Personal toiletries-Sunscreen, Moisturizer, Light towel, Lip balm, Wet wipes, Toothbrush, Toothpaste, Hand Sanitizer
• Good pair of trekking shoes, and a pair of flip-flops
• Mosquito repellent
• Camera(optional)
• Binoculars(optional)
Travel Help for Arrival:
• By Train: You can reach Delhi via train and reach Majnu ka Tilla and meet bhatakna Team member. (X- Delhi Package)
• By Air: Reach Delhi via flight and reach Majnu ka Tilla and meet bhatakna Team member. (X- Delhi Package)
Travel Help for Departure:
• By Air: Board flights from Srinagar to Mumbai (Most recommended, we can book your flights on prior request)
MEDICAL TIPS:
• Carry regular medicines for headaches, travel sickness, vomiting, stomach upset, etc.
• Please ensure that you carry specific medication that you are currently consuming (if any). • Consumption of water should be minimum 2 to 2.5 litres per day.
SUPPLEMENTARY ACTIVITIES & CHARGES (On Actvity Depends on Weather Conditions):
1. Ladakhi Nomadic Cultural Program Rs. 8000 per program.
2. River Rafting INR 1600 Per Person for approx. 2 hrs. [Phey – Nimoo (Indus) / Choksti – Nimoo (Zanskar)]
3. River Rafting INR 2200 Per Person for approx. 3 hrs. [Chilling – Nimoo (Zanskar River)]
4. Professional Tourist Guide Rs. 2500/- Per Day.
5. Motorbike on hire:
• Enfield Bullet 500 CC - Rs. 1800 per bike per day.
• Enfield Bullet 350 CC - Rs. 1500 per bike per day.
• Bajaj Avenger 220 CC - Rs. 1500 per bike per day.
• Bajaj Pulsar 200/180 CC - Rs. 1200 per bike per day. Yamaha FZ/FZ-S/Fazer 150 CC – Rs. 1200 per bike per day
6. Downhill Mountain biking from Khardung La top on the way back from Nubra Valley at Rs. 2250 per person (minimum 04 PAX needed).
FAQ
Is 10 nights and 11 days an ideal duration to travel to Leh Ladakh?
Ideally, a 6 nights and 7 days tour package to Leh Ladakh is enough to cover all famous attractions of the region. However, it is a vast region with numerous beautiful places both discovered and undiscovered. No matter how long the trip is there will always be someplace that is going to be missed out on. A 10 nights and 11 days Leh Ladakh tour package offers a complete experience of this beautiful region and includes road trips to Manali and Srinagar.
Do all camps in Pangong Tso and Nubra Valley have attached washrooms?
Bhatakna offers standard and deluxe camps with attached washrooms in all the tour packages of Leh Ladakh. All camps of Pangong and Nubra will be equipped with basic amenities for an absolutely comfortable stay. However, there are some low budget camps that do not have washrooms inside the camp.
Is this 10 nights and 11 days Leh Ladakh tour package customisable?
A traveller can certainly customise this 10 nights and 11 days Leh Ladakh tour package by discussing the desired preferences with Bhatakna expert trip advisors for Ladakh.
What are the options for restaurants and eateries in Leh Ladakh?
Due to the gradual increase of tourism in Ladakh, there are many restaurants in Leh that have opened up that caters to travellers needs. Some of the famous eateries of Leh include Tibetan Kitchen which serves delectable local cuisine (momos are highly recommended), Chopsticks Noodle Bar where travellers can go for savoury Chinese food and Gesmo restaurant that's famous for breakfasts. On a trip to Khardung La pass one must try some maggi and tea at the world's highest maggi point.
Travellers are advised to mention their food preferences (if any) to the cab driver cum tour guide who will accordingly take them to right eatery during excursions.
What can one buy from Leh?
Shopping in Leh Ladakh is a unique experience. Some of the places where travellers would love to shop at in their Leh Ladakh family are given below:
Ladakh Art Palace: One can find intricately designed Tibetan handicrafts and jewellery.
The Buddhist Thangka House: This place has a range of thangkas as well as other items such as Ladakhi hats and jewellery.