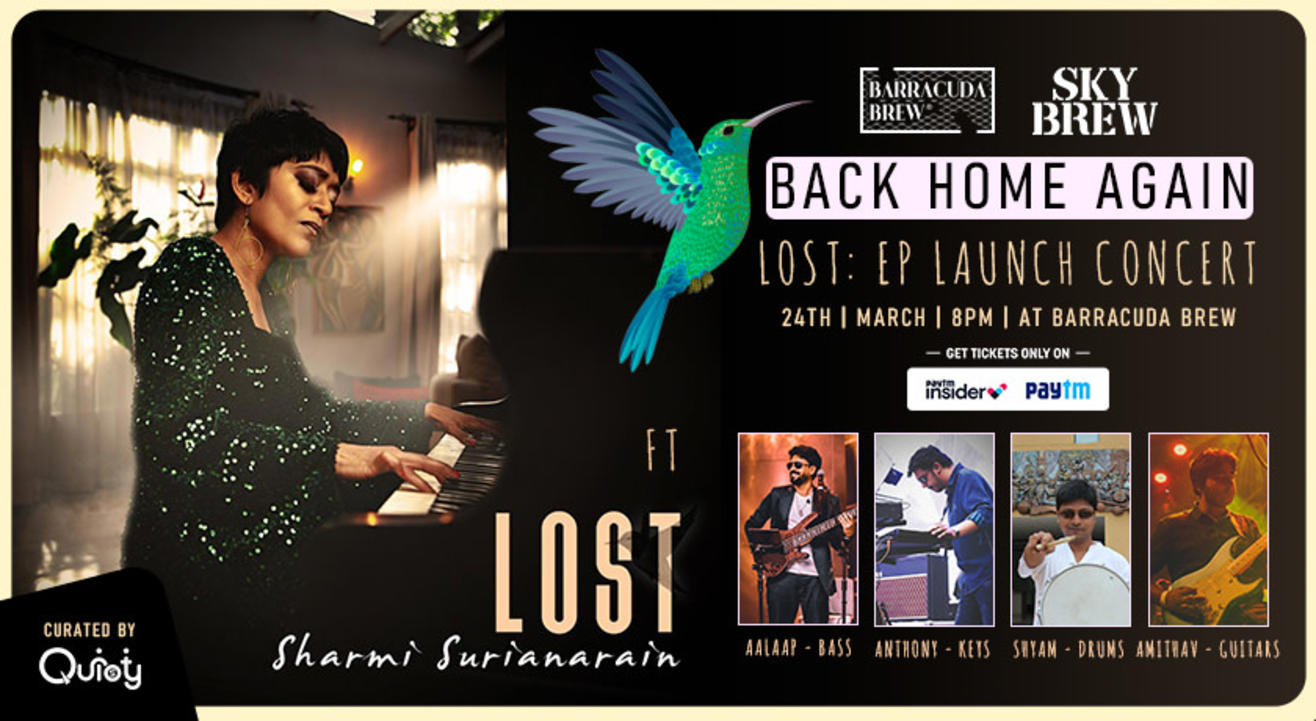 Lost - Sharmi Surianarain - EP Launch Concert
Event Guide
Live Performance
Enjoy a unique experience
Invite your friends
and enjoy a shared experience
Lost - Sharmi Surianarain - EP Launch Concert
Event Guide
Live Performance
Enjoy a unique experience
Invite your friends
and enjoy a shared experience
Event Guide
Live Performance
Enjoy a unique experience
Invite your friends
and enjoy a shared experience
Sharmi Surianarain is a prolific and multi-talented singer, songwriter, philanthropist and a fierce advocate for opportunity and social justice for young people and women across the African continent, and is a keen analyst and thinker on the future of work. Sharmi started playing piano at the tender age of 6, later composing her first musical at 14. She is classically trained, being well versed in both Western and Carnatic styles of music. During her studies at Harvard, she sang soprano for the University's Radcliffe Choral Society. She also had the pleasure of singing with the Juilliard Chorus and performed at Carnegie Hall with acclaimed British tenor Russell Watson. Sharmi is a polyglot. She speaks and sings fluently in over 7 languages. Her musical journey has placed her on stages across the world. She has performed in South Africa, US, Kenya, Rwanda, Canada, UK, Argentina, Chile and Brazil. During the day, Sharmi serves as the Chief Impact Officer for Harambee Youth Employment Accelerator in South Africa. She leads on Harambee's impact and systems change agendas, and oversees Harambee's work in new markets. Sharmi is also the Founder of Making Caring Count, a social enterprise that aims to build impactful solutions around care work in Africa. She brings extensive experience in human capital management, education, and facilitating links to employment across Africa, India, and the United States. Prior to her current role at Harambee, Sharmi served as Vice President of Lifelong Engagement at African Leadership Academy (ALA)where she oversaw a network of 2,000 young African leaders, managed ALA's Mastercard Foundation Scholars Program, Africa Careers Network, and ALA's alumni engagement team. Sharmi is an Aspen African Leadership Initiative Fellow, Class of 2020, an RSA Fellow, and sits on the Boards of Emerging Public Leaders, Metis, Instill Education and is on the 2021 G7 Impact Taskforce. Sharmi's work has been featured in The Huffington Post, The Daily Maverick, The Mail and Guardian, and The Economist. Sharmi holds a B.A. from Harvard University, a master's degree from the Harvard Graduate School of Education and a master's degree from Northwestern University's Kellogg School of Management.
In the course of her work Sharmi has so far raised more than $100M USD for social impact work on the African continent and the US. Currently,
Sharmi brings light and joy to whatever platform - stage or otherwise - she graces. This concert is to pay homage towards the city she grew up in and to spread the joy of making her EP among her friends, families and music enthusiast.
This event is curated by Quriosity
Barracuda Brew
24, College Rd, Subba Road Avenue, Nungambakkam, Chennai, Tamil Nadu 600006, India
GET DIRECTIONS
Lost - Sharmi Surianarain - EP Launch Concert
Event Guide
Live Performance
Enjoy a unique experience
Invite your friends
and enjoy a shared experience