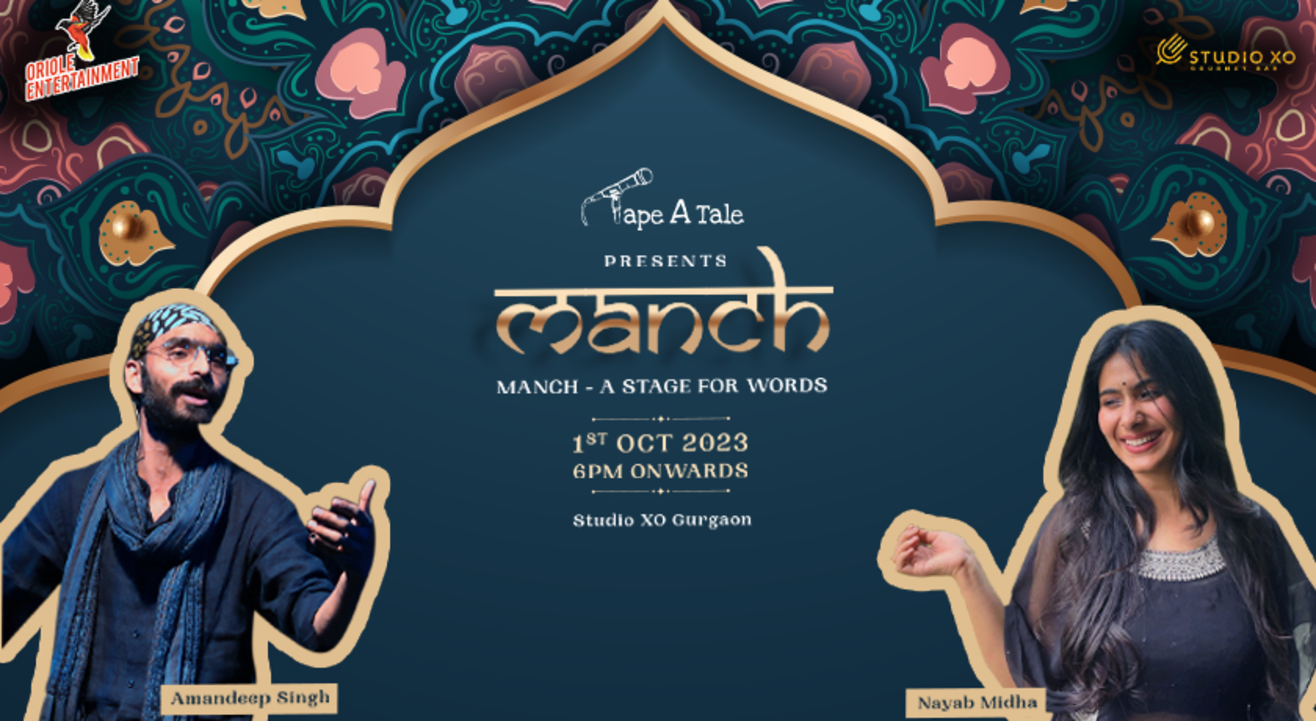 Manch by Tape A Tale ft Nayab Midha and Amandeep Khayal
Event Guide
For Age(s)
Family Friendly
Language
Hinglish, Hindi, English
Live Performance
Enjoy a unique experience
Invite your friends
and enjoy a shared experience
Manch by Tape A Tale ft Nayab Midha and Amandeep Khayal
Event Guide
For Age(s)
Family Friendly
Language
Hinglish, Hindi, English
Live Performance
Enjoy a unique experience
Invite your friends
and enjoy a shared experience
Event Guide
For Age(s)
Family Friendly
Language
Hinglish, Hindi, English
Live Performance
Enjoy a unique experience
Invite your friends
and enjoy a shared experience
Welcome to MANCH by Tape A Tale, a space where the art of storytelling and poetry comes together into a beautiful combination of words and emotions.
With 'Muskurao Girl' Nayab Midha set to grace the stage, audience will get to hear her stories and poems, drawing on emotions that resonate with each listener.
Amandeep Singh, fondly known as the 'wordsmith of hope', will spin stories that inspire and rejuvenate the soul. His gift lies in his ability to infuse hope into every word, leaving listeners with a renewed zest for life.
MANCH is not just an event; it's an experience. So, immerse yourself in the realm of stories and poetry.
Come, let's celebrate the magic of words, and leave with memories etched in your hearts.
Studio XO Bar
1st Floor, Trilium Avenue, near Hudacity Metro station, Sector 29, Gurugram, Haryana 122009, India
GET DIRECTIONS
Manch by Tape A Tale ft Nayab Midha and Amandeep Khayal
Event Guide
For Age(s)
Family Friendly
Language
Hinglish, Hindi, English
Live Performance
Enjoy a unique experience
Invite your friends
and enjoy a shared experience