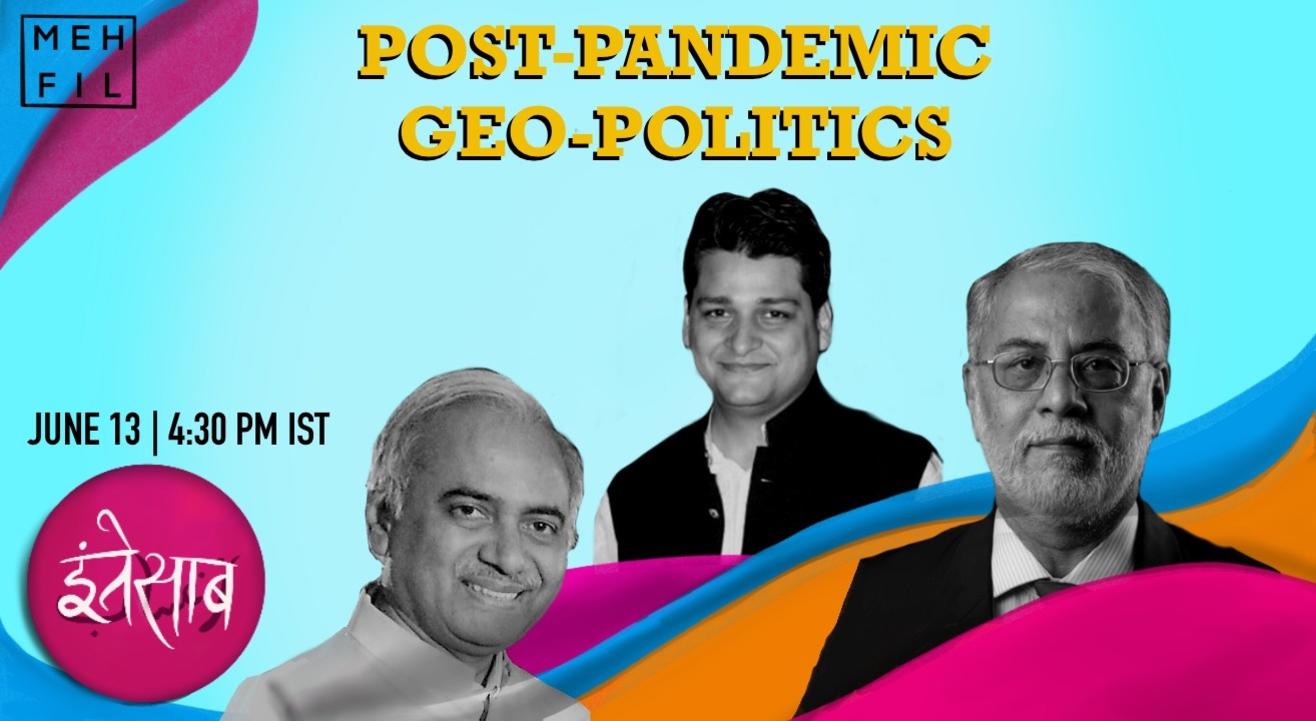 Mehfil: Post-Pandemic Geo-Politics
Enjoy this event from your home
Invite your friends
and enjoy a shared experience
Mehfil: Post-Pandemic Geo-Politics
Enjoy this event from your home
Invite your friends
and enjoy a shared experience
Invite your friends
and enjoy a shared experience
Recession, depression, demand. These are the words that resonate throughout the fabric of India today, when the pandemic has hit. The slow or lack of GDP growth means that there are limited jobs for the unemployed, for the students. And this is intrinsically linked with Politics. The current pandemic has exposed issues within the Chinese System, and this seems to have implications on the future of the politics of the world. The power vacuum left by the USA in terms of Global Leadership ,means that the world looks towards another leader. Is it China? Or Europe? It is yet to be discovered. Further, the recent Black Lives Matter movement spreading worldwide signals a need to shift the way global and national policies and their politics work. What will be India's position in the New Age post-pandemic world?
We, at Intesaab 2020, the first student-led online festival, believe that the youth is the future, one which must be saved at any cost. There is no doubt that there will be massive lay-offs and that the job hunting business will profit unnaturally, and that political systems will change. But how?
We believe that by discussing this, we can move forward to discovering these answers. We would be eternally grateful for your presence in our panel discussing the Future of Global Politics and its significance for India.
SPEAKERS
Professor Harsh V Pant,
Director, Studies and Head of the Strategic Studies Programme at Observer Research Foundation, New Delhi.
He is also a Non-Resident Fellow with the Wadhwani Chair in US-India Policy Studies at the Center for Strategic and International Studies, Washington, DC. Professor Pant's current research is focused on Asian security issues. His most recent books include New Directions in India's Foreign Policy. Professor Pant writes regularly for various Indian and international media outlets including the Japan Times, the Wall Street Journal, the National (UAE), the Hindustan Times, and the Telegraph.
Dr. Manoj Joshi
Manoj Joshi is a Distinguished Fellow at the Observer Research Foundation. He is a journalist who has specialised in foreign and security policy in the years he has worked with The Times of India, The Hindu, The Hindustan Times and the India Today Group. He is a regular columnist and commentator in the Indian media. He has been a member of India's National Security Advisory Board and has authored two books on Kashmir as well as several papers and chapters in scholarly works on South and South-east Asia.
Mr. Seshadri Chari
Mr. Chari is a commentator on foreign policy, strategic and security matters. He was former
editor of English weekly ORGANISER for 12 years from 1992 to 2004. He was Consultant
on Governance to the United Nations (UNDP) and posted in South Sudan from 2006 to 2009.
He was formerly Convenor of BJP Foreign Policy Cell.
About Intesaab
Intesaab 2020, organised by the Ishan Foundation Trust, Jaipur x Mumbai, marks a new beginning where art and artists find their way to express their inhibitions. Scheduled on the 12th, 13th, and 14th of June 2020, it is India's first virtual festival, where these three days are an amalgamation of panel discussions, talks, events, and workshops, where Intesaab shall diverge into an iconic platform for art across the nation to be rediscovered and cherished.
With the grasping clutches of the COVID-19 pandemic, we also believe in making a change in society that sustains us. Hence all proceeds from the festival shall be donated to NGOS which provide relief to the victims of the COVID-19 crisis. Thus, Intesaab 2020 is a cradle for new avenues to emanate, reorient, and unravel incredible directions that will divulge our past, mold our present, and inspire our future.
Find more about Intesaab on www.ishantrust.org
Follow us on instagram: @intesaabfest
For queries: intesaab@ishantrust.org
Mehfil: Post-Pandemic Geo-Politics
Enjoy this event from your home
Invite your friends
and enjoy a shared experience