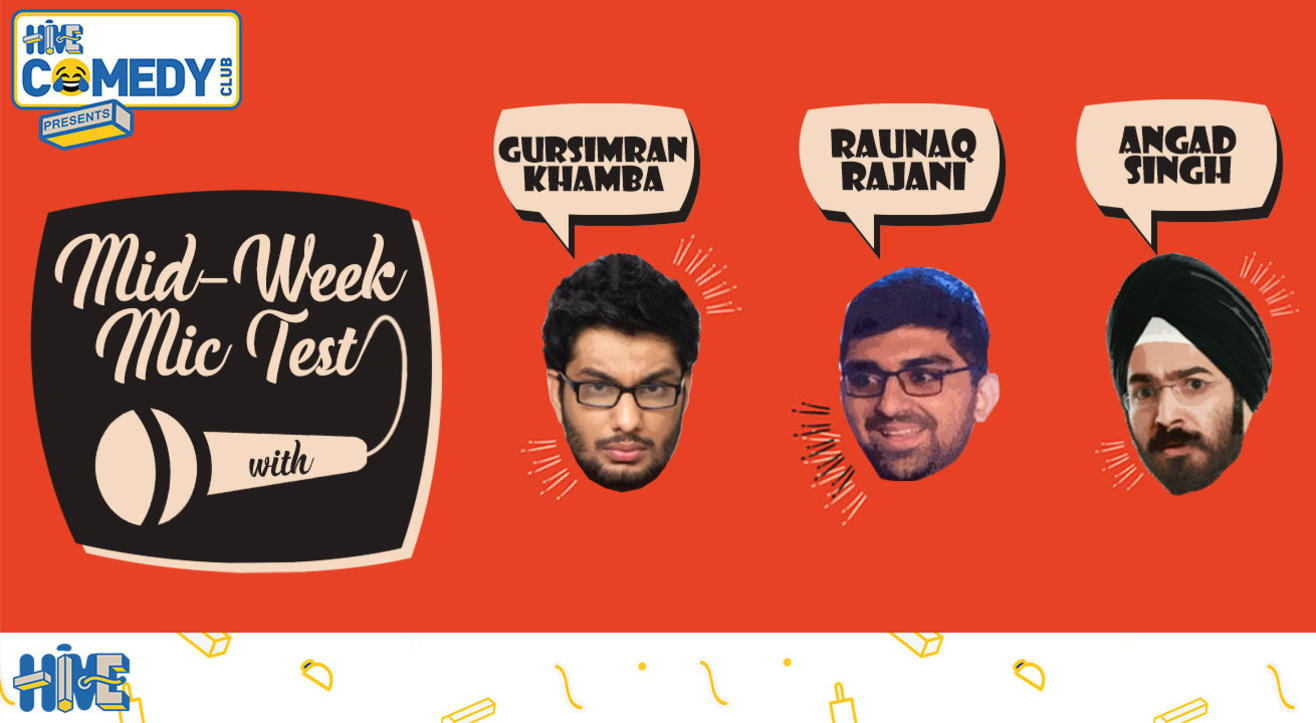 Comedy
Mid-week Mic Test with Khamba, Angad and Raunaq
About
Mid-week blues catching up to you? Well, The HIVE has a solution! Join us for our mid-week mic test as we bring you fresh and work-in-progress jokes by an amazing line up of your favorite comedians.Guaranteed laughs and a lot more! This weeks lineup has Gursimran Khamba, Angad Singh Ranyal and Raunaq Rajani. Expect some suprise drops in spots as well...just saying, come prepared :)
About the Artists
Gursimran Khamba
Born and raised in Delhi, Gursimran Khamba is the founder of a digital content start-up Light@27 and was the co-founder of the All India Bakchod along with fellow comedians Tanmay Bhat, Rohan Joshi & Ashish Shakya.
Angad Singh
Born intelligent, Angad Singh Ranyal figured out the key to a successful life and career early on in life. Get the most coveted qualification possible (he has an Engineering degree, along with an MBA), and then go on to make jokes about it for the rest of your life. Angad has been hailed as one of the most promising comedians in the Indian comedy scene, having performed more than 500 shows and at 150 corporates across 17 cities in India.
Raunaq Rajani
A pure bred Bombay boy, Raunaq Rajani has been in the comedy scene for a little more than half a decade. . He has appeared on Cyrus Broacha's: The Week That Wasn't and Rising stars of comedy on NDTV prime. Some insightful perspective, honest observations and sarcastic wit make Raunaq an act that you shoudn't miss!
Venue
The Cuckoo Cafe, Mumbai
First floor, above The Cuckoo Club Black Box Theatre | 5AA, Pali Hill Road, Next to Candies, Bandra West, Mumbai, India 400050