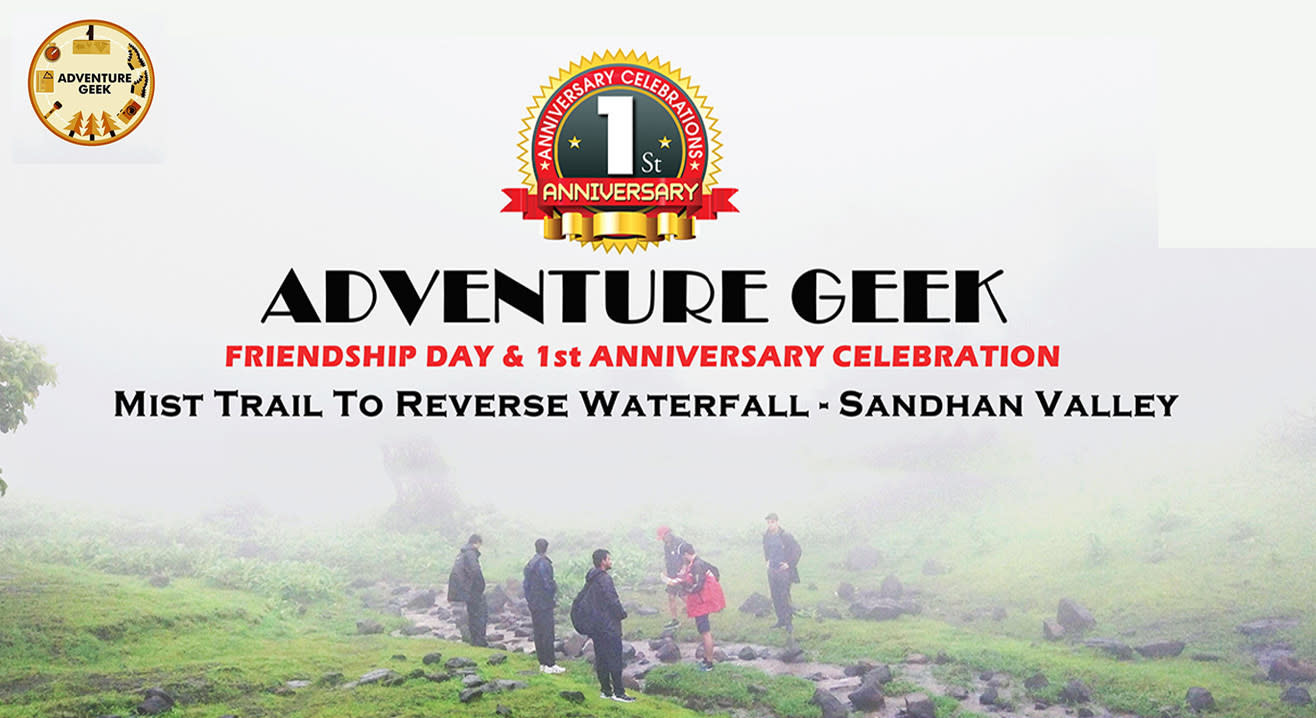 Adventure
Mist Walk to Reverse Waterfall and Glimpse to Sandhan Valley
Sanjay Gandhi National Park, Mumbai
About
You know there is an unspoken bond you create with the people you travel with & we geeks have bonded with many amazing people so far. ☺
Our Adventure Geek is turning 1 on 6th August,2017! Yes we are completing our journey of one year of organizing events like trekking, camping, and many other adventurous activities. When Friendship Day is also on the cards, how about celebrating this day with something special, thrill & fun filled activities, music, games, laughter, etc?
We are celebrating our 1st year anniversary & Friendship day altogether with a special event on Sunday, 6th August 2017 at Samrad village for a mist walk, a glimpse of Sandhan Valley and to enjoy Reverse Waterfall. Let us go away from the chaotic city life and witness the shades of mother nature like never before. From birds, flowers to Rhythmic Gushing Water and mesmerizing views of Sandhan. All of this a twist of music and masti like never before!!
Day 1: 5 August 2017
Meeting Point Sanjay Gandhi National Park @ 11PM
Travel by Private NON-A/c bus to Samrad

Day 2: 6 August 2017
Reach Samrad Village by 6.00am
Rest for an hour
Have BreakFast Move Towards Reverse Waterfall
Back To Samrad Village by 2 pm
Have Lunch
Move Towards Mumbai
Evening Refreshment on the way
Reach Mumbai by 8 - 9 pm tentatively
Extra pair of clothes and socks
Identity card
Camera. (Optional)
Some ready to eat food, biscuits etc.
A bottle of water (atleast 2 Ltrs) compulsory
Medicine those if you require usually
Good trekking shoes, extra pair of floaters.
A haversack to put in all the things to be carried so that one has ones hands free while trekking.
Pleases do not carry Jholas.
Travelling by private bus from Sanjay Gandhi National Park and back.
Morning and Evening Refreshments
Lunch
Expertise Charges