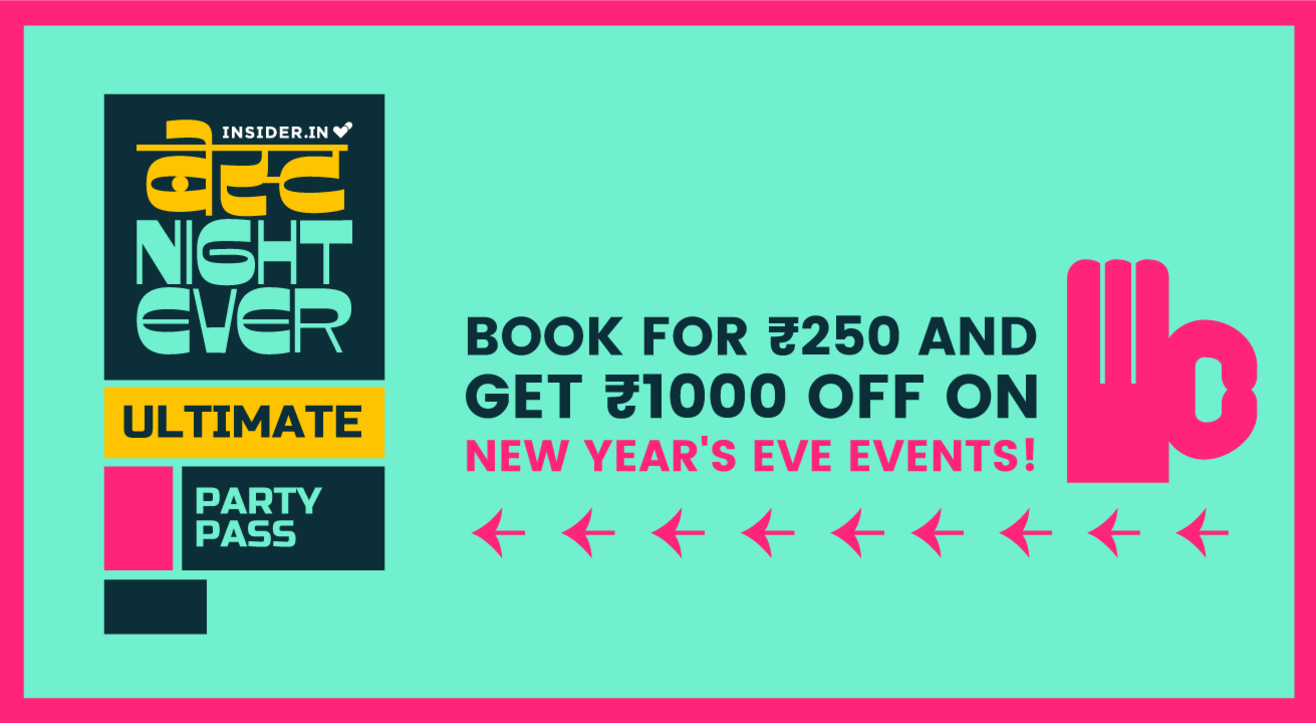 Best Night Ever!
Ultimate Party Pass for New Year's Eve
250 and get ₹1000 off on New Year Events
About
- Get a head start on your New Year's Eve plan!
- Book for ₹250 and get ₹1000 off on any New Year's Eve event: From heavy duty partying, to camping under the stars.
- Choose from over 1,000 things to do on December 31.
- You also get a bunch of special deals and discounts to keep the party on track! Our Party Pass partners have got you covered for a variety of 'let's not go there, again' situations!
Your Ultimate Party Pass includes:
Fabricspa: Get 30% off on purchases of ₹1000+
Lenskart: Get ₹1000 off on purchases of ₹4000+
Myntra: ₹200 off on purchases of ₹999+ on select styles
PharmEasy: Get 25% off on all medicine orders
Crocs: Get 30% off on new selection online
Paytm: Get ₹150 cashback on ₹400+ movie ticket purchases
Insider.in: Get ₹250 off on any event in Jan 2019
Yatra: Get 25% off on domestic hotels & 15% off on bus tickets
Pepperfry: Get ₹250 off on purchases of ₹999+
For corporate (bulk) bookings
Please mail corporatebookings@insider.in, or call us at +91-22-33604736.
Since no New Year's Eve ever goes as planned, you also get these deals!

Detailed Terms and Conditions apply. Please see the end of this page.
Check out the people and places who will ensure you have the #bestnightever
Before you book, keep in mind...
Insider.in's Ultimate Party Pass is valid for all events under "New Year 2019".
This pass gives you ₹1000 off on your New Year's Eve transaction. Each pass is for one time use only.
The Ultimate Party Pass offer cannot be clubbed with any other offer on Insider.in.
Vouchers given by brands other than Insider.in are subject to terms and conditions set by Party Partners. Please see the bottom of this page for individual Party Partners' T&Cs
Event terms and conditions apply at the time of buying New Year's Eve tickets.
Limited passes available.
Insider.in reserves the right to modify the terms of the offer as its own discretion.
All partner coupons/offers/discounts are valid only once per customer on partners' website/app/stores, even if the customer buys more than one Best Night Ever Party Pass on Insider.in.
Insider.in's partners are only entitled to honor the coupons/offers/discounts only once on their website/app/store per email ID.
Q: I get ₹1,000 off on New Year's Eve events and load of deals for just ₹250?
A: Yes, that seems right!

Q: And I can buy as many of these Pass things as I want?
A: Totally! We forgot to set a per-person limit and our engineering team tells us nothing can be done about that now. You can buy only one pass per transaction, though!

Q: So, what's next?
A: Simple. Buy the pass here for ₹250. Within 24 hours, you'll get a mail with the Insider.in discount code, which you can use against any event in the 'New Year 2019' section on the website. You can use a single coupon only once. In five days from your Ultimate Party Pass purchase, you will get a mail with coupons from all our Party Partners. All coupons are valid only for one transaction each, so don't share them with friends. Remember, sharing is not caring... sometimes.

Q: What kind of events will I find on Insider.in for New Year's Eve?
You can find incredible parties at venues all over India for every pocket! If your idea of a party is less dancing, more walking, choose from a variety of camping events, treks and offbeat experiences.

Q: So if you have an event worth ₹10000, I can basically buy 10 of these passes and get to go to the gig for… ₹2500.
Nice try. You can use only one coupon code per transaction. But hey, if you do decide to do that, the upside is that you can go for 10 parties in one night! #bestmathever

Q: How can I ensure I don't do anything on New Year's Eve I don't regret?
As R. Jeeves once said, "One cannot make an omelette without breaking an egg".