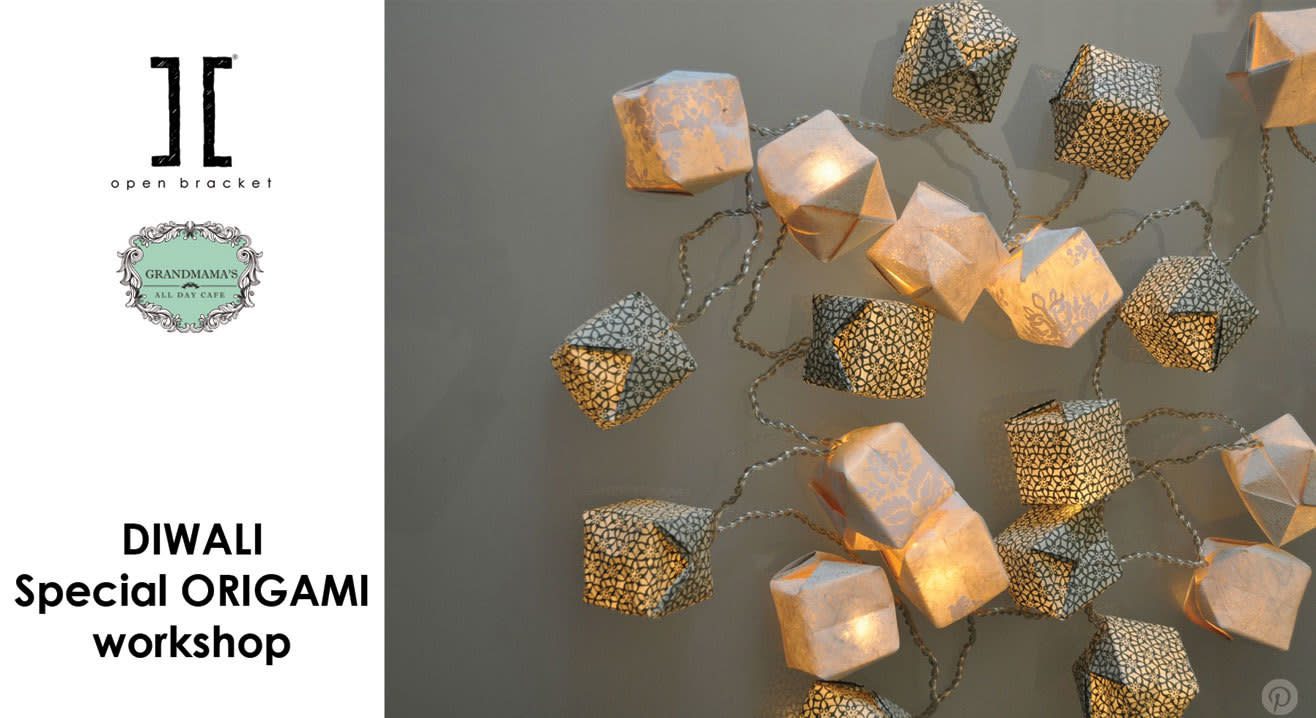 Craft
Open Bracket Presents - Diwali Special Origami Workshop
Grandmama's Cafe, Kamala Mills, Mumbai
About
It is that sparkling time of the year again! As the festive cleaning begins along with all the shopping for goodies and gifts, we all feel the holiday fervour kick in. Decorating your home to match your spirit is a part and parcel of the diwali deal, and what better way to welcome the festival of light each year, than with glowing lanterns and handmade gifts.
Only this time, these lanterns, decorations and gift boxes in your home will not come from a shop along the side-walk or the store round the corner; it will come straight from you! Open Bracket presents to you a workshop on the art of Origami. This diwali, light up your home with beautiful lights and decorative art made using the ancient Japanese technique of folding paper to create inspiring forms. Origami helps you personalize your decorations, from the traditional Akash Kandeel to abstract shapes and designs that make light dance to transform the whole room. This workshop is your hassle-free, DIY guide to pocket-friendly, re-cycle happy and home-sourced festivity! With only a few pieces of paper, and a touch of personal creativity, you can now create art that brings bright light and broad smiles to all those who see it.
The workshop will be conducted by our guest artist Mimansa Vahia. This workshop will cover Origami based models like: Kusudama lanterns, rounded trays with compartments, decorative origami gift boxes; to mention a few. We will also cover a few types of multiuse decorative origami models. This and much more origami fun! The necessary material for the workshop will be provided by us; though it will be perfect if you can carry your own pair of scissors and big size box to carry all the models that will be made during the workshop.
About Open Bracket:
Open bracket is an experimental platform for all things creative! We organize and curate custom made workshops that stand firmly in the no man's land between classroom lectures and professional training, though never shying away from mandatory hops of fun. The workshops are conducted by professionals who are invited from an extensive list of artists and creators from all over the country. To know more log on to – www.openbracket.in
Venue
Grandmama's Cafe, Kamala Mills, Mumbai
Kamala Mills, Next to Gate 4, Senapati Bapat Marg, Lower Parel, Mumbai, Maharashtra 400013