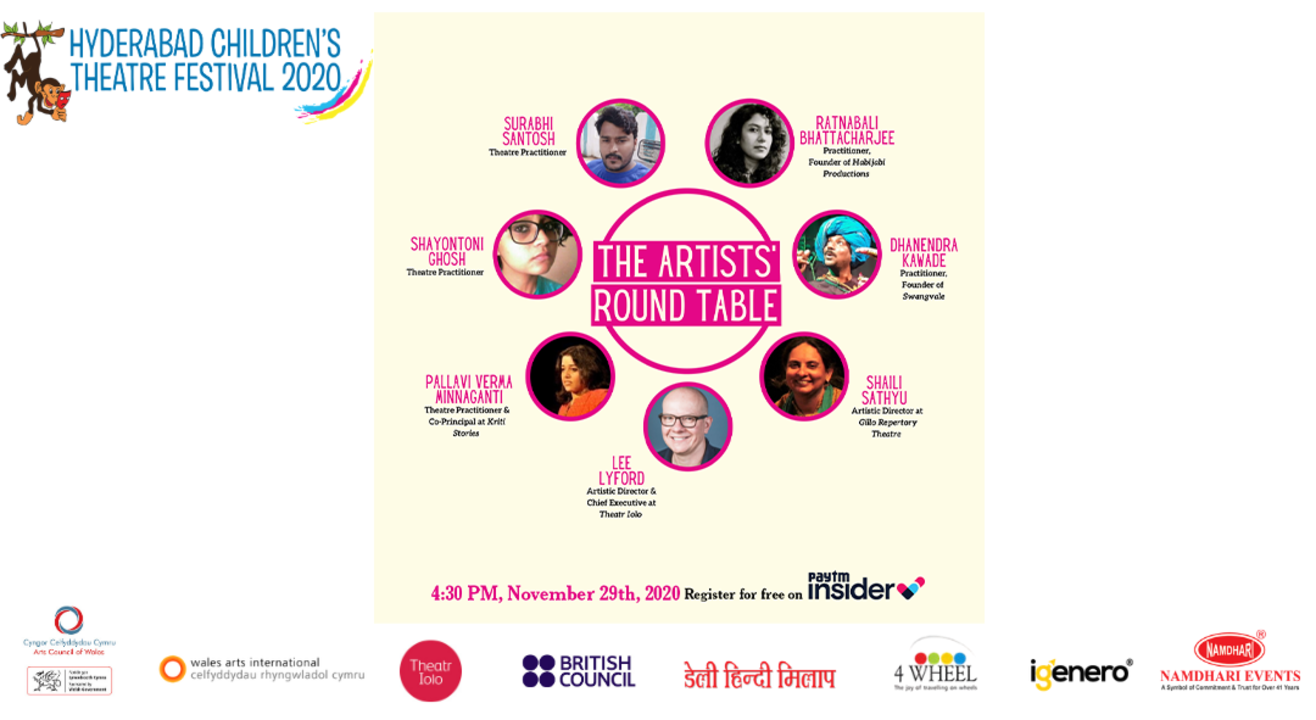 Round Table on Theatre for Young Audiences
Enjoy this event from your home
Invite your friends
and enjoy a shared experience
Invite your friends
and enjoy a shared experience
About the Event
Over the last few months, we have spent a lot of time reflecting on what theatre people can offer to anyone in times like these, especially when working for Young Audiences. Should one get onboard the online "live" theatre bandwagon? What of the immersiveness, the tactility, and the delicious moments when performers and audiences breathe as one? How do we address the large section of our audience, especially in India, who do not have digital access? Can we find ways to make this virtual experience something of value to children?
We have spent plenty of time during the extended lockdowns trying to listen to scientists, theatre makers, parents and educators. It has become clear that we don't have the answers, so what can we offer our young audiences?
Perhaps that there are ways to ask questions.
To help point us in the right direction, we have asked the following people to join us for a Round Table Discussion on Theatre for Young Audiences on November 29th at 4:30 pm (IST).
Lee Lyford, Theatr Iolo
Lee is a specialist and leader in the field of making work for children and young people and is also the Artistic Director and Chief Executive of Theatr Iolo.
Shaili Sathyu, Gillo Repertory Theatre
Shaili Sathyu is the Artistic Director of Gillo Repertory Theatre, an organization that specializes in Theatre for Young Audiences.
Dhanendra Kawade, Swangvale Productions
Dhanendra Kawade is a part of the theatre industry for the last 28 years. He has acted in more than 60 plays, and been responsible for the production and light design of several more.
Ratnabali Bhattacharjee, Habijabi Productions
Ratnabali Bhattacharjee has been actively involved in theatre since 1998. Having worked as an actor in several productions, she also began working with children in 2009. She has directed plays for schools, and conducted workshops all over India, in association with
Prithvi Theatre and now Junoon,
Pallavi Verma Minnaganti
Pallavi is a theatre practitioner and the co-principal of Kriti Stories, a theatre making entity.
Shayontoni Ghosh
Armed with a decade and a half's experience in theatre and sheer curiosity, Shayontoni dreams of making art that sings of hope.
Surabhi Santhosh
Now aged 33, Santhosh grew-up in Hyderabad/Telangana/India and part of the Surabhi Theatre family.The Surabhi Theatre Group was formed by Vanarasa Govinda Rao in 1885.
Vaishali Bisht
Having graduated from the University of Kent in Canterbury, England in Theatre and Drama Studies BA (Hons.), Vaishali Bisht has acted in, written, directed and produced several plays. Since her return to Hyderabad in 1996, she has been working extensively with children through ongoing theatre workshops. One of the three co-founders of the Hyderabad Children's Theatre Festival, India's largest theatre festival for young audiences, Vaishali continues to work towards enlivening theatre in Hyderabad.
HCTF has a little surprise for you so please do take our Survey at this link: