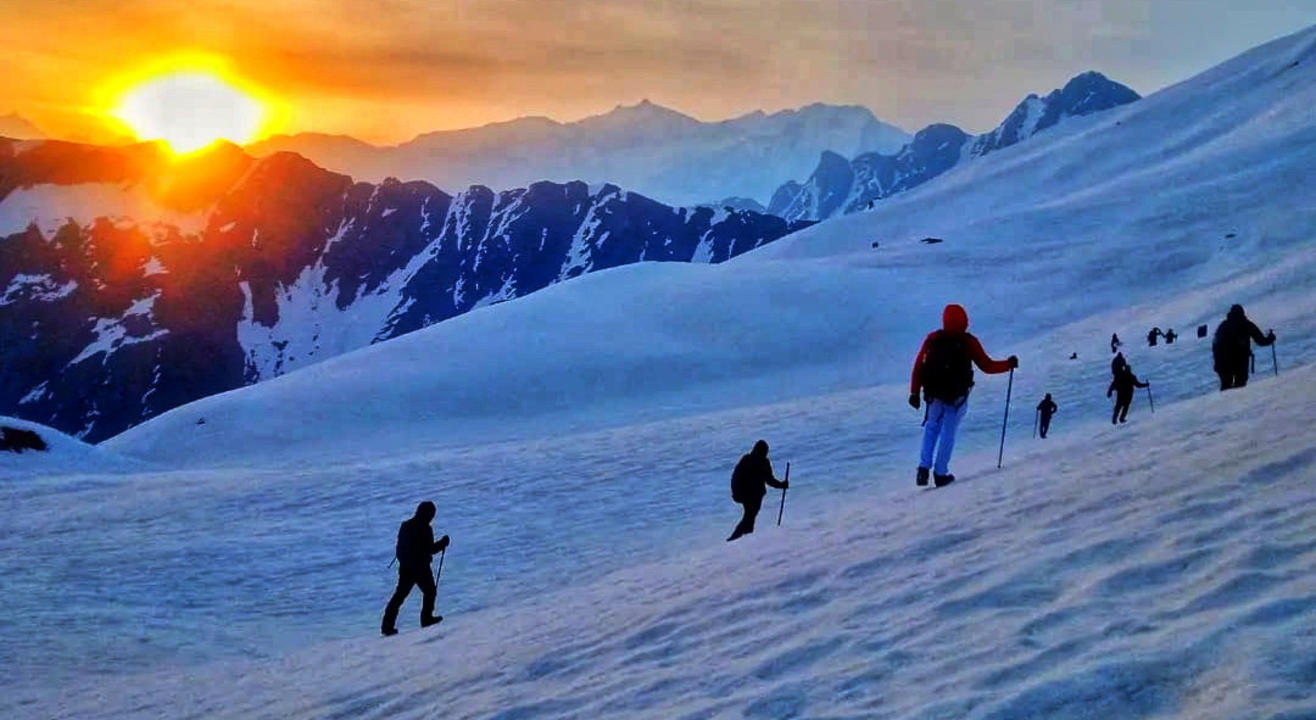 Sarpass Trek, Kasol (4N/5D)
May 15 | 9:07AM - August 31 | 11:07AM
Lazy Monk Cafe ,Shapur Jat, Delhi
Step out and enjoy this event
Event Guide
Getaways
Enjoy the outdoors
Invite your friends
and enjoy a shared experience
Sarpass Trek, Kasol (4N/5D)
May 15 | 9:07AM - August 31 | 11:07AM
Lazy Monk Cafe ,Shapur Jat, Delhi
Step out and enjoy this event
Event Guide
Getaways
Enjoy the outdoors
Invite your friends
and enjoy a shared experience
Event Guide
Getaways
Enjoy the outdoors
Covid 19 Safety Measures
This event adheres to the following

Health & safety measures
Invite your friends
and enjoy a shared experience
Covid 19 Safety Measures
This event adheres to the following

Health & safety measures
Location: Kasol, Himachal Pradesh
Start Point/End Point: Kasol 4N/5D
Enquiries- +91 98055 56834
Lazymonk travel cafe, JP House, Shapur Jat, Near Hauz Khas metro station, South Delhi
EVERYDAY BATCHES FOR SARPASS CIRCUIT, KASOL IN THE MONTHS OF MAY, JUNE, JULY, AND AUGUST.
YOU CAN ENQUIRE ON THE BASIS AT YOUR CONVENIENCE.


Day 1 – Acclimatization In Kasol
Check-in Time – 9:30 A.M
All trekkers will be meeting in Kasol For the acclimatization Party. One should know, how acclimatization is important in High altitude Trekking.
Take a Rest at Our base Camp after a long journey.
Inclusion on 1st Day
– Accommodation In Kasol
– Evening Snacks, Dinner
– acclimatization Walk to Chalal Village
Day 2 starts trekking from Kasol to Grahan Village covers around 7 to 8 Km consuming a time period of 4 to 5 Hours gaining an altitude of 1700m to 2350m
The starting point is from Kasol and you will be going up to Grahan village. Drive for the first few hours till the trekking starts. You might come across localities as the path is common means of connection. The entire scene till now will be that of natural green lands and blooming flowers.
Soon the gradient is going to change into rugged rocky and steep after crossing the Grahan Nallah. Once you are closer to the Grahan Village, the trek becomes pretty steep for a while and you can see the village.
An ancient village, Grahan village has traditional houses with beautiful evenings and you can click pictures of the village life near the camp. The beauty at the camp becomes more comfortable and scenic as one gets acquainted.
Rest up lazy soul, have your dinner and enjoy your first day at the trek.
Day 3 starts trekking Into the woods from Grahan to Min Thatch covering a distance of 7 to 8 Kms consuming a time period of 4 to 5 hours gaining an altitude of 2350 m to 3500m.
Today's trek is a 4-5 hours long stretch to Min-Thatch. Locals usually use this path to take their livestock to higher pastures for grazing. Meet and strike a conversation with them! The trail offers a great range of flora and fauna birds, insects, etc. As we go, it becomes steeper and leads into the woods.
You can stop for a bite and some rest at Ratapani. This area is like a wonderland of woods and you can feel the thick canopy walking with you. The trail through the forest eventually opens up to a grassy patch of land and after that, the forest will vanish slowly. Admire the open lands with thick green grass and the snow-capped
mountains with the valley below.
Climb a steep section again to reach the Min Thach which is located on the hillock and is surrounded by flat rocks. The sunset and sunrises at this camp offer great views. End your day here with a beautiful night sky and cozy surroundings!
Day 4 trek starts to The cold trail crossing Min Thatch to Nagaru Base Camp, consuming around 4 to 6 hours covering a distance of 8 to 9 Kms and gaining 3400 m to 3800m.
You need to get up a little early and start your day since it is a long trek to Nagaru Base Camp. The trail today is comparatively steep than the previous route. The trail is covered with pastoral forests and snowy meadows which makes the path a little difficult to pass. The air up is a little bony and you might experience altitude sicknesses such as headache and dizziness.
This is normal, just keep your medical kit handy. Keep yourself hydrated and keep your hands, nose, eyes, and ears open to acclimatize better. In emergencies, Lazymonk guides will take of you including the first aid kit, portal oxygen, oximeter, and pulsometer.
When closer to the camp, you will start facing chilling winds and that's how you will know that there is a decrease in the temperature as well. The coldest spot of the entire trek, the temperature might drop to zero here so bundle up yourself accordingly. At Nagaru, you can enjoy the mesmerizing view of the cold winter evening with the sunset painting the sky in hues.
Day 5 summit day, trek through Snow trail crossing Nagaru to Sar Pass to Bishkeri consuming 7 to 9hrs covering a distance of 12 to 13km and gaining an altitude of 3800m to 4182m and declining 3350m sarpass trek
Another day of an early trek! The trail comes with snow and steep tracks on most of the route till the pass and beyond. After climbing the Nagaru ridge, the trail is moderate. On the way, there is a canteen near the lake where you can have Maggi, tea, and coffee. sarpass trek
Climbing higher to the pass offers mind-blowing views of the stunning meadows and towering peaks of Parvati valley. Walk slowly but steadily while climbing upwards and on the snow. As you approach the top, the gradient becomes steeper just a few meters below the pass. sarpass trek
That's the only steep part that needed to be crossed for the day. Reaching the top of the pass will give you a feeling of satisfaction by looking at the mighty Himalayan snow-capped peaks, green meadows, and the trail below.
Spend time at the SarPass trek while enjoying your packed food and taking a lot of pictures. Start trekking down on gentler slopes through rhododendron trees till you reach Bishkeri Thach. After a long tiring day in the lush green meadows, wildflowers, and variety of birds at Bishkeri you can rejuvenate your body and mind while you rest. Camp here for a night at this soothing place. sarpass trek
Day 6 Finish your trek crossing Bishkeri to Barshaini and departure consuming around 4 to 6hrs covering a distance of 9 to 10km declining altitude of 3350m to 2400m. sarpass trek 2021 sarpass trek duration
The trail from Bishkeri to Barshaini is mixed with downhill to moderate. On this route, you have to be careful while walking each step on the slope. Again walking slow and steady will help you to approach the road head easily.
Climb down through dense forests of Deodar oak and pine with little water streams along the way. On your way, enjoy beautiful meadows, huge trees, and piles of fallen and rotten logs with a feeling of nostalgia. Herds of wild cows, bulls, and horses can be seen on lower pastures.
A couple of tea shops will pass by, where you can enjoy your snack time. After hours of mesmerizing forest trek, you will reach Pulga village and from here there is a moderate walk to Tulga village.
From Tulga, you will have to cross the Parvati river and climb for a while to reach Barshaini. You can board a bus or drive back to Kasol from here.
We hope you enjoy it!
Things to Carry for Sar Pass Trek
Backpack 30/60 L
External straps and loops and easy to open compartments access.
Water Bottle
A reusable water bottle/hydration flask – 1.5-2L.k.
Energy Bars
Nutrient-dense with oats, nuts, seeds, and fruit.
Weather Appropriate Clothing
Warm and waterproof clothing for winters, wind, and waterproof jackets.
Warm Jacket
Fleece/padded jacket to keep you warm.
Flashlight
A textured grip with rechargeable batteries.
Sun protection
Sunscreen, wide-brim hat, and sunglasses.
Rain Protection
Umbrella, opt for a waterproof & windproof rain jacket for winters.
Trekking Boots
Good grip, flexible sole, good ankle support, snug fit, water resistance and are easy to wear/remove.
Extra Pair of Clothing
When the weather changes in the mountains (as it happens every few hours), you can take off or put on layers as required.
Towel
Lightweight – cotton/bamboo/linen/microfiber easy to dry.
Personal Hygiene Kit
" Hand sanitizer, biodegradable soap, toothbrush, toothpaste, cotton washcloth, toilet paper, a menstrual cup (if necessary) or feminine hygiene products, and a sealable plastic bag to carry them out."
Mini First Aid Kit
First aid for emergencies.
Trash Bag
Normal kitchen garbage bags to keep the trails you trek beautiful, clean, and free of garbage.
Slippers
With a flexible sole and good grip, water-resistant.
How to reach Sar Pass?
To reach Kasol by railways you've got to urge off at the closest railroad station to Kasol which is Joginder Nagar railroad station, about 144 km from the village of Kasol.
You'll take a cab from the station to succeed in Kasol or a bus from the Joginder Nagar Bus Stand towards Manikaran which should take about 4.5 to five hours.
Activities in Sar Pass Trek by Each Day
Sar Pass Trek is an easy-moderate adventure trail in the Parvati Valley of Himachal, perching at an altitude of 14000 ft, it is one of the easy treks to consider for an introduction to high altitude trekking. Let's take a guided walk on how the Sar pass
trek days look like it!
WE HAVE REGULAR BATCHES FOR SARPASS CIRCUIT, KASOL IN THE MONTHS OF MAY, JUNE, JULY, AND AUGUST.
YOU CAN ENQUIRE ON THE BASIS AT YOUR CONVENIENCE.
Day 1 - Acclimatization In Kasol
Day 02 – Trek to Grahan Village from Kasol
Day 03 – Grahan Village to Min Thatch
Day 04 – Min Thatch to Nagaru
Day 05 – Nagaru to Biskeri Thatch via Sar Pass
Day 06 – Biskeri Thatch to Barshaini and Departure
Height
Sar pass trek is been blessed with a humongous and prestigious height which spans around 13,780 feet giving sheer goosebumps to the trekkers and backpackers.
Altitude
Sar Pass trek altitude ranges between 4200m from sea level making it a pioneer trekking site and giving trekkers and tourists an open invitation to explore and trek.
Inclusions
Meals (Breakfast, Lunch, Snacks, Dinner)
Tent On Sharing Basis
Sleeping Bags and Sleeping mat
Toilet tents
Guides & Trek Leaders
Transportation to and from Barshaini.
Trash bag
Exclusions
Transfer / meals / accommodation aside from mentioned above
Unforeseen handling costs thanks to weather disturbance, landslides, political unrest
Personal expenses towards tips, telephone calls, laundry, beverages, insurance, etc.
Lazy Monk Cafe ,Shapur Jat
near UCO Bank, Shahpur Jat, Siri Fort, Delhi, 110049, India
GET DIRECTIONS
Sarpass Trek, Kasol (4N/5D)
May 15 | 9:07AM - August 31 | 11:07AM
Lazy Monk Cafe ,Shapur Jat, Delhi
Step out and enjoy this event
Event Guide
Getaways
Enjoy the outdoors
Invite your friends
and enjoy a shared experience