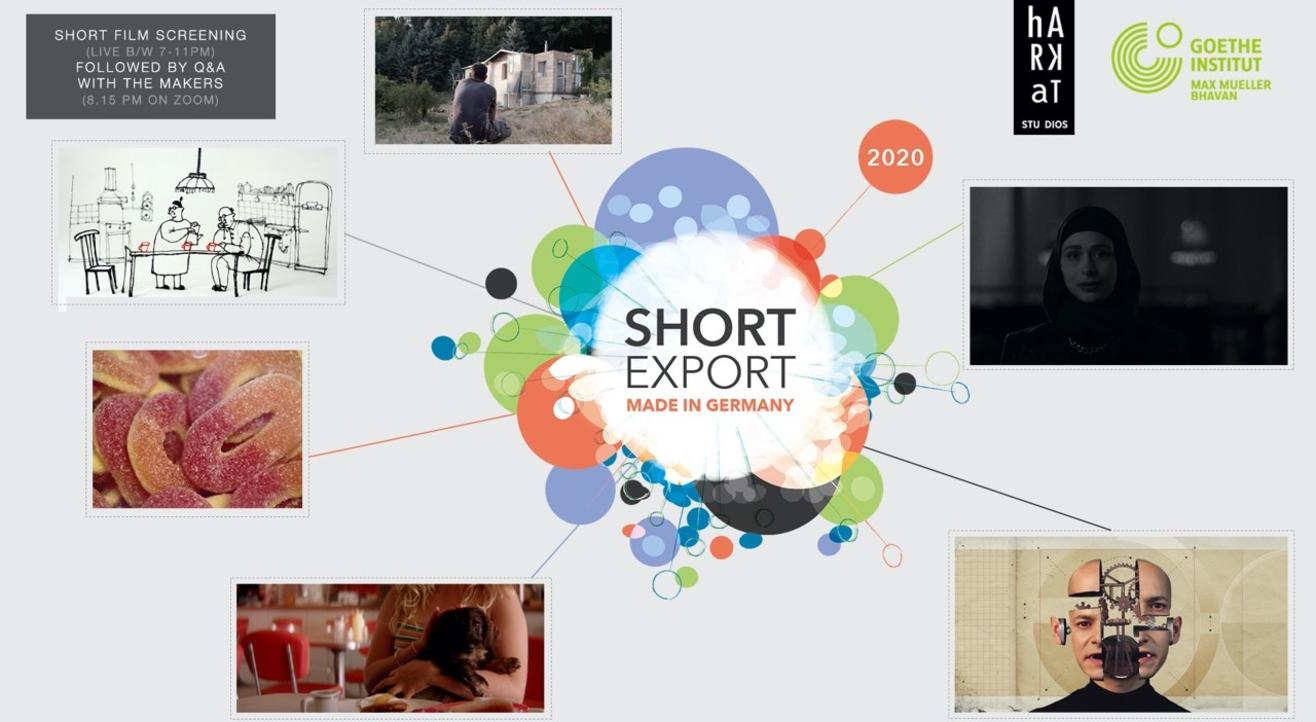 Short Export – Made in Germany
Invite your friends
and enjoy a shared experience
Invite your friends
and enjoy a shared experience
About the Event
We're super excited to announce our collaboration with Goethe-Institute Max Mueller Bhavan Mumbai, to bring to you, 𝐒𝐇𝐎𝐑𝐓 𝐄𝐗𝐏𝐎𝐑𝐓 – 𝐌𝐀𝐃𝐄 𝐈𝐍 𝐆𝐄𝐑𝐌𝐀𝐍𝐘, a strong short film program for a global audience that offers a selection of German short films internationally.
Currently, in its 15th year, this ongoing Franco-German cooperation between AG Kurzfilm – German Short Film Association, German Films, the Goethe-Institut Lyon, the Kurzfilm Agentur Hamburg and the Clermont-Ferrand International Short Film Festival.
In 2020, SHORT EXPORT presents six new films, selected from almost 600 German submissions in Clermont-Ferrand, which illustrate the artistic, stylistic and thematic diversity of German short film making. In a humorous and unconventional manner, the films deal with home, self-optimization, strong women and weak men.
The programme consists of the film screenings with a total duration of 82 mins., followed by an online conversation between the film-makers and Michaela and Karan Talwar of Harkat Studios.
Date & time:
7th August, 7 pm
Q&A with the filmmakers: 8.15 pm
𝐓𝐡𝐞 𝐒𝐜𝐫𝐞𝐞𝐧𝐢𝐧𝐠 𝐥𝐢𝐧𝐤: https://www.goethe.de/ins/in/en/ver-.cfm?fuseaction=events.detail&event_id=21933296
PASSWORD: #ShortExport@Mumbai
𝐓𝐡𝐞 𝐐&𝐀 𝐥𝐢𝐧𝐤: https://zoom.us/j/96266229675
***
Details about the films and filmmakers
1. "𝐀𝐬𝐜𝐨𝐧𝐚" 𝐛𝐲 𝐉𝐮𝐥𝐢𝐮𝐬 𝐃𝐨𝐦𝐦𝐞𝐫
Germany, 2019, 15 min
Documentary
A place that appears to have fallen out of time, that has remained unchanged since the 1950s. A miniature golf course becomes an analogy for society.
A͟b͟o͟u͟t͟ ͟J͟u͟l͟i͟u͟s͟ ͟D͟o͟m͟m͟e͟r͟:͟
Born and raised in Northern Germany; based in Cologne; 2012-2018 studied at the Academy of Media Arts Cologne; 2015/16 participation in a scholarship at the international film school EICTV in Cuba.
2. "𝐓𝐢𝐞𝐬" 𝐛𝐲 𝐃𝐢𝐧𝐚 𝐕𝐞𝐥𝐢𝐤𝐨𝐯𝐬𝐤𝐚𝐲𝐚
Germany & Russia, 2019, 7 min.
Animation Film
A young woman leaves home and sets off to see the world. But the parent-daughter relationship is so strong that, in the end, these ties become destructive.
A͟b͟o͟u͟t͟ ͟D͟i͟n͟a͟ ͟V͟e͟l͟i͟k͟o͟v͟s͟k͟a͟y͟a͟:͟
Born 1984 in Moscow, Russia; is an animation filmmaker and member of the Academy of Motion Picture Arts and Sciences; after graduating from the animation department at the Russian State University of Cinematography (VGIK) in 2011, she continued her studies at the High Animation School Studio
3. "𝐓𝐡𝐞 𝐏𝐫𝐨𝐛𝐚𝐧𝐝" 𝐛𝐲 𝐇𝐚𝐧𝐧𝐞𝐬 𝐒𝐜𝐡𝐢𝐥𝐥𝐢𝐧𝐠
Germany, 2019, 30 min.
Fiction
The unemployed Dominique becomes a test subject in a clinic to finance the shared dream of a house in the countryside with his girlfriend Janine. A struggle for money and pride ensues as Dominique's body slowly reaches its limits.
A͟b͟o͟u͟t͟ ͟H͟a͟n͟n͟e͟s͟ ͟S͟c͟h͟i͟l͟l͟i͟n͟g͟:͟
Born 1989 in Erfurt; studied audiovisual media at the Beuth University of Applied Sciences Berlin; in 2014 semester abroad at the Bezalel Academy of Arts and Design Jerusalem; since 2015 studies directing at the Film University Babelsberg KONRAD WOLF.
4. "𝐅𝐚𝐜𝐞𝐥𝐢𝐟𝐭" 𝐛𝐲 𝐉𝐚𝐧 𝐑𝐢𝐞𝐬𝐞𝐧𝐛𝐞𝐜𝐤, 𝐃𝐞𝐧𝐧𝐢𝐬 𝐒𝐭𝐞𝐢𝐧-𝐒𝐜𝐡𝐨𝐦𝐛𝐮𝐫𝐠
Germany, 2019, 7 min.
Experimental Fiction
The greatest influencer ever? Your own subconscious mind!
A man introduces us to his surreal philosophy while his head
develops a life of its own.
A͟b͟o͟u͟t͟ ͟J͟a͟n͟ ͟R͟i͟e͟s͟e͟n͟b͟e͟c͟k͟,͟ ͟D͟e͟n͟n͟i͟s͟ ͟S͟t͟e͟i͟n͟-͟S͟c͟h͟o͟m͟b͟u͟r͟g͟:͟
Jan Riesenbeck: Born 1985; studied film at the Kunsthochschule Kassel; his films have been shown at more than a hundred festivals worldwide and received several awards.
Dennis Stein-Schomburg: Born 1985; studied animation at the Kunsthochschule Kassel; his short films have been shown at numerous festivals; is a co-founder of RAUMKAPSEL ANIMATION
5. "𝐓𝐡𝐞 𝐢𝐧𝐤 𝐝𝐨𝐞𝐬𝐧'𝐭 𝐝𝐫𝐲" 𝐛𝐲 𝐅𝐞𝐥𝐢𝐱 𝐇𝐞𝐫𝐫𝐦𝐚𝐧𝐧
Germany, 2019, 15 min.
Experimental Fiction
Two friends, young German Muslim girls, share a flat. They go
swimming together, observe the culture around them, the church, dating, relationships and each other. The film follows their paths as one of them gets to know someone, while the other goes on a journey of self-discovery.
A͟b͟o͟u͟t͟ ͟F͟e͟l͟i͟x͟ ͟H͟e͟r͟r͟m͟a͟n͟n͟:͟
Born in Munich; studied history and religious studies in Berlin; since 2013 studies filmmaking at the University of Television and Film Munich and for one year, in 2017/18 at the ENS Louis Lumière in Paris; his films were part of several film festivals and he was nominated twice for the German Short Film Award.
6. "𝐇𝐨𝐭 𝐃𝐨𝐠" 𝐛𝐲 𝐌𝐚𝐫𝐥𝐞𝐞𝐧 𝐕𝐚𝐥𝐢𝐞𝐧, 𝐀𝐥𝐦𝐚 𝐁𝐮𝐝𝐝𝐞𝐜𝐤𝐞
Germany, 2019, 8 min.
Fiction
Hannah is in a love-hate relationship with her vagina. She
tells the story of how her sexuality has changed over time.
Like that moment when she discovered the vibration function
on her PlayStation controller.
A͟b͟o͟u͟t͟ ͟M͟a͟r͟l͟e͟e͟n͟ ͟V͟a͟l͟i͟e͟n͟,͟ ͟A͟l͟m͟a͟ ͟B͟u͟d͟d͟e͟c͟k͟e͟
Marleen Valien:
Born in Berlin; graduated from Berlin University of the Arts in Communication in Social and Economic Contexts; during her studies she also took part in the art class of the artist Ai Wei Wei; freelance work for production companies; since 2017 studies commercial directing at the Film Academy Baden Württemberg
Alma Buddecke: Grew up in Germany and Switzerland; began studying psychology at the Freie Universität Berlin before turning to filmmaking; worked on an animation series at a production company in Basel; currently studies at the Film Academy BadenWürttemberg.
***
Date & Time:
7th August, 7 pm
Q&A with the filmmakers: 8.15 pm
We're closing our virtual doors at 7pm:
LINK: https://vimeo.com/404914158
PASSWORD: #ShortExport@Mumbai
Q&A with all the filmmakers live on zoom at 8.15pm:
https://zoom.us/j/96266229675
Unsure if you would be able to go?

Worried your boss may cancel your holiday or your professor may put up weekend lectures? Dont worry, you can easily transfer your ticket to your friend later!

Going out with friends?

Unlock rewards or cashbacks the next time you are going to an event with your friends. Just use the 'Buy Together' option for an event if you see one on its page.
Curated & Handpicked Events
Paytm Insider aims to give you experiences in Online worth your time and money, and hopefully, encourage you to try something new. Be it curing post-work blues or making your weekend (more) awesome, you'll find it here. Explore live events (music, comedy, theatre, art); dining experiences; weekend getaways (treks, adventure, tours, travel, cycling, amusement parks); and live sport (cricket, football, kabaddi, badminton) matches; workshops (photography, marketing, cooking, baking, painting) and more.
Music Events: Gigs & Festivals
Calling all music lovers! Watch your favourite artists, live - at festivals, club shows, gigs or concerts. Paytm Insider has the best curated music events, across genres: rock, metal, EDM, pop, fusion, hip-hop, jazz, classical, Bollywood and world, at some of the best live music venues in the country. Paytm Insider hosts several top properties, including Bacardi NH7 Weekender, Timeout, SulaFest, Mood Indigo, Gaana Crossblade Music Festival, Locals DISTRICT, Lager n Barrel, MPower Fest. Also look forward to superstars like Arijit Singh & AR Rahman hosting their tours here.
Comedy Shows & Events
Who doesn't enjoy a good laugh? You'll find the latest shows by the best Indian comedians - Zakir Khan, Kanan Gill, Biswa Kalyan Rath, Kenny Sebastian, Comicstaan finalists (Nishant Suri, Rahul Dua & others) and more, on Paytm Insider. Catch them doing tours of their specials, trying new material, hosting an open mic, and more. Catch the big names of comedy at Headliners and LOLStars; or shows to see up-and-coming comics enthrall audiences, and open mic events where you'll see and cheer on fresh talent! International legends like Russel Peters, Eddie Izzard & Bill Burr have ticketed here in the past.
Cheer Your Favourite Sports Team On!
Paytm Insider is home to world-class sporting experiences across India: Vivo Indian Premier League, Indian Super League (FC Goa, Kerala Blasters, Jamshedpur FC, Mumbai City FC, Delhi Dynamos), Vivo Pro Kabaddi (Tamil Thalaivas, U Mumba, Haryana Steelers, Bengal Warriors, Jaipur Pink Panthers), I-League, Vodafone Premier Badminton League, Premier Futsal, and international cricket matches (Test, T20 and ODI). Can't get to a stadium? You'll find amazing screening experiences too - especially the EPL, Champions League and F1.
Weekend Travel: Trekking, Camping & Adventure
After a tiring week, one of the best ways to unwind is to head to the great outdoors. You will find excellent options for trekking, camping & adventure activities like white water rafting, waterfall rappelling and paragliding near Online. Paytm Insider teams up with experienced and responsible travel groups and event organizers so you have a memorable and safe experience. These events are for novices as well as experienced folks. You will also find special seasonal experiences like fireflies, camping, rafting and more on Paytm Insider.
Discover your city with Paytm Insider

Paytm Insider is a platform that helps you discover and buy the best in events, travel and food in your city. We strive to curate experiences that are worth your time and money, possibly something you have never tried before.
For event organizers
Paytm Insider is built by the same team that created Bacardi NH7 Weekender (us) and we sure know what goes into putting together a great experience. Our technology, marketing and customer support can help you build a community of not just ticket buyers, but also fans.