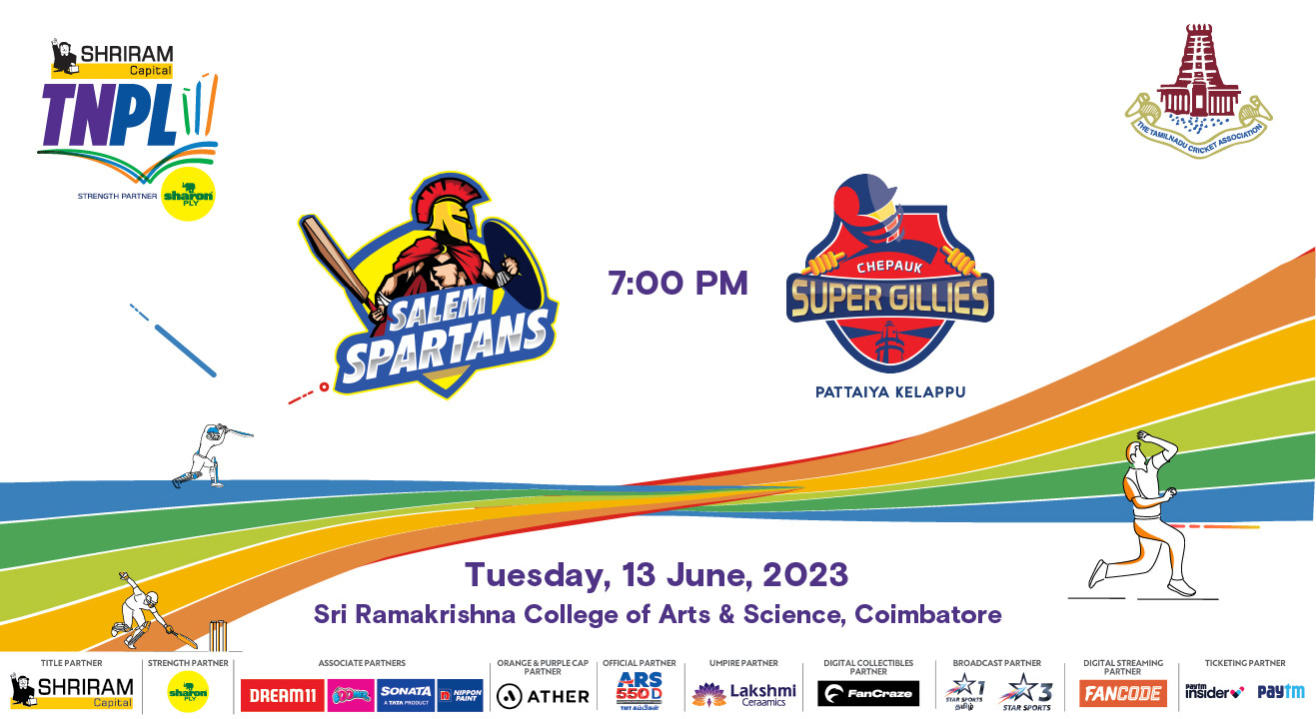 Shriram Capital TNPL 2023 - Salem Spartans vs Chepauk Super Gillies
Sri Ramakrishna College of Arts & Science, Coimbatore
Invite your friends
and enjoy a shared experience
Shriram Capital TNPL 2023 - Salem Spartans vs Chepauk Super Gillies
Sri Ramakrishna College of Arts & Science, Coimbatore
Invite your friends
and enjoy a shared experience
Invite your friends
and enjoy a shared experience
Coimbatore, get ready to witness a thrilling cricket extravaganza as the Tamil Nadu Premier League (TNPL) comes to your city!

This is your chance to rally behind your local team, decked in their colors, and cheer them on to victory.
The spirit of cricket will be palpable in the air as fans from Coimbatore and surrounding areas come together to support their favorite team. Join the sea of passionate supporters, wave flags, sing anthems, and make some noise as you witness a cricketing spectacle unfold!
To be a part of this unforgettable experience, make sure to secure your tickets early. The demand is high, and seats are limited!
Don't miss the opportunity to witness thrilling boundaries, wicket-taking deliveries, and the sheer joy of cricket at its best, all while being surrounded by fellow fans who share the same love for the game.
#NammaOoruNammaGethu
Sri Ramakrishna College of Arts & Science
Bus Stop, Avinashi Road Between Fun Mall & Lakshmi Mills, Nava India Rd, Tamil Nadu 641006
GET DIRECTIONS
Shriram Capital TNPL 2023 - Salem Spartans vs Chepauk Super Gillies
Sri Ramakrishna College of Arts & Science, Coimbatore
Invite your friends
and enjoy a shared experience