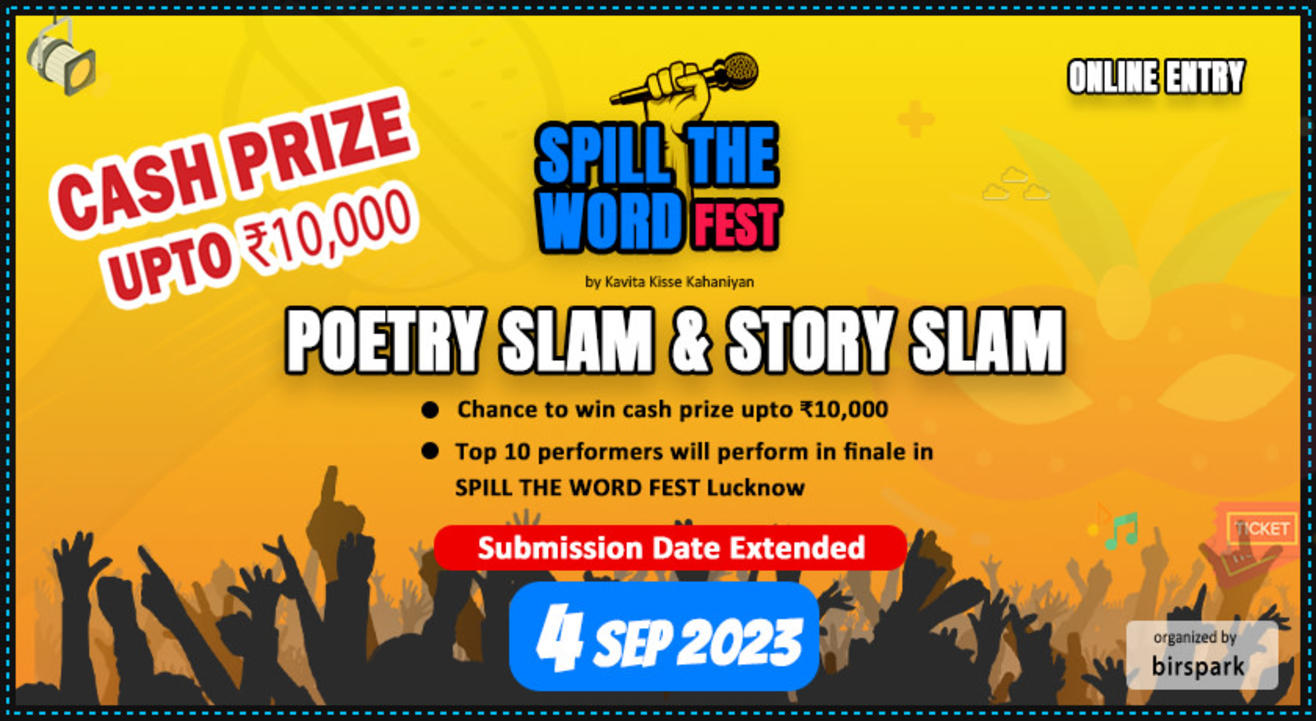 Spill The Word Fest : Online Entries (Poetry & Storytelling)
August 16 | 3:17AM - September 4 | 11:00PM
Venue to be announced, Lucknow
Event Guide
Language
English, Hindi, Hinglish
Live Performance
Enjoy a unique experience
Invite your friends
and enjoy a shared experience
Spill The Word Fest : Online Entries (Poetry & Storytelling)
August 16 | 3:17AM - September 4 | 11:00PM
Venue to be announced, Lucknow
Event Guide
Language
English, Hindi, Hinglish
Live Performance
Enjoy a unique experience
Invite your friends
and enjoy a shared experience
Event Guide
Language
English, Hindi, Hinglish
Live Performance
Enjoy a unique experience
Invite your friends
and enjoy a shared experience
Hi Poets & Storytellers are you ready to perform & Win Cash Prize upto ₹10,000
No matter your location, rest assured that Spill The Word is taking place nationwide! Participate in the event by submitting your original work online for a chance to reach the finals in Lucknow and win exciting prizes!
Kavita Kisse Kahaniyan proudly presents Spill The Word Fest, featuring an exclusive national-level poetry slam & Story Slam, Hosted by Kavita Kisse Kahaniyan and Birspark LLP. Stand a chance to win attractive cash prizes, with up to 10,000 INR, along with an opportunity to showcase your talent on our platform! Here's how it works: Submit your online entry between the 16th of August 2023 and the 4th September 2023. After reviewing all submissions, we will select 20 participants for the semi-finals. From there, 10 finalists will be chosen to perform in Lucknow. These finalists will receive certificates, goodies, social media exposure, and cash prizes.
Kindly review and adhere to the following Rules & Regulations attentively, as entries not in compliance may be deemed invalid:
1. Your submission must take the form of a performed poem or story, you can choose any one category to submit, only by Paytm Insider you can submit your entry and it is accepted online only there is no physical form to accept entry
2. All entries must be original and submitted as links to unlisted YouTube videos. The quality doesn't need to be professional but ensures that we can see your presence and listen to your performance clearly.
3. Previously published works will not be eligible. (Do not use content available on other social media platforms like Instagram.)
4. Please format your video title as follows: "Name - Your Poem's Title/Story's Title - Your City of Residence - Language of content - Kavita Kisse Kahaniyan." For instance: "Nainsy Srivastava - Azadi ka Matlab - Lucknow - Hindi - Kavita Kisse Kahaniyan." This title should be assigned to your YouTube video directly, without pasting it into the Insider's form. When submitting the link on Insider, ensure accurate copying from YouTube and paste it in the "Your Video Entry" section.
5. Accurate link placement in the registration form is essential to proper evaluation. Incorrect links might hinder the assessment process.
6. Each participant can submit a maximum of two entries, with an additional charge for the second entry.
7. Entries must not exceed 5 minutes in duration and should present you performing your content.
8. Each video entry should contain only one poem. Multiple poems in a single video will not be considered. If opting for a double entry, provide two separate video links during ticket purchase.
9. Entries are accepted in English, Hindi and Urdu.
10. Entrants must be at least 18 years old to be eligible for this competition.
11. Student's Invalid id card or wrong details may lead to disqualification.
Feel free to reach out if you have any questions or need further clarification. We look forward to your creative contributions to Spill The Word!
About Kavita Kisse Kahaniyan
Kavita Kisse Kahaniyan is a platform for poets, writers, storytellers, & speakers. This a stage where one can express emotions, and feeling and open up and connect with people. We believe that everyone writes; few express it, so this is a space where a person can express their emotions, and feelings; open up & connect with people, where a person shares his/her life experience that they have lived.
About Birspark LLP
Birspark LLP is a Video Production company based in Lucknow
For any support
Reach out to us on +91 9044974170 (call and WhatsApp)
Mail - kavitakissekahaniyan@gmail.com
Instagram - @kavitakissekahaniyan
Terms & Conditions
Once a purchase is made, entry tickets for Spill The Word are non-cancellable and non-refundable. All transactions are considered final.
By participating, you confirm that all submissions are original creations and do not infringe upon the rights of any third party. Additionally, you acknowledge that we retain the unrestricted right to edit, replicate, publish, distribute, translate, and employ these submissions in any medium, without limitations.
All information provided, including personal details, is collected and utilized solely by Kavita Kisse Kahaniyan and Birspark LLP for the management of Spill The Word. If requested, this information can be removed from our records.
We uphold the prerogative to decline service to any individual, without constraints, and without needing to furnish reasons, at any given time.
Spill The Word Fest : Online Entries (Poetry & Storytelling)
August 16 | 3:17AM - September 4 | 11:00PM
Venue to be announced, Lucknow
Event Guide
Language
English, Hindi, Hinglish
Live Performance
Enjoy a unique experience
Invite your friends
and enjoy a shared experience