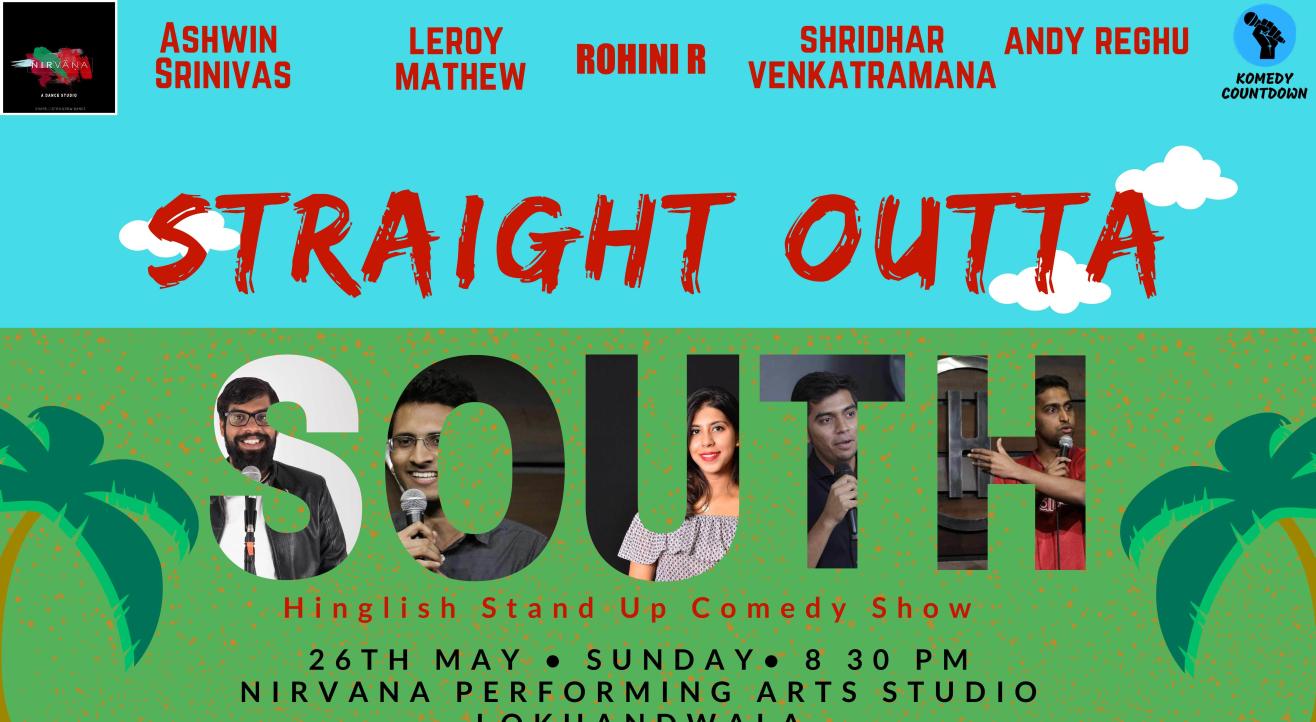 Comedy
Straight Outta South
Nirvana Performing Arts and Fitness Studio, Mumbai
About
Komedy Countdown brings to you Straight Outta South' where a bunch of seasoned comics make you LOL! This show will be featuring the hilarious Ashwin, Rohini R, Leroy Mathew, sriraam padmanabhan & andy reghu.
Ashwin:
Ashwin is an introvert who slogs for the IT world and lives in the comic world. His comedy revolves around himself and his reality. His comedy is a counter-punch to the world who considers him uncool.
Rohini R:
Rohini is an ENT, Head and Neck Surgeon. Besides that, she is a stand-up comedian, a writer, an Artist and a self taught digital illustrator (Creator of Doodle Rage). She has performed in Singapore, Delhi, Bangalore and Chennai. Her comedy is dark, edgy and hilarious!
Leroy Mathew:
Leroy Mathew is an upcoming stand-up comedian and has performed in many featured shows.
Shridhar Venkataramana-
Shridhar Venkataramana is an engineering graduate and holds an M.B.A. from IIM Bangalore. Naturally, he is known for his intelligent jokes which make the audience burst into laughter.
Andy Reghu:
A writer, a professor and a spiritual leader - Andy Reghu wears multiple hats. He is from Kurla so he automatically has a criminal past. His hobbies include substance abuse and some more substance abuse. He also claims to be a TV writer and producer and he is wondering why the hell are you reading this.
Venue
Nirvana Performing Arts and Fitness Studio, Mumbai
607, Aston Building, Above Mercedes Showroom, Lokhandwala Circle, Near, Sundervan Complex Rd, Sundervan Complex, Shastri Nagar, Andheri West, Mumbai, Maharashtra 400053