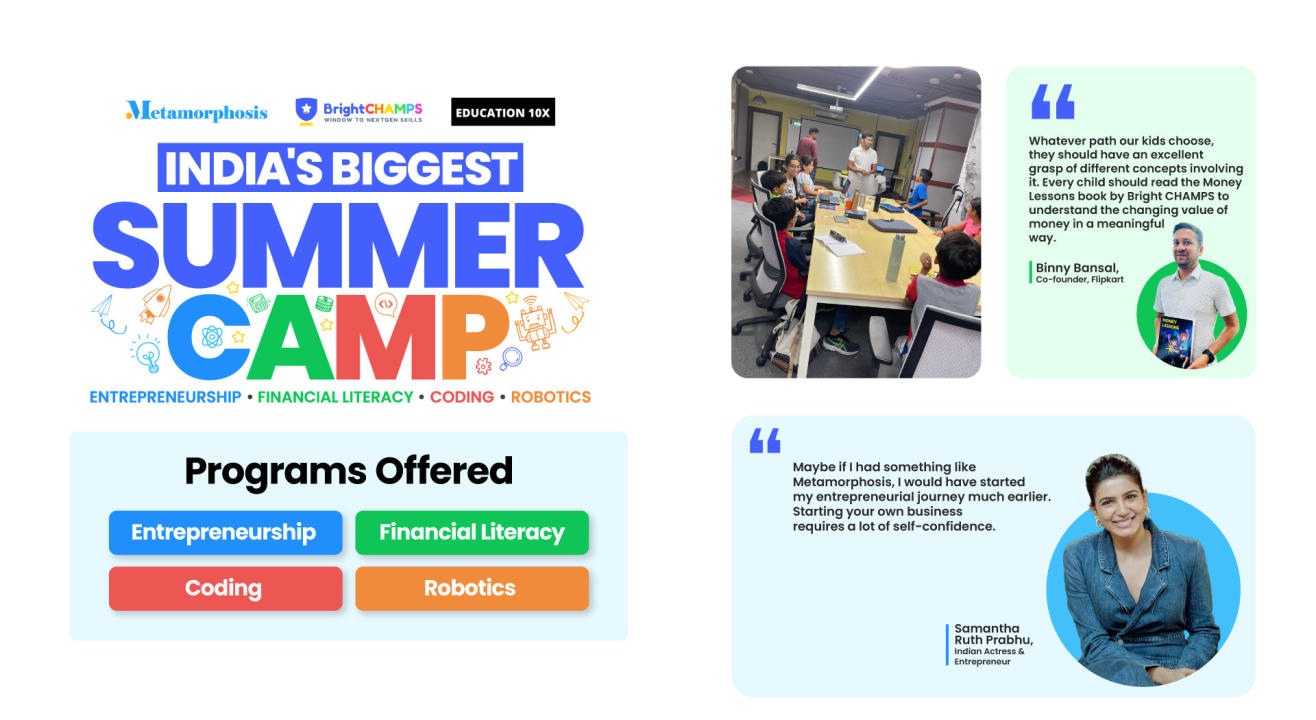 SUMMER CAMP 2023 at Lucknow
May 29 | 9:20AM - June 3 | 1:00PM
Birla Open Minds International School , Shaheed Path, Lucknow| Awarded Best Integrated CBSE Curriculum School in Lucknow, Lucknow
Invite your friends
and enjoy a shared experience
SUMMER CAMP 2023 at Lucknow
May 29 | 9:20AM - June 3 | 1:00PM
Birla Open Minds International School , Shaheed Path, Lucknow| Awarded Best Integrated CBSE Curriculum School in Lucknow, Lucknow
Invite your friends
and enjoy a shared experience
Covid 19 Safety Measures
This event adheres to the following

Health & safety measures
Social Distancing
Face Masks Required
Limited Capacity
Organisers wear masks
Invite your friends
and enjoy a shared experience
Covid 19 Safety Measures
This event adheres to the following

Health & safety measures
Social Distancing
Face Masks Required
Limited Capacity
Organisers wear masks
Metamorphosis Edu is organising Summer Camp 2023 and is all set to provide week-long courses on Entrepreneurship, Financial Literacy, Coding, and Robotics
Beat the heat with us and let's make ideas happen!
Venue Details :
Birla Open Minds International School
Plot.No. 5. Avadh Vihar Scheme, Shaheed Path,
Lucknow-226002
Uttar Pradesh
Entrepreneurship: We take the students on an entrepreneurial journey from ideation to business modelling via experiential learning. As the students work on their own business model, they also gain life skills like decision-making, problem-solving, critical thinking along with increased business acumen.
Financial Literacy: Healthy Money Habits, Basic Financial Management Skills, Awareness of Money Ecosystem, Introduction to Investing, Consumer Awareness and Digital Well-being.
Coding: Python and JavaScript coding for kids to learn coding in an easy, fun, and comprehensible fashion. We have gamified the coding classes and allow kids to develop their thinking, mathematical and analytical skills along with good problem-solving abilities.
Robotics: The program combines fun with the opportunity for kids and teens to work in teams to build and program robots while learning AI, visual coding, and machine learning. Programs typically incorporate competitive challenges where kids and teens task their robots with specific actions. Bring robots to life with code, work with sensors and microcontrollers, and delve into autonomous driving.
Program Details :
Eligibility: Grade III - XII
Program Duration: 1 Week
Session Duration: 60 Mins
Start Date - 29th May 2023 - 3rd June 2023
The outcome of the program for the students :
Being a part of this program, students will develop:
Problem-Solving Ability
Risk-Taking
Enterprise Skills
Team Building and Management
Soft Skills
Analytical Skills
Critical Thinking
Business Quotient
The tangible outcomes of the program are as follows :
Entrepreneurial Skill Set Performance Index (ESPI) of their to track their performance in the sessions.
Project Report of the idea/project that they will work on.
Certification from BrightChamps, Metamorphosis Edu & Education 10X in association with the Indian School of Business
Pricing Fees :
Package 1: Entrepreneurship + Financial Literacy - INR 3500 /- per student
Package 2: Coding - INR 2800 /- per student
Package 3: Robotics - INR 4200 /- per student
Package 4: Entrepreneurship + Financial Literacy + Coding + Robotics - INR 9900 /- per student
Contact Us :
Kapil Pawaiya
+91 9821535668
kapil@metamorphosisedu.com
Birla Open Minds International School , Shaheed Path, Lucknow| Awarded Best Integrated CBSE Curriculum School in Lucknow
Plot No 5 / School, Amar Shaheed Path, Awadh Vihar Yojna, Lucknow, Uttar Pradesh 226002, India
GET DIRECTIONS
SUMMER CAMP 2023 at Lucknow
May 29 | 9:20AM - June 3 | 1:00PM
Birla Open Minds International School , Shaheed Path, Lucknow| Awarded Best Integrated CBSE Curriculum School in Lucknow, Lucknow
Invite your friends
and enjoy a shared experience