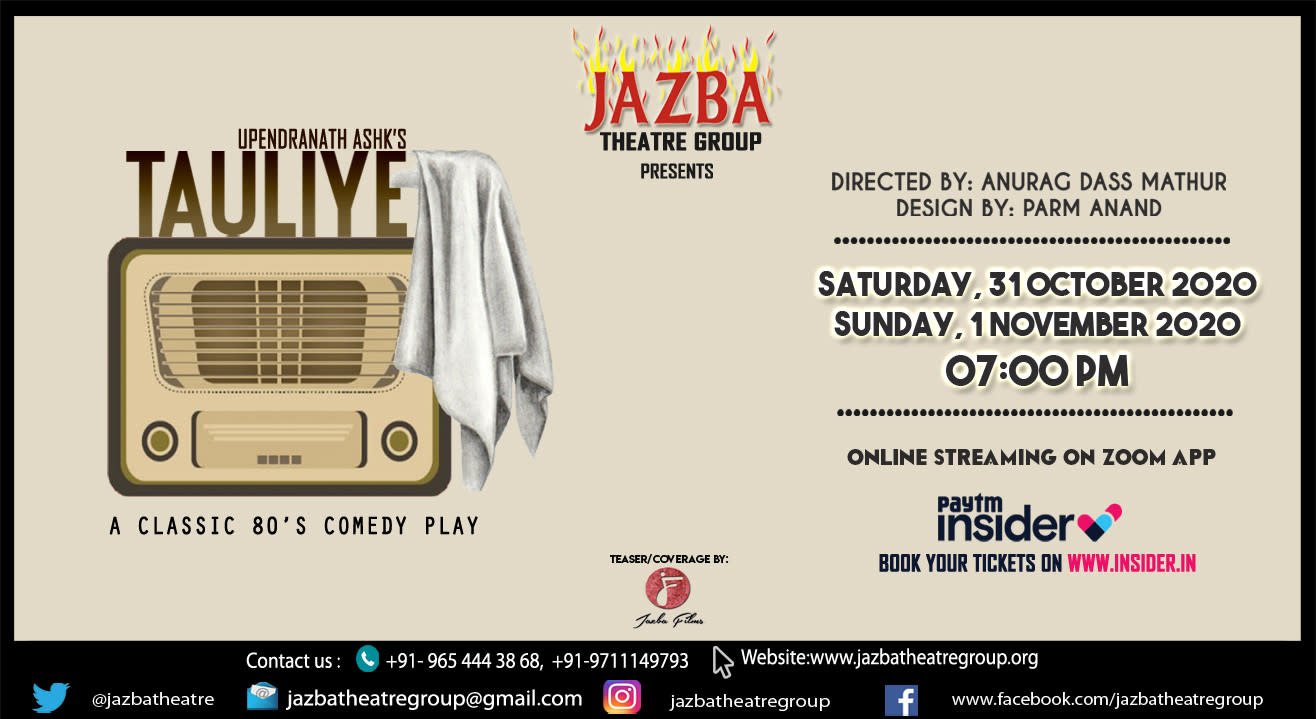 October 31 & November 1| 7PM
Event Guide
Digital Event
Watch on Insider
For Age(s)
Family Friendly
Live Performance
Enjoy a unique experience
Invite your friends
and enjoy a shared experience
Event Guide
Digital Event
Watch on Insider
For Age(s)
Family Friendly
Live Performance
Enjoy a unique experience
Invite your friends
and enjoy a shared experience
About the Event
JAZBA THEATRE GROUP's
"TAULIYE"
Written By: Mr. Upendra Nath Ashk
Directed By: Mr. Anurag Dass Mathur
Design By: Mr. Parmanand
Genre: Classic Comedy
Duration: 86 Minutes
Production Manager: Yogesh Kumar
SYNOPSIS:
Today we live in an artificial surrounding. Our society is slowly becoming very materialistic. "Tauliye" is a story of a man from Haryana, who has risen from the poor and his aristocratic Bengali wife & her obsession of keeping her surroundings clean. It's a laughter riot when a man having shared 1 towel with 6 siblings marries a woman who uses a separate towel for each body part. The era of 80's is re-lived with the magic created using the beautiful set, props & music.
The story revolves around the couple, ideologically poles apart but bonded with tremendous amount of unexpressed love. The conversations at the house are never complete without them sneering at each other over their families & past. Aristocracy of the wife is on a toll each time her lazy & annoying brother enters the frame. The couple's love is up for a toss in this daily battle of being righteous against each other. It takes a separation of few months for them to realize their love for each other amidst the imperfections in their lives. Forming a crescendo of emotions when they get united, they resort to quarreling again over the same things.
The story depicts that no matter how many differences 2 people have in their ideologies, in their upbringing; in their thinking one emotion makes them come closer and binds them forever that is love.
About Jazba Theatre Group:
Jazba theatre group, as the name suggests is a society working in the field of theatre, the foundation of which was laid in 2006 by the conjoint efforts of 5 individuals in New Delhi. Working on the principle of commitments and hard work, Jazba has covered a decade fighting all the odds and struggling hard but never falling back. With the will to learn and the motive to succeed, Jazba has been working day and night to achieve its aims. In the last ten years, the group has found for itself a niche in the field of Indian Theatre as it does not use the stage as a means of entertainment only but also to make people aware about the social evils prevalent in the society.
With close to 200 members some of whom are also studying in prestigious institutions like the National School of Drama, Madhya Pradesh School of Drama and L.V Prasad films school and with more than 20 productions to its name, Jazba explores the field of theatre to its full extent. Covering street plays, stage plays and films with a great expertise, Jazba has expressed itself as a formidable theatre society. Jazba also serves as a medium of learning and exploration for theatre aspirants by providing theatre workshops.
Since its inception the mission and vision of Jazba has not been just to promote art and culture through theatre but also the recognition and promotion of artists. Jazba envisions taking theatre to new heights. Having worked with various corporate, ministries and NGOs and associations with profound institutions Jazba holds a firm reputation of serving them with remarkable efforts.
Main Cast:
Madhu – Tabu Chakraborty
Vasant – Mihir Arora
Madan – Shashank Jha
Upendernath Ashk – Anuz Melwin