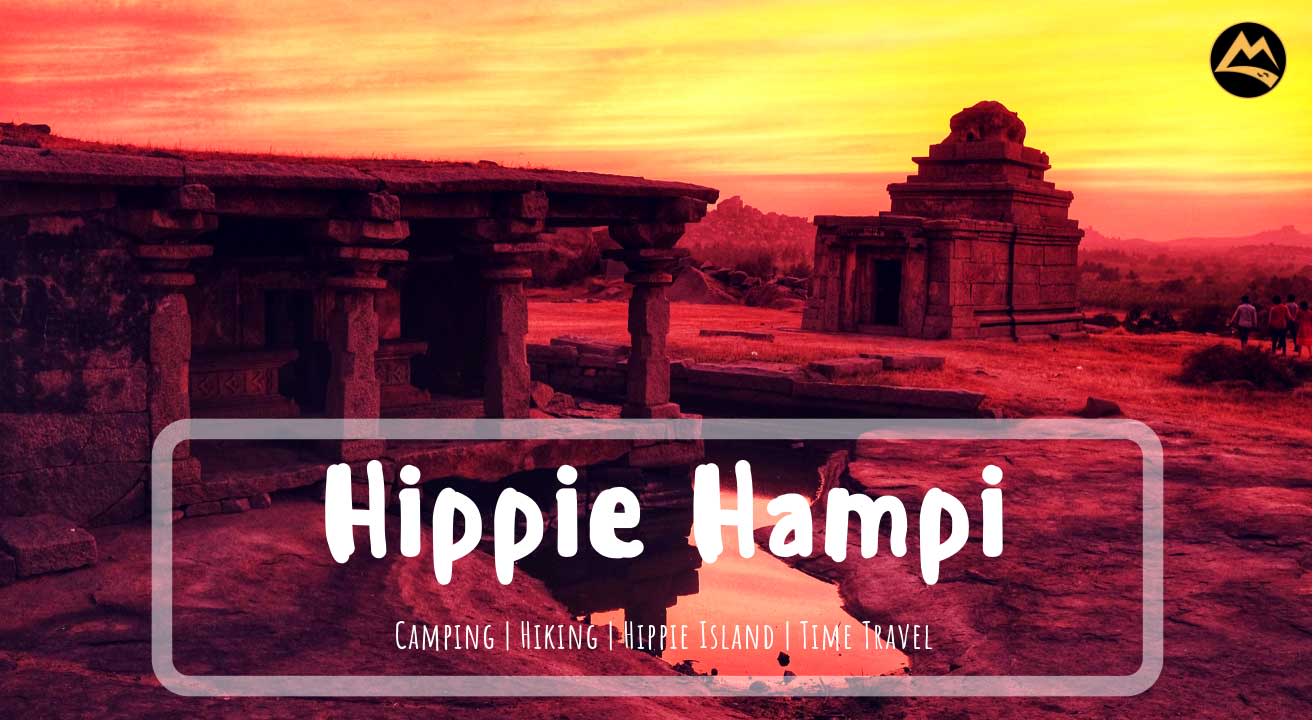 Trek
Hampi - Hippie Island, Monuments, Lake, Camp & Hike meetup | Muddie Trails
3,549 (*inclusive of taxes)
About
While we marvel at the colored-retro setting of the Hampi, we are gonna stay very close to the river, camp in the tents, hike couple of brown & beautiful boulder filled hillocks & enjoy beautiful views from the top.

Can we be satisfied without getting wet? Let's take a soul-soothing dip in the pristine waters of Sanapur lake under hot Hampi weather!

What more? lazy lunch on the cozy beds of a cafe, lot of socializing, good food, music & bonfire...all of them to quench your thirst for an offbeat & laid-back weekend..!!

The beautiful sun-rise & sun-set are just icing on the cake ;-)

Lets just #getmuddie this weekend!


| | |
| --- | --- |
| Slots | 12 to 20 travelers |
| Food | 2 breakfasts, 1 lunch, 1 dinner included |
| Stay | At our beautiful river-side campsite on shared basis |
| Travel | Tempo or Mini-Bus based on final numbers (Non AC) |
| Pick up spots | Tin Factory, Indiranagar 100 ft Road, Koramangala Sony World signal, Goraguntepalya Metro station |
| Things to pack | Will be shared in a whatsapp group for all registered travelers |
Pristine Lake dip in Sanapur lake
Coracle ride
Visit Anjanadri Hill
Visit Anegundi Fort
Camping in the tents
Campfire with long conversations
Lot's of entertainment!
Day 0:
Start from BLR around 9 PM

Day 1:
Reach Hampi campsite, freshen up & breakfast, hike up the magnificent Anegundi Fort & wonder at the amazing views from the top!
Break for a nice lunch in the middle.
Post lunch enjoy the cool breeze of the pristine Sanapur Lake take a dip if you wish to, go on a coracle ride on the lake (optional & self-sponsored), take lots of selfies, relax and rejuvenate.
After a well-deserved dip, drive to the base of the Anjanadri hill & hike up the hill on the northern banks of Tungabhadra river, relax & enjoy the amazing sunset
Get back to the campsite, freshen up & laze around,
Dinner, bonfire & a social gathering in the night ;-)
Day 2:
Start the day with morning walk along the Tungabhadra river followed up by breakfast,
Visit the most famous stone chariot The Vijaya Vittala temple & take selfies with the historic & beautiful monument.
Go to a famous cafe & have a relaxing lunch,
Visit Virupaksha temple in the evening & head for another amazing sunset atop of adjacent hillock
Start back around 8 PM. Dinner en route at a dhaba
Day 3:
Reach back to BLR around 5 AM
Travel & tolls
1Day/1Night stay at our campsite on sharing basis
2 breakfasts, 1 lunch (veg), 1 dinner (Veg & non-veg) included
Campfire with music & group activities
Lake dip with life jackets
All entry fees for historical places & monuments
Organizer(s) from Muddie Trails
Experience all the activities mentioned in the schedule above
1 Lunch, Dinner and any misc. expenses not mentioned in the itinerary
Travelers are expected to sign a Liability/Waiver form given by the organizers before starting the trek/event
Everyone must get their photo ID cards - like Aadhar or Driving License!
The route to Hampi from BLR is pretty bad. Please be mindful of this fact.
This is an offbeat meetup at an offbeat place. The facilities would be basic but the experience would be amazing with our group.
Muddie Trails is NOT a tour operator. Muddie Trails is a offbeat travel experience provider. Our schedule is flexible. Organizer may choose to switch/re-arrange parts of schedule based on need.
Terms & Conditions of Muddie Trails
No alcohol & smoking during Treks & adventure activities. There would be separate window and space (usually at night) to have these at campsite/homestay for interested people
No Luxury. We assure awesome memories every trip, but not awesome facilities! We provide basic facilities in terms of food, travel & accommodation.
The itinerary is fixed. No special requests to change itinerary/schedule are permitted
Absolutely No littering during our travels. We swear to protect our environment.
Co-operate with the organizer(s) in following the schedule set for the day (especially getting up and getting ready in the morning). This will ensure travelers won't miss out on the real fun part - that is traveling.
Every traveler is responsible for his/her for your own safety while traveling with Muddie Trails. Don't indulge in any

illegal or silly activity

that causes harm to you or fellow travelers.
Every traveler is expected to sign a liability/waiver form given by the organizer(s) after boarding the vehicle that discharges Muddie Trails of any unexpected incident like injury/death/theft etc.
Unexpected situations: It may happen we do not cover all the places mentioned in the itinerary because of unpredictable reasons like bad weather, wild animal presence, abrupt blocking of sites by the police/forest department, delay in travel because of an issue with our group itself, traffic conditions etc. In most cases, if the time permits, organizer(s) will take travelers to an alternative place. But in some cases, we may have to skip a place altogether.
Travelers are expected to respect each other and help each other. Avoid discussing sensitive matters like sex, politics and religion/caste/race.
Using foul or abusive language, eve teasing, arguing with fellow travelers/organizer(s) and/or involving in physical assault will not be accepted and will stand a chance of being deserted by Muddie Trails.
Cancellation and Refund Policies
80% refund before 48 hours of event start time
No refund within 48 hours of event start time
No refund during/after the event
No postponing your ticket to future events
Registration fee is non-refundable.
The "Offbeat" theme of Muddie Trails
Muddie Trails provides real offbeat experiences for the travelers like trekking, hiking, camping, bonfire, adventure activities, barbecue, visiting, exploring and experiencing the less known but awesome destinations that are not crowded with tourists. We do NOT take travelers to a tourist place unless it is required as a "filler" in the itinerary between two offbeat places.
Travelers are requested to
refrain from asking
our organizers to take them to ABC temple or XYZ church. The itinerary is already decided and posted based on our offbeat theme. The organizer will only change the itinerary/schedule if any place cannot be done because of unpredictable reasons. If you have a wish list of tourist places to tick off in your mind, then probably Muddie Trails is not for you and we request you - please do not register.