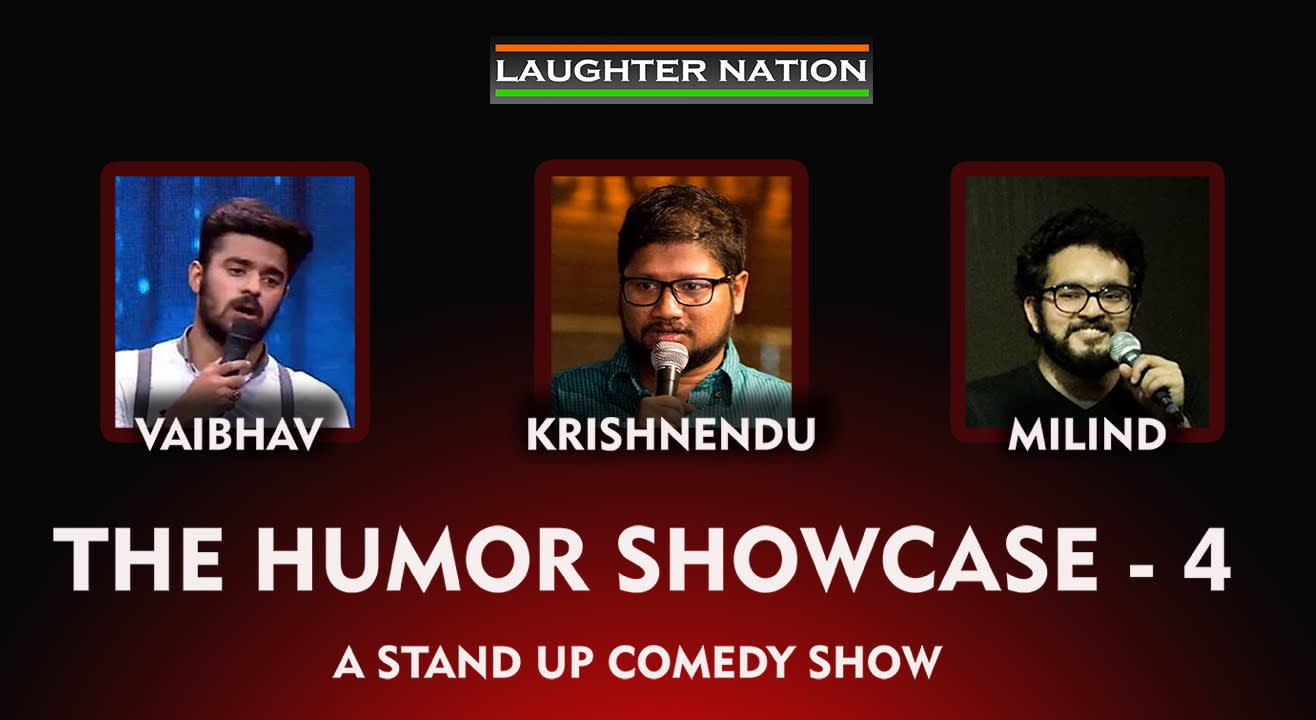 Comedy
About
A stand-up comedy show by three weird guys who have their life sorted out and clearly know what they want to do in their lives.


Laughter Nation brings to you The Humor Showcase at the Akshara Theatre where you can watch these three do what they do best.


Artist lineup

Krishnendu Paul

Milind Kapoor

Vaibhav Arora
Krishnendu Paul is a Bengali from Assam who is a misfit everywhere. He has been working since the 2008 recession and has not come out of it since then. He stays in Gurgaon and has being trying his hand at comedy for more then a year. His failed attempt at being a stud and his boring corporate life inspired him to do comedy. He was doing comedy anyway. It's good to have a mic now.
Milind Kapoor is an observant comedian, all of whose material comes from his life. He is a disgrace to Punjabi people.Yes he is a vegetarian Punjabi, a half engineer (engineering dropout). Clearly a poor Kapoor. He left Mumbai and came to Delhi to pursue his dreams. Seriously? Who does that? He has performed at various places like Mumbai, Delhi, Gurgaon (sorry Gurugram), Chandigarh, Jaipur and even Greater Noida.
Vaibhav Arora, a cute Punjabi guy, who doesn't do drugs during day time, comes from a typical Indian joint family. He dropped CA to pursue BJMC, which is like leaving Aishwarya Rai for Rakhi Sawant. He developed a keen sense of observing people and his own life experiences, all of which have found its way into his comedy. Vaibhav is also a photographer.
Laughter Nation does the funny bit. They curate stand up comedy shows in Delhi/NCR, Chandigarh, Ranchi, Jamshedpur and Lucknow.
The Akshara Theatre is an exquisite arts complex set in just under one acre of land in the heart of New Delhi. It has four performance spaces for live performance equipped with the best lighting and sound equipment augmented a few years ago by a generous grant from the Government of Japan under its Cultural Grassroots Programme. It possesses a library, shooting and editing studios for television with the latest digital equipment, sound studios, workshops for set design, metal work and stone sculpture, as well as a studio for graphics design with computerized desktop publishing, and classrooms where the performing arts are taught to children and young people.
Venue
Akshara Theatre, Delhi
11-B, Baba Kharak Singh Marg. Next to RML Hospital exit no. 5, Closest Metro Stations: Rajiv Chowk, Patel Chowk and RK Ashram, Delhi NCR