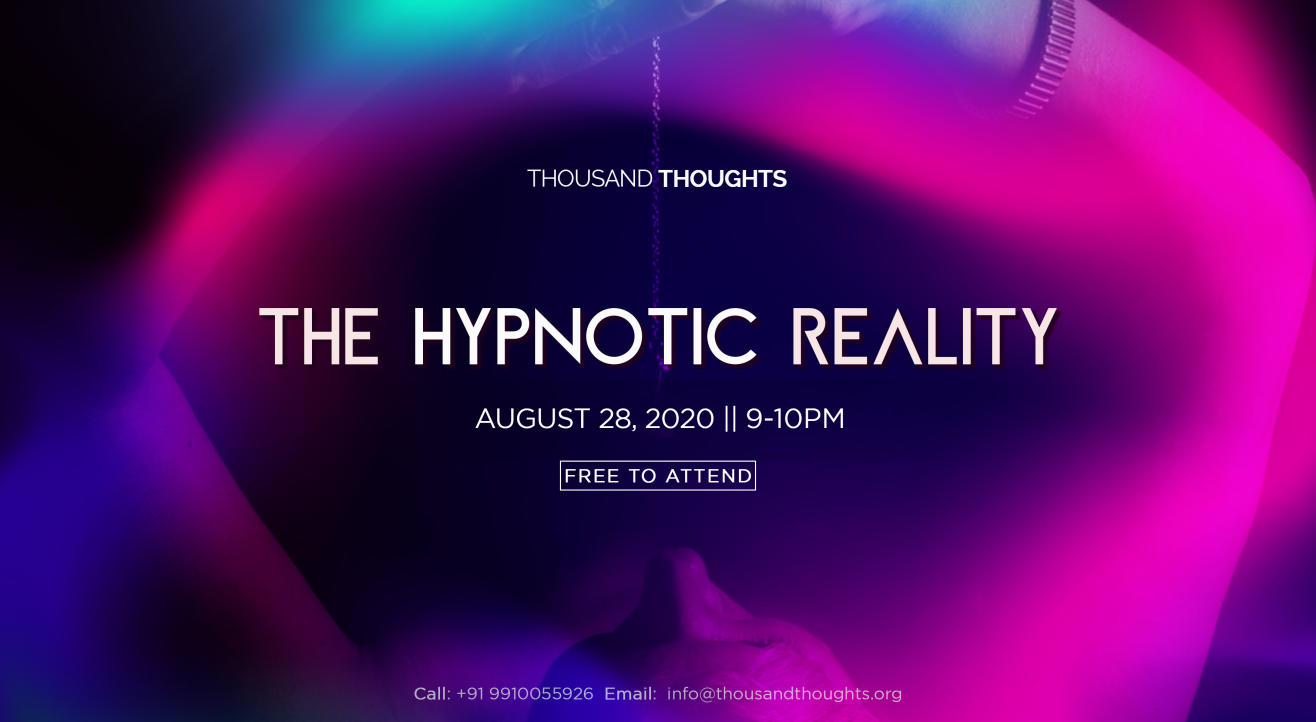 Invite your friends
and enjoy a shared experience
Invite your friends
and enjoy a shared experience
About the Event
What if you are told that your life is dominated by your higher state-that is your erotic reality? That you have been in a hypnotic state for the most time of your life? And when you consciously experience this state, the most unpredictable and unconventional zone of you is revealed.
Thousand Thoughts is encouraged to extend the invitation to you for joining us for the most inflaming hour of your Hypnotic Reality.
What you will experience?
✅ Explore the kindling drive of the human mind
✅ Dive into the powerful yet unknown forces of your consciousness
✅ Practice the wisdom of self-hypnosis to encounter the trance of empowerment
✅ Hack your mind and give reality to your thoughts and prime dreams
✅ Access the state of awareness that leads you towards perceiving the change and reinvent the wheel of your fortune
✅ Engulf in the credible self and untangle the genie of your success.
-------------------------------------------------------------
➡️ Program Details:
When: 28 August, 2020
Time: 9PM - 10PM
Where: Online
This is a free to attend webinar.
Prior registration is mandatory
Book your Spot today!
\\ Certificate of Participation will be awarded!
Know your Trainers:
ROHIT KUMAR
Thought Leader & Certified NLP Practitioner
A Certified Strategist from DMS (IIT-Delhi) and a Certified Neuro-Linguistic Programmer from American Board of NLP & A Certified Whole Brain Practitioner. He also has received and attended various behavioral training across the world from some of the top trainers including but not limited to Les Brown, Robert Kiyosaki, Mahatria Ra to name a few.
DIVYANGI WALIA
Certified Neuro-Linguistic Programmer
An Unencumbered Soul with rooted background in human resource and life skill development. Certified as a Neuro-Linguistic Programmer, she has an objective of transforming lives through life skills training and self-healing sessions. An adventurous traveler with a thirst to explore life outside the four walls.
-----------------------------------------------------------
Call/WhatsApp: +91 9910055926
Email: thousandthoughtsorg@gmail.com