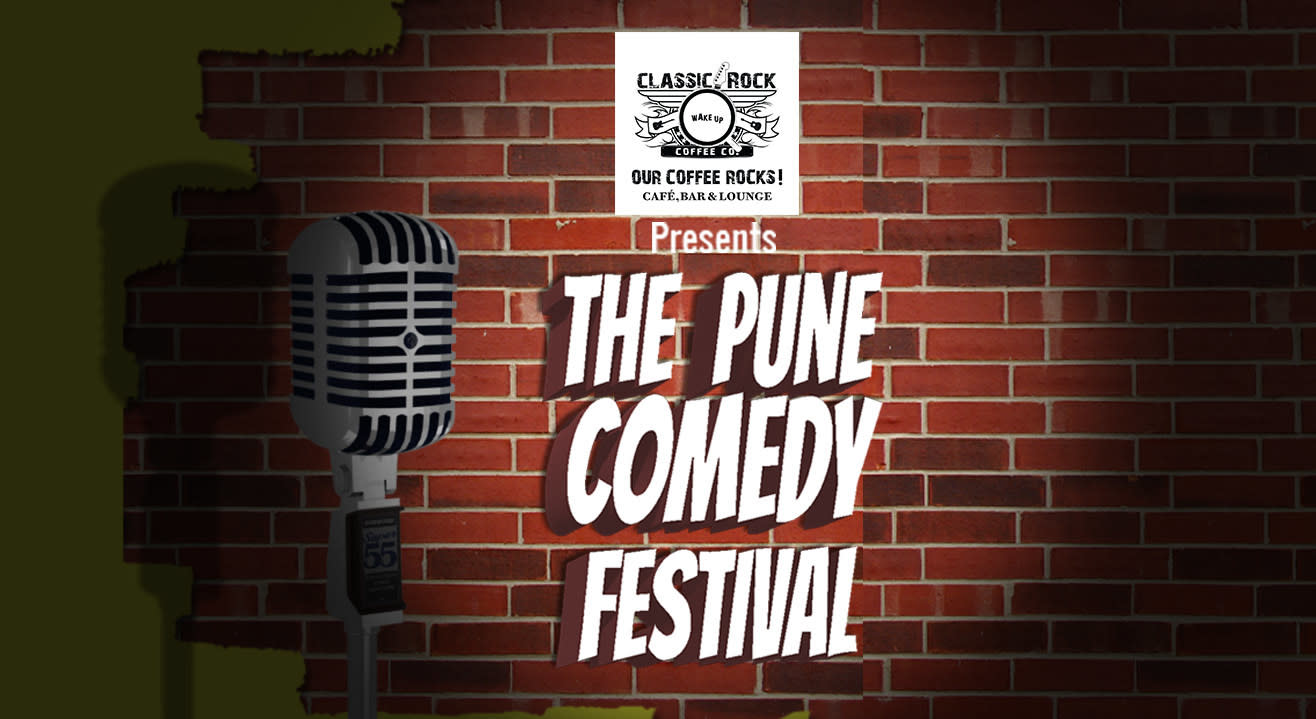 Comedy
The Pune Comedy Festival Lite
March 31 - April 2 | 5PM - 10:30PM
Mulik Lawns, Kalyaninagar, Pune
About
A 3-day festival that will be held at Mulik Lawns, next to Classic Rock Kalyaninagar – a venue that has hosted some of the biggest acts in comedy..This is the first event of it's kind to be held in Pune, and will feature many of the top names in the Indian comedy scene. Besides comedy performances, the fest will also feature panel discussions and a flea market with food trucks, food stalls and much more! With an absolutely insane lineup, the Pune Comedy Festival Lite guarantees you a side-splitting weekend.
Note: You will need time to recover from this one!
Papa CJ:
Papa CJ​ is a world-renowned stand-up comedian. He has won awards for both Asia's and India's best stand-up comedian.

Kenny Sebastian:
Apart from directing short films, Banaglore stand-up Kenneth (Kenny) Sebastian performs regularly in his city and across the country, at venues like Canvas Laugh Factory, Mumbai.

Varun Thakur:
Varun Thakur is regular headliner at the Comedy Store. Being a struggling actor from Bombay, he's rejected on a daily basis by casting directors and rickshawaalas. With a good mix of observational humour, high energy and impersonations, he's an act you shouldn't miss.

Atul Khatri:
Atul Khatri is one of India's most successful stand-up comedians and YouTube personalities. Khatri was rated among the top Indian comedians by CNN-IBN and was the only Indian to perform in the Hong Kong International Comedy Festival.

Sapan Verma:
Sapan Verma is one of India's most popular and experienced English standup comedians. He's a co-founder of East India Comedy, India's leading comedy collective.

Biswa
Biswa's style of comedy can be best described as angry rants bordering on what's socially acceptable. Biswa is a philosopher, a self-proclaimed stand-up comedian, writer, actor, size-zero enthusiast, blogger and an ex-IT professional.

The line-up also includes Sahil Shah, Daniel Fernandes, Anu Menon, Kunal Rao, Aadar Malik, Kautuk Srivastava, Sumukhi Suresh, Naveen Richard, Utsav Chakraborty & Amogh Ranadive.
Day One

5 to 7:45PM
Urooj Ashfaq
Kamal Trilok SIngh
Jeeya Sethi
Sonali Thakkar
Gaurav Kapoor
Kautuk Srivastava
Neville Shah

8:30 to 9:15PM Atul Khatri
9:15 to 10PM Kenny Sebastian

Day Two

5 to 7:15PM
Sumeira Sheikh
Pavitra Shetty
Hijas Moosa
Siddhart Dudeja
Utsav Chakraborty
Rahul Subramanian
Naveen Richard
Kaneez Surka

7:45 to 8:30PM Daniel Fernandes
8:30 to 9:15PM Sahil Shah
9:15 to 10PM Papa CJ

Day Three

5 to 7:15PM
Punit Pania
Trupti Kamkar
Abhijit Ganguly
Anu Menon/(Lola Kutty)
Radhika Vaz
Amogh Ranadive

6:45 to 7:15PM Angad Ranyal
7:45 to 8:30PM Varun Thakur
8:30 to 9:15PM Sapan Verma
9:15 to 10PM Biswa Kalyan Rathh
Round Table India are the Social Cause Partner for the Pune Comedy Festival Lite. It is their mission to provide education to underprivileged children by building schools for them. As Classic Rock Coffee Co. brings a smile to your faces through our comedy shows, help Round Table India bring a smile to the faces of millions of underprivileged children across the country. Join them to be a part of the movement and/or support them through contributions, individually or as organisations.

Join here today
Directions and Seating Plan
Venue
Mulik Lawns, Kalyaninagar, Pune
Behind Classic Rock,Mulik Capital, Kalyani Nagar, Pune, Maharashtra 411014