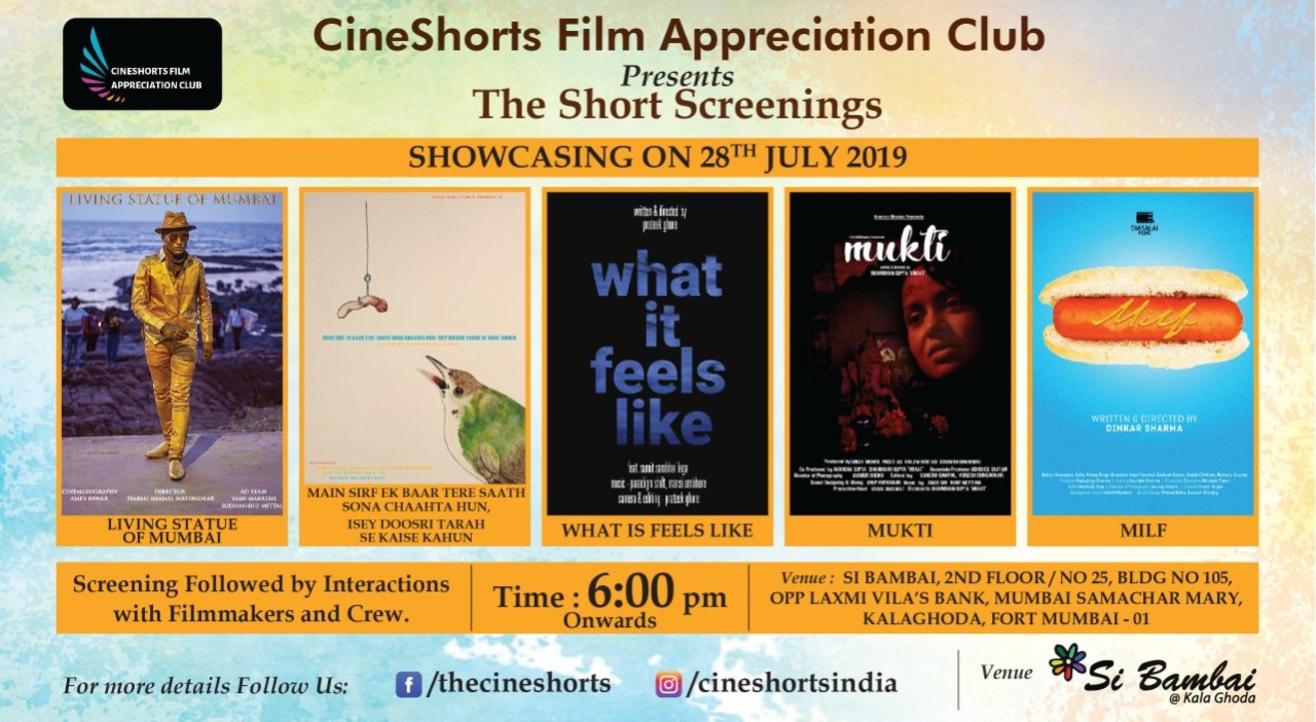 Screening
About
CineShorts Film Appreciation Club & The Playce brings you an evening of Indie Short Film Screenings where we Meet, Network, Discuss just Films. The idea is to showcase some brilliant films & a get together with people of like minded interests. If you resonate the same thought then we at The Short Screenings welcome you to come & Join us on 13th July 2019 as we sail you through an array of some really interesting short films followed by an interactive session with the makers / cast & crew of the film. So come over enjoy the films, Meet & Network with new people over a cup of tea/coffee.. It's surely an evening you wouldn't like to miss!! Below are just few spoilers for your interest to manoeuvre ;)
Just Kidding!!
CineShorts Film Appreciation Club & The Playce brings you an evening of Indie Short Film Screenings where we Meet, Network, Discuss just Films. The idea is to showcase some brilliant films & a get together with people of like minded interests. If you resonate the same thought then we at The Short Screenings welcome you to come & Join us on 28th July 2019 as we sail you through an array of some really interesting short films followed by an interactive session with the makers / cast & crew of the film. So come over enjoy the films, Meet & Network with new people over a cup of tea/coffee.. It's surely an evening you wouldn't like to miss!! Below are just few spoilers for your interest to manoeuvre ;)
Just Kidding!!
Living Statue of Mumbai – Directed by Harsh Matondkar
Documentary Story about the Living Statue of Mumbai, who performs at Bandstand.
MILF – Written & Directed by Dinkar Sharma
She's forty, unmarried and lives right next door to four boys sharing an apartment. Is this a golden opportunity or unexpected trouble?
Main Sirf Ek baar Tere Saath Sona Chahta Hoon, Isey Dusri Tarah Se Kaise Kahun – Directed by Shailendra Sahu
Mukti - Directed by Viraat Gupta
Story of girl on streets and her life surrounding her family. Her immense faith in Ganapati. The story revolves around faith, love and life beyond the truth.
What It Feels Like – Directed by Pratik Ghore
When you're drowning, you don't say 'I would be incredibly pleased if someone would have the foresight to notice me drowning and come and help me.'
You just scream.
See you at eh Screenings..
Venue
Si Bambai
No 25, 105 opposite lakshmi vilas bank, Mumbai Samachar Marg, Kala Ghoda, Fort, Mumbai, Maharashtra 400001