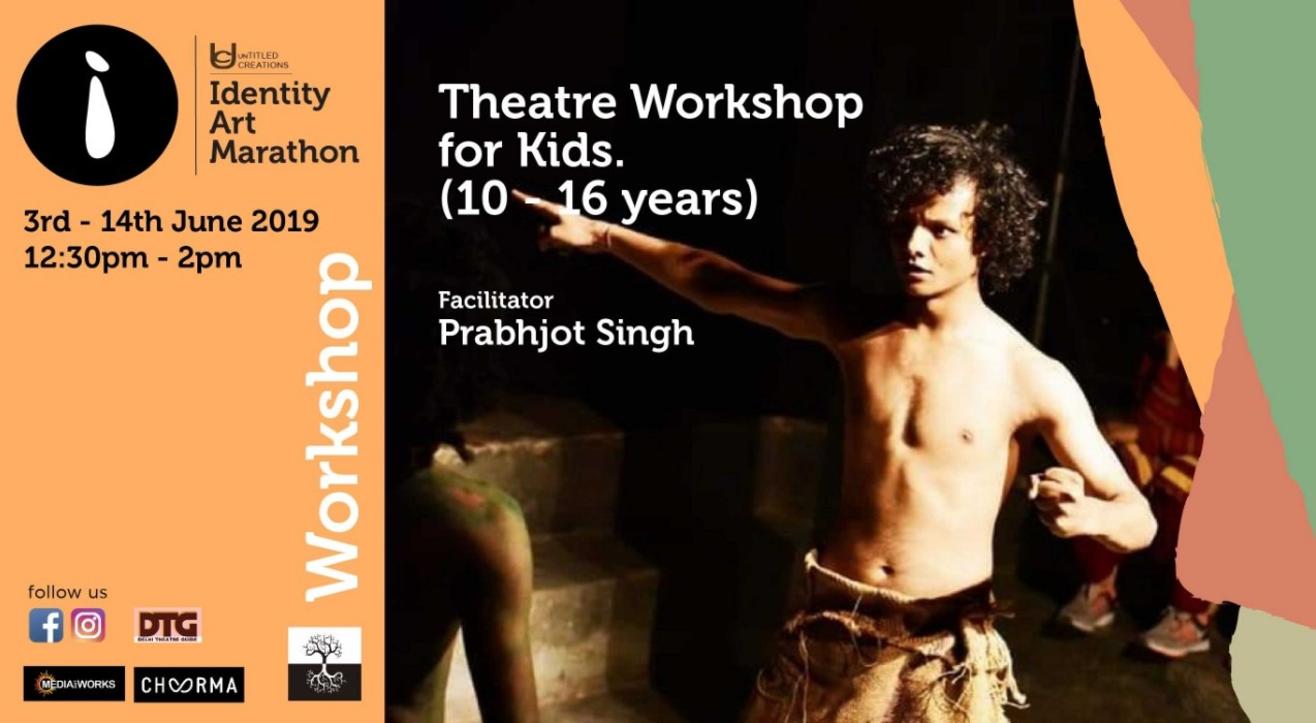 Theatre
Theatre Workshop for Kids (10-16 yrs)
About
Theatre Workshop for 10 – 16 year olds
3rd – 7th June and 10th – 14th June 2019
12.30 – 2 pm daily
10 days, 1.30 hours daily
In this 10 day long production oriented theatre workshop curated specially for children of age 10 to 16 years, we will work on Body & Movement, Voice and Speech, Emotions & Expressions, Acting & characterization, and Writing & performance.
Children will take back things like
- Personality Enhancement
- Communication skills
- Confidence
- Creative thinking
- Acting Skills
- Introspection
- Story telling
- Basics of art appreciation
- First 4 - 5 days the focus will be on the Workshop, Theatre games, Improvs & similar activities.
- Next few we will work towards the production, where we start creating it & implement what the children have learnt throughout the process.
Prabhjot Singh
Known for his performances and work in the Delhi Theatre Circuit, Prabhjot is the Founder and Creative Cultivator of The Roots India. He has been practicing theatre since his school days and wants to promote theatre as a form of mainstream education. His venture The Roots India focuses on developing art forms and using performing arts to creatively impart knowledge, ensure artist survival & growth and focuses on creating political and socially relevant content. At the end The Roots India endeavours to spread happiness by helping people build on their inherent artistic tendencies, by helping spread better awareness of arts and in some small way build a humanistic society.
Prabhjot is invited as guest theatre faculty in various universities including Delhi University, IIT, Sharda university & Chicago University.
He has completed the acclaimed Theatre Appreciation Course from National School of Drama where he was part of a select set of students from across India.
He has been associated with schools such as The Cambridge Foundation, Modern Era Convent, The Adhayyan Public School, Sanjiviya Model School and others as faculty for theatre in education.
He has also acted in a feature film, October directed by Shoojit Sircar & many other short films. Also did television commercials for companies like Flipkart, Kurkure, AIC electronics, Dream 11, and IPL
Nimish Nanda shall also be supporting the workshop
An initiative by The Roots India
Part of 'I AM - Identity Art Marathon',
24 day multi disciplinary art festival from 24th May to 16th June 2019
Curator: Aakshat SInha
Organiser: Untitled Creations Private Limited
Media partner: Media net Works
Design partner: Choorma
Venue Partner: Arpana Fine Arts Gallery, New Delhi
https://www.facebook.com/identityartmarathon/
Book any workshop ticket and get a 7-day cult.fit pass FREE. Offer valid till 31st September. (T&C apply) Click here for more information
Venue
Arpana Fine Arts Gallery
Arpana Fine Arts Gallery, Academy of Fine Arts and Literature, 4/6 Siri Fort Institutional Area, Opp. Gate No. 2, Siri Fort Auditorium, New Delhi 110049. Metro Green Park.