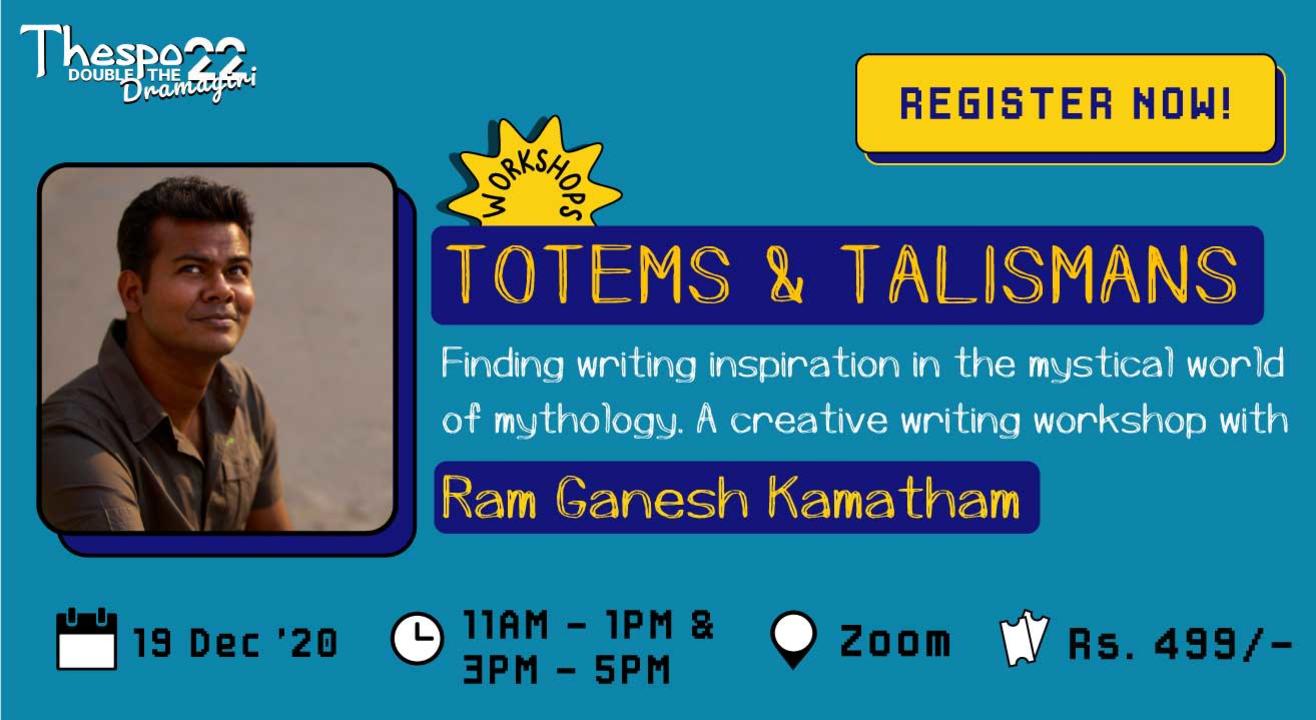 Thespo 22: Totems & Talismans
Enjoy this event from your home
Event Guide
Digital Event
Watch on Zoom
For Age(s)
Family Friendly
Masterclass
Learn from an expert
Invite your friends
and enjoy a shared experience
Thespo 22: Totems & Talismans
Enjoy this event from your home
Event Guide
Digital Event
Watch on Zoom
For Age(s)
Family Friendly
Masterclass
Learn from an expert
Invite your friends
and enjoy a shared experience
Event Guide
Digital Event
Watch on Zoom
For Age(s)
Family Friendly
Masterclass
Learn from an expert
Invite your friends
and enjoy a shared experience
ABOUT THE WORKSHOP
Mythology from across the world contains some common elements that speak to us across barriers of race, religion, language and culture. From the demi-gods of Greek myth to the heroes of Indian mythology, some recurring story patterns seem to speak to us in a timeless fashion. In this workshop we will engage with these patterns to trigger our own creative inspiration, and to infuse our writing with energy and imaginative possibility. The workshop games, writing exercises and methods will draw on popular industry formats like the Hero's Journey, comparative mythology, and the relationship between theatre, ritual and liminality. While this sounds like a lot of hard work, the focussed effort leads to reward! Much like the ancient call to adventure offered to the hero, this workshop invites you to leave the world of the known and venture into the unknown! Be brave! Your destiny beckons!
ABOUT RAM GANESH KAMATHAM
Ram Ganesh Kamatham's work has entertained and provoked audiences worldwide with startlingly contemporary themes, bold dramaturgical experimentation and the steadfast pursuit of dramatic truth. His hit comedies include Square Root of Minus One (2002), Dancing on Glass (2004), Project S.T.R.I.P. (2008) and Ultimate Kurukshetra which won him the 2011 Sultan Padamsee Award and Undaunted won the 2020 Sultan Padamsee Playwriting Award.. He has written for young people with Beyond the Bubble (2016) and about young people in the cult-classic Crab (2006). Ram's practice-led research in the arts has been awarded multiple fellowships, including the Robert Bosch Art Grant (2010) and the Sarai-CSDS Independent Research Fellowship (2007). He has won the Charles Wallace India Trust Award as a playwright and as a researcher, and was a grantee of the India Foundation for the Arts in 2014 & 2019.
ABOUT THESPO
Thespo is a youth theatre movement that curates a range of activities through the year aimed to showcase, and train young theatre enthusiasts.
Through community theatre watching experiences, a quarterly e-zine, workshops, performances, play readings and an annual festival, we celebrate young talent and hope to build a community of young theatre professionals.
Thespo 22: Double the Dramagiri
India's first International Digital Youth Theatre Festival
Join us in this digital celebration of youth theatre through five days of live performances, workshops, play readings, conversations & collaborations. Come explore storytelling with us, and be part of this global community of young, emerging artists!
FOR MORE INFORMATION: thespo.org or call +91 2241642142
Follow @ThespoIndia on Facebook, Instagram, and YouTube.
Thespo 22: Totems & Talismans
Enjoy this event from your home
Event Guide
Digital Event
Watch on Zoom
For Age(s)
Family Friendly
Masterclass
Learn from an expert
Invite your friends
and enjoy a shared experience