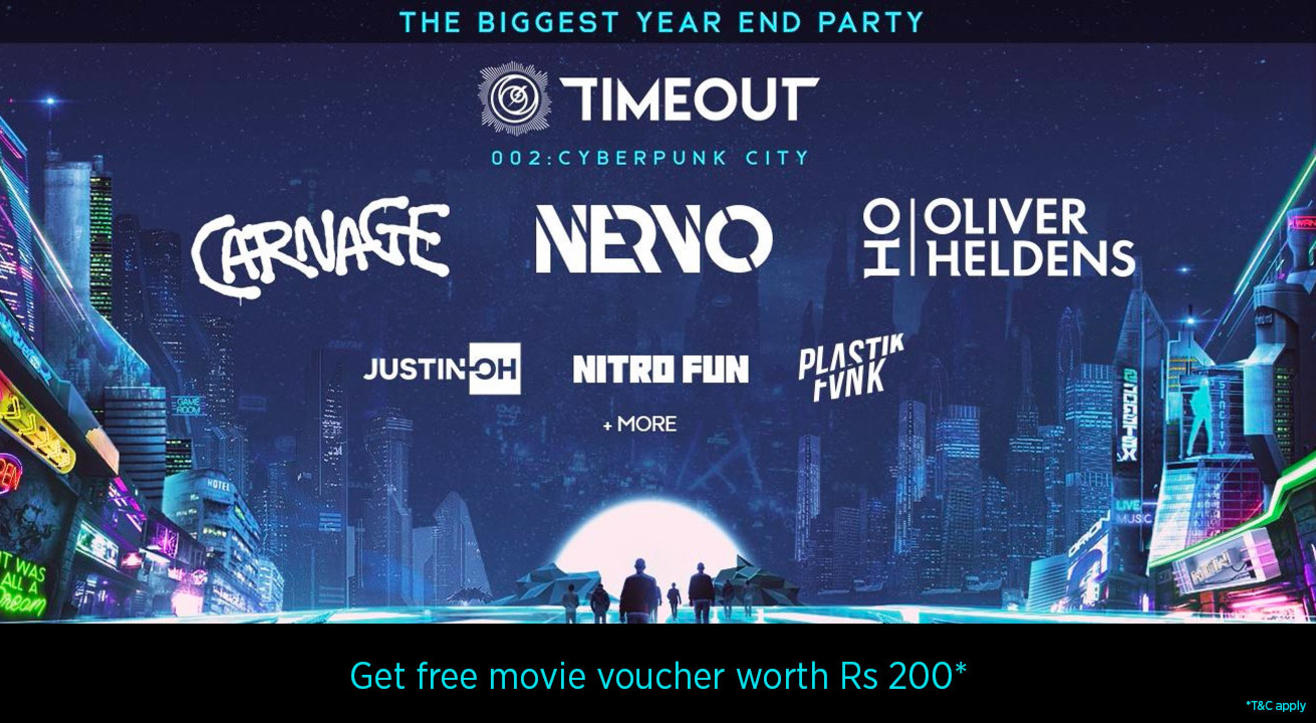 Timeout 002 : Cyberpunk City
December 29 | 4:30PM (Doors Open)
Dome, NSCI, SVP Stadium, Worli, Mumbai, Mumbai
Step out and enjoy this event
Invite your friends
and enjoy a shared experience
Timeout 002 : Cyberpunk City
December 29 | 4:30PM (Doors Open)
Dome, NSCI, SVP Stadium, Worli, Mumbai, Mumbai
Step out and enjoy this event
Invite your friends
and enjoy a shared experience
Invite your friends
and enjoy a shared experience
Use the code LUCKYTIMEOUT to enter the contest to stand a chance to meet the performing artists.
Get a Paytm movie voucher of Rs. 200 with every transaction. You will receive your voucher 20-25 days post purchase.
Timeout 002: Cyberpunk City will be a 1 day arena event that will host some of the best energetic names from the electronic dance music industry such as Carnage, Nervo and Oliver Heldens; supported by top quality international artists such as Plastik Funk, Justin Oh & more.
Drawing inspiration from the future, the event theme for this edition will have a complete look and feel of a Cyberpunk Universe with elements of Artificial Intelligence, future Utopia, cybernetics employed.
'Timeout 002: Cyberpunk City' will provide our fans a unique state of the art experience which will involve not only some of the most energetic and big named artists but also plenty of special performers and installations. The event will also have a special closing ceremony show.
Timeout72 - Thank you for the memories
1. What are the dates and location for Timeout 002 : Cyberpunk City?
Timeout 002 : Cyberpunk City will take place on Saturday, 29th of December 2018 at Dome @ NSCI, SVP Stadium Mumbai.

2. Is there an age limit for the event?
Timeout 002 is strictly for 15+. Purchase and consumption of alcohol products will be strictly controlled at all times. We will require any government photo ID proof, which will be checked when entering the event as well as at any time on venue grounds.

3. How and where do I collect my tickets/wristbands?
Bands are to be collected at the entry after the barcode scan and security check You will need photo ID proof, print out of the confirmation email from PayTM/Insider.in

4. What can I bring into the event?
The organizers reserve the right to refuse admission to the event site at any time. Also, only sling bags and ladies bags brought into the event will be searched upon entry. No back packs will be allowed inside the venue. The following items are prohibited and will not be allowed into the venue:
i. Weapons, explosives, firearms, glass bottles, aluminum cans, hazardous and breakable materials
ii. Fireworks, lasers, flashlights and anything else that can interfere with the artists
iii. Professional DSLR, recording devices, video equipment that have not been pre-approved
iv. At the artists' request, all unauthorized recording will be prohibited. (Illegal filming and/or recording will result in legal actions.)
v. Illegal items will be confiscated at the door
vi. Alcohol, food, bottles, cans, glass, animals and sound systems may NOT be brought onto the festival site
vii. No camping gear of any kind will be allowed into the venue
viii. Flags that are used to identify your group/Artist fan artwork may be brought in, but discretion is advised when constructing or designing these items, as they may sometimes be considered dangerous.
ix. No Helmets will be allowed inside the festival

5. Is re-entry allowed once inside the stadium?
NO

6. Will I be able to purchase food and beverages at the event?
A wide variety of food and beverages will be available for the duration of the event, supplied by various vendors at the event.
PLEASE NOTE: You may NOT bring your own food or beverages into the event area.

7. Are there restroom facilities on site at the event?
Yes, there will be sufficient restrooms for both men and women at the event venue.

8. What are the ticket options and information?
All tickets are sold through paytm/insider.in
A barcoded ticket (printed or correctly displayed on your phone) will need to be presented along with identification upon entering the event.
Please note: booking fees apply to all tickets

9. What is included in VIP?
VIP ticket holders will receive express entry through the VIP entrance; an exclusive and elevated dance floor; with a scenic view of the Main Stage, dance floor.
The additional option of a table and bottle service will be available exclusively at extra costs.
PLEASE NOTE: VIP ticket holders will have access to all areas except VVIP, service areas and backstage.

10. Can I swap/upgrade a G.A. ticket to VIP ticket?
Once bought, tickets cannot be upgraded;

11. Will there be a ticket exchange counter at the venue?
NO, you will have to get a print out of the bar code or have a screenshot of the barcode on your mobile phone to gain access.

12. Can I buy tickets using cash?
Yes, you can buy your tickets in cash from our authorized ticketing partners. List of Authorized Ticketing Partners will be out soon.

13. Can I transfer my ticket to a friend?
All tickets purchased are strictly non-transferable

14. How can I pay for my tickets?
Via Debit/Credit card or various other services available at PayTM/Insider. Don't forget to print a proof of payment in case we need to track the payment and use the correct reference as provided.

15. What do I do in case of duplicate payment taken?
Duplicate payments have occurred, usually as a result of the buyer refreshing the payment page during the payment process. If this happens please email PayTM/Insider.in with a copy of your bank statement showing both transactions and the refund will be processed.

16. What is the ticket cancellation/refund policy?
No refunds will be given once the tickets have been booked.

17. What time does the gate open?
Gates for the concert will open at 4:30PM
Authorized Offline Dealers
DISTINCT EVENTS &
AXIOM ENTERTAINMENT INC. - 9828034606
Eventing Club - 8976892805
Dome, NSCI, SVP Stadium, Worli, Mumbai
Lala Lajpatrai Marg, Lotus Colony, Worli, Mumbai, Maharashtra 400018
GET DIRECTIONS
Timeout 002 : Cyberpunk City
December 29 | 4:30PM (Doors Open)
Dome, NSCI, SVP Stadium, Worli, Mumbai, Mumbai
Step out and enjoy this event
Invite your friends
and enjoy a shared experience