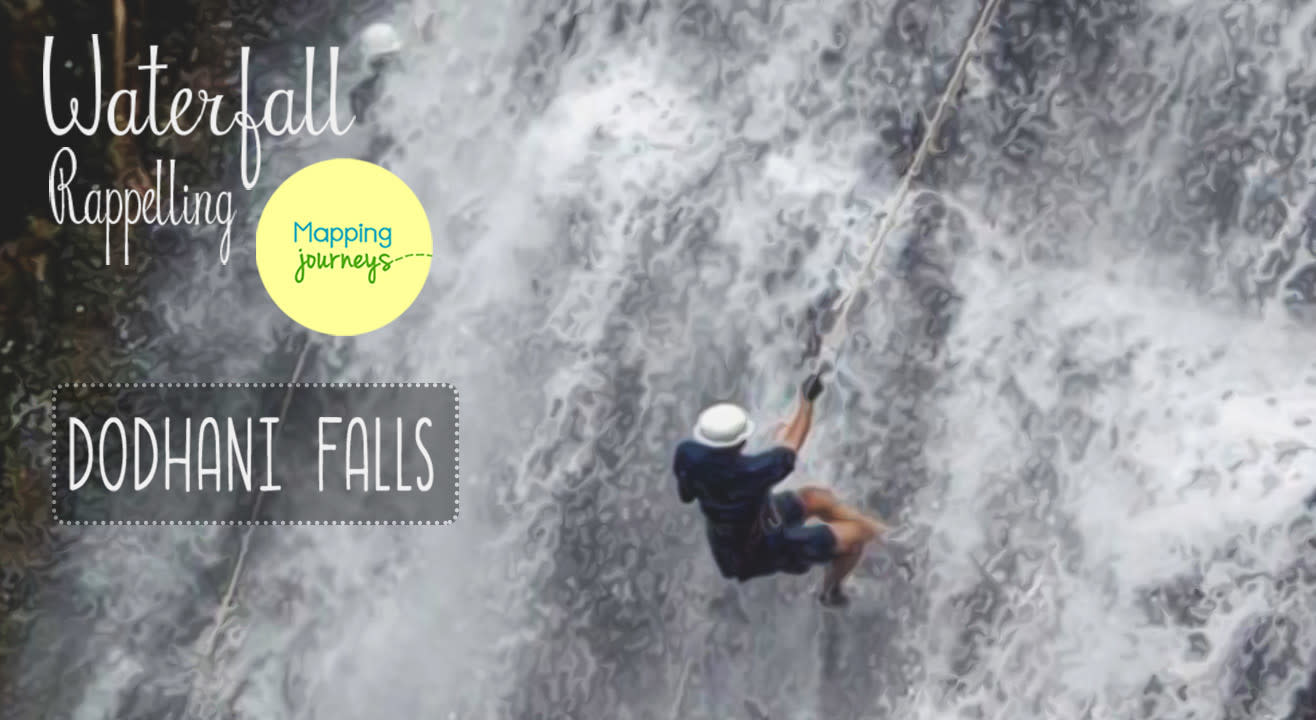 Adventure
Waterfall Rappelling - Dodhani Falls
About
Dodhani waterfall is located at the base of Matheran hills. By road it is accessible via the Panvel-Matheran road. Standing tall at 115ft, this waterfall is an ideal place for all waterfall and nature lovers. Once at the base village, the waterfall is approximately half hour walk away. Its a easy trek/trail and no pre trek experience is required.
Bus Meeting Point :
06:00 am : Dadar East Near Pritam Dhaba.
06:30 am : Chembur Near Yogi hotel.
07:00 am : Vashi Near Main Bridge.
07:30 am : Kalamboli Mc D.

08:30 am : Reach base village of the waterfall, a short 1hr hike from here takes you to the waterfall patch.
The rappelling activity will begin immediately after the briefing session by our instructors.
03:00pm - Wrap up and the return journey begins.
05:00pm - Back to Dadar.
The cost includes,
Travelling from Dadar to Dadar.
Breakfast, Lunch.
Trek charges.
Safety and First Aid.
Professional expertise.
All Equipment Charges.
Rappelling and Flying Fox Charges.
Meals during travel.
Personal expenses.
Insurance of any kind.
Medical hospitalization, evacuation and related expenses.
Any item not covered under "inclusions"
What is Rappelling?
A descent from a height, such as a cliff or wall, in which one slides down an anchored rope and applies friction to control one's speed by means of a specialized device. In all to make the activity safe there are three people involved in this activity,
1. The person on the top holding your line has control over your descent .
2. You have a control over the speed of descent.
3. The person waiting below.

What is the average breaking strength of all the equipments combined?
We would strongly suggest to not attempt this activity if you weigh more than 1 ton :D
Below is the average breaking strength of some of the equipments.

Rope 1800kg
Carabiners 2300kg
Harness 850kg

All equipment purchased and used follows international safety standards in terms of quality & usage. The equipment is carefully chosen and tested by our outdoor experts before it is approved for use in the field thereby ensuring total safety.

How safe is rappelling compared to trekking?
While trekking everything is under your control. Compared to rappelling, trekking is riskier because we as organizers have limited control on what a participant does.
As far as rappelling is concerned, you feel you are doing the activity but everything is controlled by 2 professionals above and below you. You, of course, are the one who is doing the decent.

Can rappelling be done in sandals?
Yes, but shoes are preferable and more comfortable.

Can first timers do this activity?
YES!

How much time it takes on average per person to complete the activity? There is no fixed time, some take more time than the others. Slow and steady wins the race!
It's a team activity where all participating members are requested to show patience for themselves and for other people who may be slower. We don't encourage rushing with the activity and compromising on safety. The schedule may/may not change depending upon the weather situations and safety concerns.

What about rock falls?
Prior to the arrival of monsoons the technical team goes for The Rappelling Patch Clean Up. The team clears all loose rocks and other debris that may have formed over the months to make the rappelling activity safer during monsooons. Near the rappelling area it is compulsory to wear helmets all the time. Nobody is allowed to wander near the waterfall without proper helmets. Going under the main waterfall is not advised without helmets and we don't expect/entertain such acts by our clients even if you may find other organizers doing/allowing it.

At what time does the event get over?
Rappelling requires the participants to have lots of patience, the event gets over by 4pm max, keeping in mind safety, force of the waterfall flow(in case of waterfall rappelling), weather conditions, delays and waiting period may go up or down. Please come prepared accordingly as these situtaions are something beyond our control.

What is cliff traversing?
The length of the whole patch that we rapel down is not all the way down to the base. We reach a point after rappelling from where you will traverse along side an exposed cliff.

Does the word exposed scare you?
Don't be!
There is a parallel rope running all the way from the start point till the end. All participants are given a setup called as the "Runner Setup" which in layman terms is dual carabiner attached to the parallel running rope and the other end goes into your harness. Thus, even if you slip the only place you will go is NOWHERE.

So why 2 carabiners?
For dual safety while traversing.

What if it doesn't rain on the event day? (in the case of waterfall rappelling event)
If event is cancelled due to some Natural Calamity then 50% of the Fees will be refunded.
Natural Calamity may include the following :
1. Excessive rainfalls after which conducting the rappelling event becomes risky given the water force.
2. No rainfall on the event day due to which the waterfall is inactive.

Can we smoke/drink during this event?
Smoking and consumption of alcohol is strictly prohibited!

Venue
Pritam Hotel, Dadar
Dharamputra, Survey No. 32, Pritam Estate, Dadar T. T, Mumbai, Maharashtra 400014