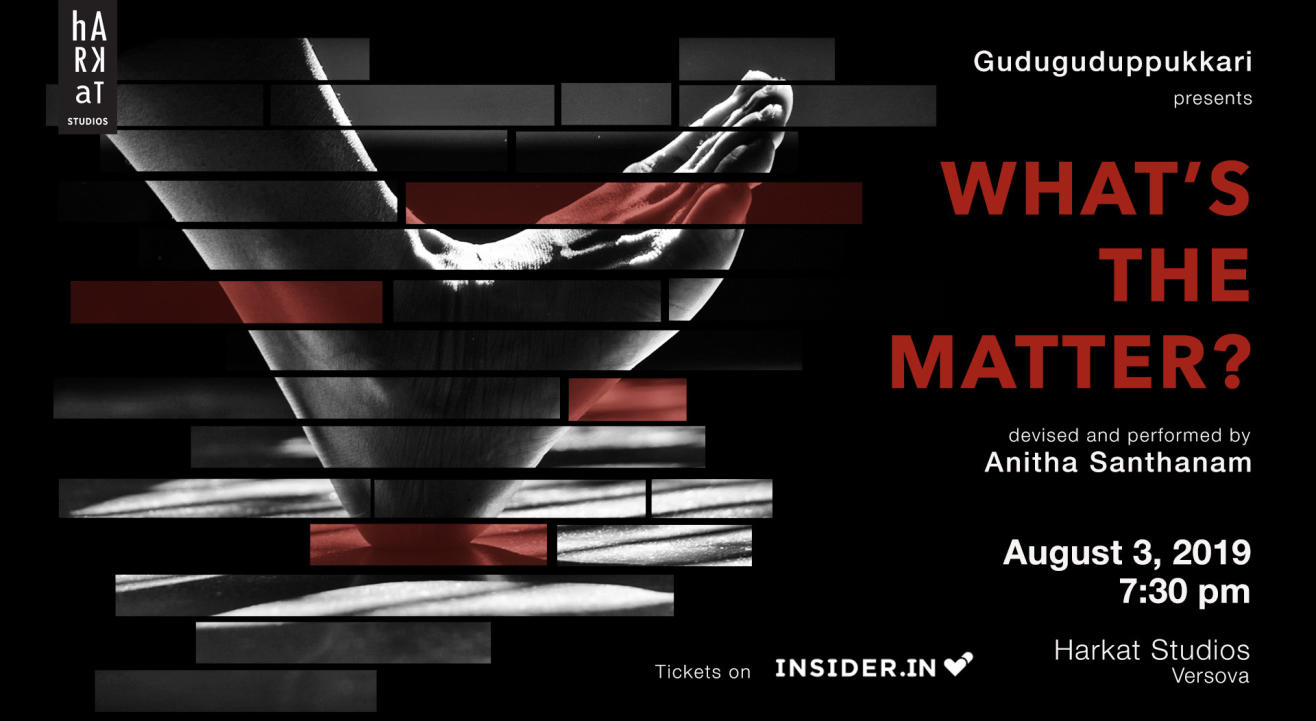 Theatre
What's the Matter?
Harkat Studios, Versova, Mumbai
About
What happens when the measure of matter becomes more important than matter itself?
When measuring your body becomes more important than your body itself?
When patriarchal measures limit your living connection to your body, your being, to what matters to you?
In this hour long, deeply quirky piece Anitha explores losing connection to the maternal matrix, complicated by the patriarchal drive towards ideal and perfection and finding her way back into the energies of the universal feminine via dreams, bodily experience and embodied writing.
Created and produced by:
Guduguduppukari group
******
About Guduguduppukari:
The group was founded by Sunandha Raghunathan and Anitha Santhanam in 2015 to 'create theatre out of a fully embodied exploration, including the personal and the political, intellect and emotion, rigour and play, form and content and actively facilitate a feminine exploration in the theatre space- both creation and conversation, without apology or obeisance to patriarchy.
What's the Matter is the groups third production after 'Mundhirikkotte' and 'Bad Hindu'.
******
About Anitha:
Anitha Santhanam is a seasoned performer and facilitator with over a decade of work in dance and theatre in India and abroad. She is a two time awardee of the Charles Wallace India Trust scholarship, through which she completed a two year Advanced Diploma in Creating Theatre and Performance and Pedagogical training in Lecoq based work from LISPA London.
Her work as director includes Bhima, Mundhirikotte, Beyond the Bubble, Un- tell Re-tell, No-tell,The Flowering Tree and Dhuddu Kaasu Dabbu Currency. As an actor her recent work includes, 'Fish Tree Moon' written by Yo Sup Bae and 'Monkey and the Mobile' by Rajiv Krishnan. Earlier work includes 'Ms Meena', 'An Arrangement of Shoes' and 'Vanaprastham'.
She is a faculty on the FECAT (an expressive arts therapy training) program at SMART, Bangalore. With creativity and self-exploration and expression as its core, her work spans performance, therapy and education.
Time & Date:
3rd August, 7.30 PM
Location:
Harkat Studios, Bungalow #94, First Floor, Aram Nagar 2 (just behind Mata Mandir), Versova, Andheri West.
KINDLY NOTE OUR NEW LOCATION IS ON THE 1ST FLOOR AND NOT WHEELCHAIR ACCESSIBLE!!! WE'RE WORKING ON FINDING A SOLUTION.
Venue
Harkat Studios, Versova, Mumbai
HARKAT STUDIOS, BUNGALOW 94, FIRST FLOOR, ARAM NAGAR 2, VERSOVA, ANDHERI WEST, 400061-MUMBAI