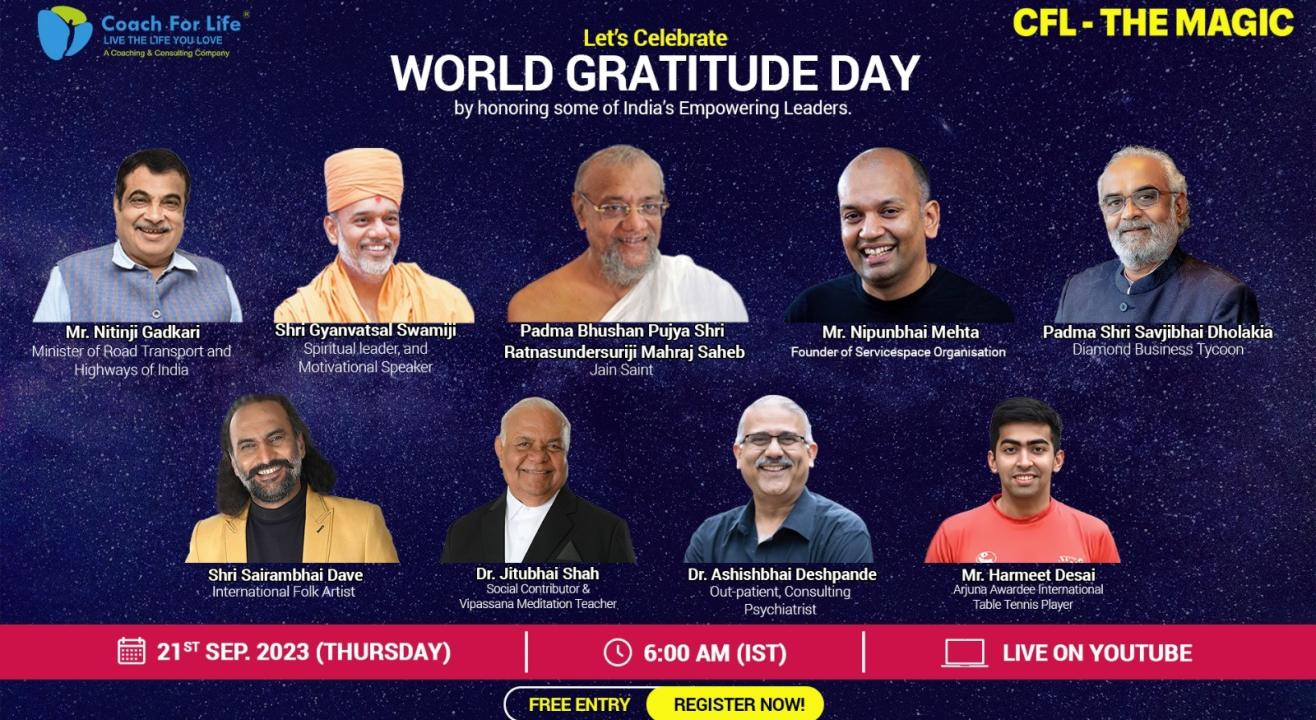 World Gratitude Day - 2023
Event Guide
For Age(s)
Family Friendly
Live Performance
Enjoy a unique experience
Invite your friends
and enjoy a shared experience
World Gratitude Day - 2023
Event Guide
For Age(s)
Family Friendly
Live Performance
Enjoy a unique experience
Invite your friends
and enjoy a shared experience
Event Guide
For Age(s)
Family Friendly
Live Performance
Enjoy a unique experience
Invite your friends
and enjoy a shared experience
Why You Should Attend?
6 Reasons This Event Is A Must
01
Listen To India's Empowering Leaders:
Gain a unique opportunity to hear from India's empowering leaders who understand the importance of gratitude. Their insights and experiences will provide valuable lessons on how gratitude plays a vital role in leadership and nation-building.
02
Discover The Joy Of Thankfulness:
In a fast-paced world, we often skim over the beauty of life's blessings. In this session, you'll dive deep into the heart of gratitude, discovering its true essence as a powerful tool for transformation. Uncover the profound impact it can have on your perspective and overall happiness.
03
Acknowledge Abundance In Your Life:
Pause for a moment and consider the countless small and big blessings you've received on your journey. This session encourages you to recognize and acknowledge the abundance that surrounds you. By doing so, you'll cultivate a mindset of appreciation and contentment.
04
Gratitude Builds Bonds:
Gratitude Helps Every Aspect of Life! Join this event to discover how showing gratitude can enhance your connections. Learn how easy acts of thankfulness can improve relationships, leading to more profound and meaningful bonds with the people in your life.
05
Begin A Path To Feeling Fulfilled:
Finding happiness and feeling fulfilled isn't like reaching far-off places; it's part of your everyday life. In this session, we'll help you understand how being thankful can be like a guide, showing you the way to a happier and more satisfying life.
06
Finding The Bright Side:
Life is like a picture made up of many moments, some big and some small. Today, you'll learn to pay attention to the good parts, which can help you stay hopeful and strong. Find out how being grateful can bring light to even the tough times
World Gratitude Day
By Honoring Some Of India's Empowering Leaders.
Register Now and Transform Your Life
Be a Part Of The Global Gratitude Movement | World Gratitude Day 2023 | Coach For Life
World Gratitude Day - 2023
Event Guide
For Age(s)
Family Friendly
Live Performance
Enjoy a unique experience
Invite your friends
and enjoy a shared experience