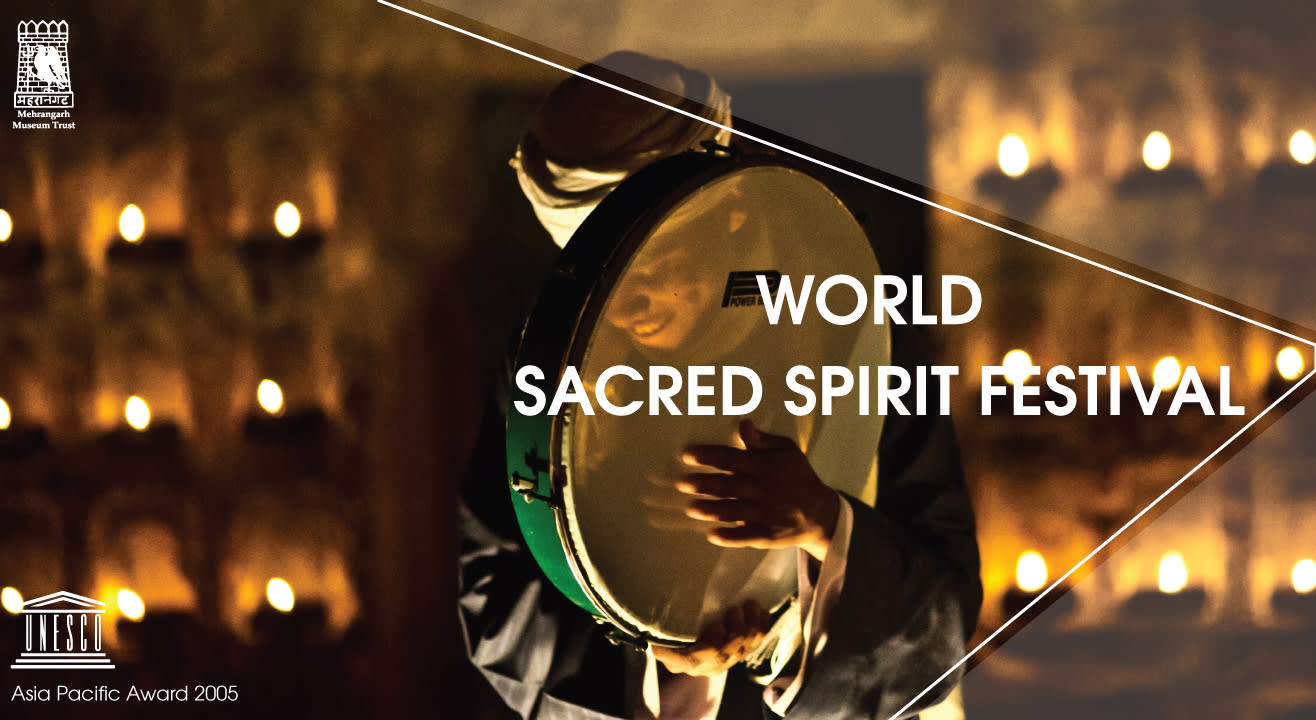 World Sacred Spirit Festival
February 13 - 16 | 7AM - 12 Midnight
Mehrangarh Fort, Jodhpur, Jodhpur
Invite your friends
and enjoy a shared experience
World Sacred Spirit Festival
February 13 - 16 | 7AM - 12 Midnight
Mehrangarh Fort, Jodhpur, Jodhpur
Invite your friends
and enjoy a shared experience
Invite your friends
and enjoy a shared experience
The World Sacred Spirit Festival (WSSF), with talent from across the world to enthrall the music aficionados is organised annually by the Mehrangarh Museum Trust.
With the serene Mehrangarh Fort as the backdrop, leading exponents of Sufi and Sacred Music Culture showcase an enriching amalgamation of musical traditions that descend from across varied geographical boundaries.
WSSF brings the traditions of the East, Asia and Africa to the rich heritage of India. The ever popular Rabbi Shergil, Kavita Seth, Kailash Kher, Sabri brothers, Ustad Shujat Khan, Rock Veda Band, Mati Bani, Char Yaar and Thagni group also have given their captivating performances. Renowned artists from Egypt, Turkey, France, Paris, Mongolia, Afghanistan, China, etc along with the traditional Rajasthani folk musicians, have also performed at the Festival.
For more details, visit www.worldsacredspiritfestival.org
Rakesh Chaurasia
Amongst the promising musicians of the second generation, Rakesh has carved a niche for himself, as an accomplished flautist. His flute has matched note and rhythm with wind instruments of other cultures as well as having performed 'jugalbandi' with Carnatic instrumentalists.



Areej Sufi Ensemble
The Sultanate of Oman is anchored in a great Arab tradition that turns majestically to the immensity of the Indian Ocean towards Zanzibar and Persia. When the group leader sees that the participants and viewers are in a state of euphoria and rapture begins and consists of heavy, melodious rhythm. He performs for all the members of the group and his words contain greetings (or Salamat) from the Prophet, peace be upon him.



Duo Bud
Engulfed in a mysterious aura and fabulous ecstatic sound, the compositions of the Korean Percussion Duo Bud cover an intense palette of human emotions through their expressions. The yanggeum is a traditional Korean string instrument. It is a hammered dulcimer. Unlike other traditional Korean instruments, the yanggeum has metal strings. It is played by striking the strings with a bamboo stick.



Kanishk Seth
Kanishk Seth is a young experimental musician blending the timeless with the contemporary. Along with his band members he performs classics of the renowned poet Amir Khusrow and his original songs to create a surreal musical experience.



Ustad Bahauddin Dagar
Born into the illustrious Dagar family of Dhrupad musicians in 1970, Mohi Bahauddin first began his foray into Indian Classical Music at an early age of seven, training on the Sitar under the expert tutelage of his mother, Smt. Pramila Dagar. His vocal training with his uncle, Ustad Zia Fariduddin Dagar, his mentor helped him a great deal. The culmination of rudraveena and voice, brings in a distinctive and precise sense of timing in the cutting of the phrases whilst presenting the aalap, jor and jhala.



Walid Ben Selim
Selim is the poet of the impossible and the invisible. Inspired by the great poets of the Arab world and of the Orient, from Mahmoud Darwiche to Rumi and to the Sufi poets of Morocco, he weaves in a sweet and airy chant of old words that awaken our spirit and our soul.



Nourou Salam
Born into a Fulani family in northwestern Senegal, Papa Dimbira Sow sings to keep alive the family tradition. Like his grandfather and his maternal uncle before him, he is a singer in the tradition of the brotherhood of Qadiriya.



Kavita Seth
Kavita Seth is an Indian singer, who is most known as a playback singer in Hindi cinema, as well as a performer of Ghazals and Sufi music, and leads a Sufi musical group, Karwaan Group.



Danish Hussain Badayuni




The Manganiyar Children




Madan Gopal Singh - Chaar Yaar Group



Mehrangarh Fort, Jodhpur
The Fort, Paota, Jodhpur, Rajasthan 342006
GET DIRECTIONS
World Sacred Spirit Festival
February 13 - 16 | 7AM - 12 Midnight
Mehrangarh Fort, Jodhpur, Jodhpur
Invite your friends
and enjoy a shared experience